From: Aklilu Abraham <adalvoice_at_gmail.com_at_dehai.org>
Date: Mon, 13 Apr 2015 21:54:02 +0100
Eritrean-smart News
<
http://www.eritrean-smart.org/content/ct4tpje-deliveres-memorandum-un-geneva
>
The Cycling Tour for the Truth, Peace, Justice and Eritrea that began in
Göteborg, Sweden on Tuesday, March 31, 2015 arrived in Geneva and had
delivered a memorandum that calls for peace and justice to the UN office in
Geneva. This memorandum is from Eritrean communities and organizations in
over 175 cities in Australia, Europe and North America.
The more than twenty cyclists coming from ten different countries (Eritrea,
Canada, Denmark, Germany, Italy, the Netherlands, Norway, Sweden,
Switzerland and the UK) braved a 1700 km bike ride through rain and snow in
Germany and Switzerland to arrive in Geneva today Monday the 13th of April.
The day is also the 13th anniversary of the final and binding
Eritrea-Ethiopia Boundary Commission (EEBC) delimitation decision that
Ethiopia refuses to abide by in breach of international law.......
Continue Reading go to
https://adalvoice.wordpress.com/
​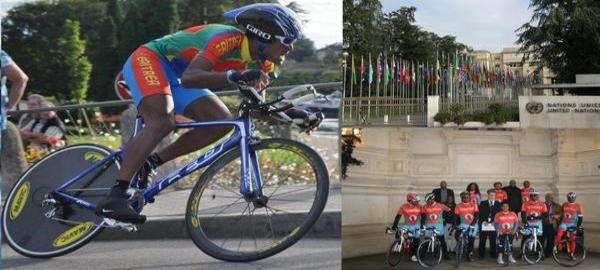 (image/jpeg attachment: 00v7dbdMasty__2_12.jpg)
Received on Mon Apr 13 2015 - 16:54:03 EDT