From: Tsegai Emmanuel <emmanuel_at_gram.edu_at_dehai.org>
Date: Thu, 9 Apr 2015 15:25:58 +0000
MIDDLE EAST NEWS<
http://www.wsj.com/news/types/middle-east-news
>
Iran Dispatches Naval Flotilla to Gulf of Aden
Move by Islamic Republic could increase tensions over conflict
[Smoke rises from an airstrike Wednesday in the capital San'a, which has been heavily bombarded by a Saudi-led coalition fighting Iranian-allied rebels trying to control the country.]ENLARGE
Smoke rises from an airstrike Wednesday in the capital San'a, which has been heavily bombarded by a Saudi-led coalition fighting Iranian-allied rebels trying to control the country. PHOTO: KHALED ABDULLAH/REUTERS
By
ASA FITCH
April 8, 2015 1:08 p.m. ET
108 COMMENTS<
http://www.wsj.com/articles/iran-dispatches-naval-flotilla-to-gulf-of-aden-1428512893?KEYWORDS=iran#livefyre-comment
>
Iran dispatched a naval flotilla to the Gulf of Aden on Wednesday, a move that could raise tensions between the Islamic Republic and a Saudi-led coalition conducting a military campaign in Yemen<
http://www.wsj.com/articles/yemenis-turn-against-saudi-led-bombing-1427897950
>, which borders the waterway.
The Iranian 34th flotilla, which includes a destroyer and a logistics vessel, headed for the Gulf to protect Iranian and other countries' trading vessels from piracy, according to a report on Iran's ISNA news agency.
The flotilla would conduct missions there as well as in the Red Sea and the key Bab al-Mandeb shipping strait<
http://www.wsj.com/articles/oil-jumps-after-saudi-airstrikes-in-yemen-1427349772
> over a three-month deployment, the report said.
While the launch of the flotilla was described in routine terms, it comes as regional tensions fray over Yemen's conflict<
http://www.wsj.com/video/saudi-arabia-vs-iran-the-sunni-shiite-proxy-wars/A7B70696-9A6D-4B26-88EC-BBFDD44AE112.html
>. Saudi Arabia, which neighbors Yemen to the north and is Iran's main regional rival, is leading a two-week-old campaign of airstrikes<
http://www.wsj.com/articles/saudi-arabia-launches-military-operations-in-yemen-1427275251
> against the Shiite-linked Houthi militants in Yemen that aims to restore the country's exiled president.
The militants overthrew Yemen's government in February, forcing President Abed Rabbo Mansour Hadi to flee<
http://www.wsj.com/video/yemen-president-flees-aden-as-houthi-rebels-advance/F3EEDF73-1778-4B75-9A8A-403DFEA78ADD.html
>.
The Saudi air campaign has drawn rebukes from Iranian leaders. On Wednesday, deputy Foreign Minister Morteza Sarmadi called for new political talks in a neutral venue to resolve the crisis, according to the official IRNA news agency.
Iran's supreme leader Ayatollah Ali Khameneialso called for a halt to the hostilities Tuesday, saying Iran was opposed to foreign intervention<
http://www.wsj.com/articles/iran-condemns-saudi-arabias-military-intervention-in-yemen-1427366776
> in Yemen.
for the Houthis, Yemeni officials have said, but the full extent of its involvement in the conflict isn't clear.
As Iran sent its ships Wednesday, clashes in Yemen continued, focused on the southern port city of Aden. Local security forces who are loyal to Mr. Hadi are trying to hold out there against an intensifying assault by Houthi militants who control most of the city.
The spiraling conflict is exacerbating shortages of food, potable water and medicine, aid agencies say. An effort to evacuate foreign nationals is underway, although the U.S. has yet to signal its participation.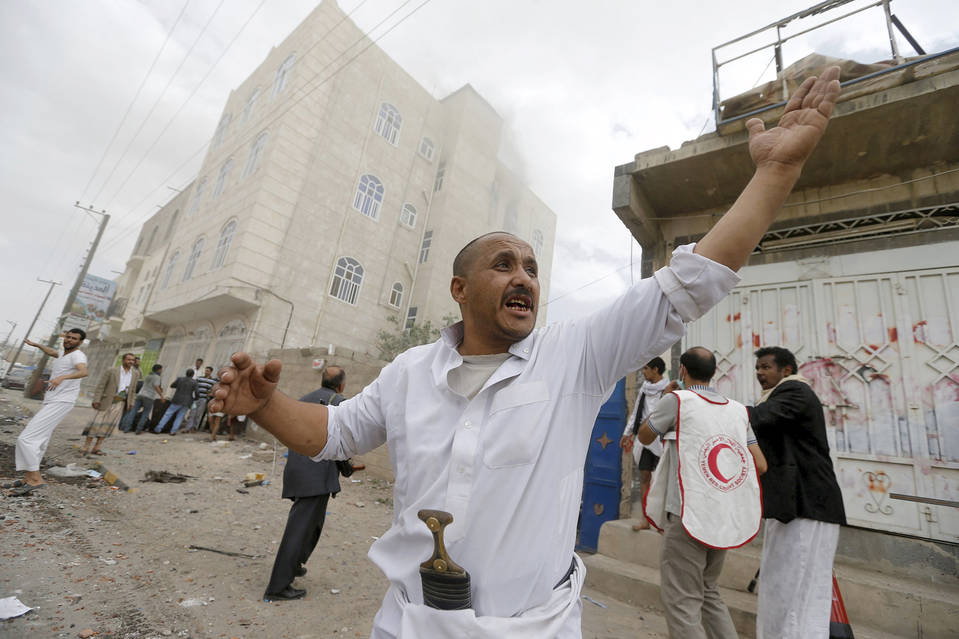 (image/jpeg attachment: image001.jpg)
Received on Thu Apr 09 2015 - 11:24:17 EDT