Story highlights
Social media: Senior al Qaeda commander stands in a presidential residence after jail break

Saudi Arabia is fighting Houthis and soldiers allied with them
Sanaa, Yemen (CNN)Khaled Batarfi grinned broadly as he posed for photos in a presidential residence in southern Yemen.
Photos circulated on social media purported to be of the senior al Qaeda leader, whom Yemeni defense officials said militants had busted out of jail on Thursday.
CNN cannot verify the authenticity of the images.
Sunni Islamist fighters freed Batarfi with some 270 prisoners, when they overran the town of al Mukallah.
The President, Abdu Rabu Mansour Hadi, had fled the country in late March, when Shiite Houthi rebels beleaguered a different presidential palace in the city of Aden.
On Thursday, the Houthis took the Aden palace. On Friday, they withdrew from it under pressure from Saudi airstrikes.
Blood-stained chaos
It's hard to tell who's in control of what in Yemen, a country that's spun out of control.
Fighting among factions has killed 58 people and injured 200 more in the past two days in the city of Aden alone, Yemeni security officials said. At least 24 of them were Houthis.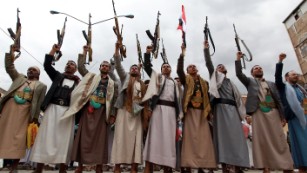 In the Houthi stronghold province of Saada on the Saudi Arabia border, coalition airstrikes against some 15 targets killed seven more people overnight.
Those deaths add to a United Nations toll of 519 killed in the past two weeks. An additional 1,700 have been wounded. Tens of thousands have fled to neighboring Somalia and Djibouti.
Army split
Even the Yemeni army is split into factions loyal to Hadi and fighting the Houthis, or loyal to the Houthis and to Hadi's predecessor who ruled Yemen for decades -- former President Ali Abdullah Saleh.
Saleh had offered the Saudis to switch sides and turn on the Houthis, but they turned him down. He later offered to put aside presidential ambitions, if they stopped the bombing campaign, which Riyadh also rejected.
A Saudi led coalition of nine Middle East nations started bombarding Houthi positions and other strategic targets around the time Hadi fled.
The swift and sudden action involved 100 Saudi jets, 30 from the United Arab Emirates, 15 each from Kuwait and Bahrain, 10 from Qatar, and a handful from Jordan, Morocco and Sudan, plus naval help from Egypt, according to a Saudi adviser.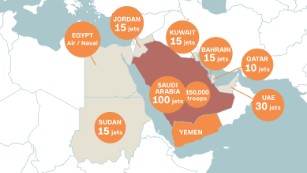 Saudi special forces
And Friday, Saudi special forces on the ground in Yemen assisted fighters targeting Houthis and Saleh's troops, a Saudi source told CNN.
The Saudi special forces are "coordinating and guiding" in noncombat roles, the source said. They also have helped parachute in weapons and communications equipment.
Also on Friday, two humanitarian workers were killed while evacuating wounded people to a waiting ambulance, the Red Cross reported.
Iran connection
Despite relentless pounding from coalition airstrikes and clashes on the ground, Houthis have controlled most large districts in Aden.
But Saudi Arabia has threatened with a ground invasion to try to straighten out the mess and reinstall Hadi. It has troops have taken up positions just across Yemen's border
Saudi Arabia sees the Houthis, who are allied with Iran, as proxies of Tehran, Riyadh's bitter rival across the Persian Gulf. It would be unacceptable to the Saudi kingdom to see Iran establish a power base there.
U.S. Navy warships have been patrolling off Yemen in search of suspicious shipping in the region, in particular any weapons shipments from Iran to the Houthi rebels.
Regional waves
The latest action heats up an intense conflict that could have ramifications across the Middle East. If the Saudi-led coalition takes the fight to the ground in Yemen, the consequences could be severe.
Houthis are battle-hardened guerrilla fighters and could cross into Saudi Arabia. They've already threatened suicide bomb attacks inside Saudi Arabia.
Yemen, already the home base to al Qaeda in the Arabian Peninsula, is on the precipice of being a failed state and an even more fertile breeding ground for extremists.