From: Berhane Habtemariam <Berhane.Habtemariam_at_gmx.de_at_dehai.org>
Date: Wed, 30 May 2012 20:49:27 +0200
In Yemen, U.S. airstrikes breed anger, and sympathy for al-Qaeda
By
<
http://www.washingtonpost.com/sudarsan-raghavan/2011/02/22/ABkvITI_page.htm
l> Sudarsan Raghavan, Wednesday, May 30, 4:20 AM
Aden, Yemen - Across the vast, rugged terrain of southern Yemen, an
escalating campaign of U.S. drone strikes is stirring increasing sympathy
for al-Qaeda-linked militants and driving tribesmen to join a network linked
to terrorist plots against the United States.
After recent U.S. missile strikes, mostly from unmanned aircraft, the Yemeni
government and the United States have reported that the attacks killed only
suspected al-Qaeda members. But civilians have also died in the attacks,
said tribal leaders, victims' relatives and human rights activists.
"These attacks are making people say, 'We believe now that al-Qaeda is on
the right side,' " said businessman Salim al-Barakani, adding that his two
brothers - one a teacher, the other a cellphone repairman - were killed in a
U.S. strike in March.
Since January, as many as 21 missile attacks have targeted suspected
al-Qaeda operatives in southern Yemen, reflecting a sharp shift in a secret
war carried out by the CIA and the Joint Special Operations Command that had
focused on Pakistan.
But as in the tribal areas of Pakistan, where U.S. drone strikes have
significantly weakened al-Qaeda's capabilities, an unintended consequence of
the attacks has been a marked radicalization of the local population.
The evidence of radicalization emerged in more than 20 interviews with
tribal leaders, victims' relatives, human rights activists and officials
from four provinces in southern Yemen where U.S. strikes have targeted
suspected militants. They described a strong shift in sentiment toward
militants affiliated with the transnational network's most active wing,
al-Qaeda in the -Arabian Peninsula, or AQAP.
"The drone strikes have not helped either the United States or Yemen," said
Sultan al-Barakani, who was a top adviser to former president Ali Abdullah
Saleh. "Yemen is paying a heavy price, losing its sons. But the Americans
are not paying the same price."
In 2009, when President Obama was first known to have authorized a missile
strike on Yemen, U.S. officials said there were no more than 300 core AQAP
members. That number has grown in recent years to 700 or more, Yemeni
officials and tribal leaders say. In addition, hundreds of tribesmen have
joined AQAP in the fight against the U.S.-backed Yemeni government.
As AQAP's numbers and capabilities have grown, so has its reach and
determination. That was reflected in a
<
http://www.washingtonpost.com/world/middle_east/suicide-bombing-in-yemen-ki
lls-scores-at-military-parade-rehearsal/2012/05/21/gIQA3Ug2eU_story.html>
suicide bombing last week in the capital, Sanaa, that killed more than 100
people, mostly Yemeni soldiers.
On their Web sites, on their Facebook pages and in their videos, militants
who had been focused on their fight against the Yemeni government now
portray the war in the south as a jihad against the United States, which
could attract more recruits and financing from across the Muslim world.
Yemeni tribal Web sites are filled with al-Qaeda propaganda, including
<
http://www.washingtonpost.com/world/national-security/us-hacks-web-sites-of
-al-qaeda-affiliate-in-yemen/2012/05/23/gJQAGnOxlU_story.html> some that
brag about killing Americans.
"Every time the American attacks increase, they increase the rage of the
Yemeni people, especially in al-Qaeda-controlled areas," said Mohammed
al-Ahmadi, legal coordinator for Karama, a local human rights group. "The
drones are killing al-Qaeda leaders, but they are also turning them into
heroes."
An escalated campaign
Obama's top counterterrorism adviser, John O. Brennan, has publicly defended
the use of drone strikes, arguing that their precision allows the United
States to limit civilian casualties and lessen risks for U.S. military
personnel. The decision to fire a missile from a drone, he said, is taken
with "extraordinary care and thoughtfulness."
National Security Council spokesman Tommy Vietor said the administration's
counter-terrorism strategy in Yemen is "guided by the view that we must do
what is necessary to disrupt AQAP plots against U.S. interests" and to help
the Yemeni government build up its capabilities to fight AQAP.
"While AQAP has grown in strength over the last year, many of its supporters
are tribal militants or part-time supporters who collaborate with AQAP for
self-serving, personal interests rather than affinity with al-Qaeda's global
ideology," Vietor said. "The portion of hard-core, committed AQAP members is
relatively small."
The
<
http://www.washingtonpost.com/world/national-security/white-house-approves
-
broader-yemen-drone-campaign/2012/04/25/gIQA82U6hT_story.html> dramatic
escalation in drone strikes in Yemen followed foiled plots by AQAP to bomb a
U.S. airliner headed to Detroit in 2009 and to send parcel bombs via cargo
planes to Chicago the following year. In April, Saudi intelligence agents
helped foil an AQAP plot to plant a suicide bomber on a U.S.-bound plane.
On May 6, a
<
http://www.longwarjournal.org/archives/2012/05/uss_cole_bomber_kill.php
>
U.S. drone strike killed Fahd al-Quso, a senior al-Qaeda leader who was on
the FBI's most-wanted list for his role in the 2000 bombing of the USS Cole
in Aden, an attack that killed 17 American sailors. The drone strike in
Shabwa province also killed a second man, whom U.S. and Yemeni officials
described as another al-Qaeda militant.
But according to his relatives, the man was a 19-year-old named Nasser Salim
who was tending to his farm when Quso arrived in his vehicle. Quso knew
Salim's family and was greeting him when the missiles landed.
"He was torn to pieces," said Salim's uncle, Abu Baker Aidaroos, 30, a
Yemeni soldier. "He was not part of al-Qaeda. But by America's standards,
just because he knew Fahd al-Quso, he deserved to die with him."
Out of anger, Aidaroos said, he left his unit in Abyan province, the nexus
of the fight against the militants. Today, instead of fighting al-Qaeda, he
sympathizes with the group - not out of support for its ideology, he
insists, but out of hatred for the United States.
'More hostility' toward U.S.
The U.S. strikes, tribal leaders and Yemeni officials say, are also angering
powerful tribes that could prevent AQAP from gaining strength. The group has
<
http://www.washingtonpost.com/world/middle_east/militants-create-haven-in-s
outhern-yemen/2011/12/29/gIQA9Fb1SP_story.html> seized control of large
swaths of southern Yemen in the past year, while the government has had to
counter growing perceptions that it is no more than an American puppet.
"There is more hostility against America because the attacks have not
stopped al-Qaeda, but rather they have expanded, and the tribes feel this is
a violation of the country's sovereignty," said Anssaf Ali Mayo, Aden head
of al-Islah, Yemen's most influential Islamist party, which is now part of
the coalition government. "There is a psychological acceptance of al-Qaeda
because of the U.S. strikes."
Quso and Salim are from the Awlak tribe, one of the most influential in
southern Yemen. So was Anwar al-Awlaki, the Yemeni American preacher who was
thought to be a senior AQAP leader and was
<
http://www.washingtonpost.com/world/anwar-al-aulaqi-us-born-cleric-linked-t
o-al-qaeda-killed-yemen-says/2011/09/30/gIQAsoWO9K_story.html> killed in
September by a U.S. strike. The following month, another U.S. strike killed
Awlaki's 16-year-old son, Abdulrahman, also an American citizen, generating
outrage across Yemen.
Awlak tribesmen are businessmen, lawmakers and politicians. But the strikes
have pushed more of them to join the militants or to provide AQAP with safe
haven in their areas, said tribal leaders and Yemeni officials.
"The Americans are targeting the sons of the Awlak," Aidaroos said. "I would
fight even the devil to exact revenge for my nephew."
In early March, U.S. missiles struck in Bayda province, 100 miles south of
Sanaa, killing at least 30 suspected militants, according to Yemeni security
officials. But in interviews, human rights activists and victims' relatives
said many of the dead were civilians, not fighters.
Villagers were too afraid to go to the area. Al-Qaeda militants took
advantage and offered to bury the villagers' relatives. "That made people
even more grateful and appreciative of al-Qaeda," said Barakani, the
businessman. "Afterwards, al-Qaeda told the people, 'We will take revenge on
your behalf.' "
In asserting responsibility for last week's bombing in Sanaa, Ansar
al-Sharia - the name by which AQAP goes in southern Yemen - declared that
the attack was revenge for what it called the U.S. war on its followers.
The previous week, al-Qaeda's supreme leader, Ayman al-Zawahiri, released a
video portraying Yemeni President Abed Rabbo Mansour Hadi, who took office
in February and vowed to fight AQAP, as an "agent" of the United States.
In some cases, U.S. strikes have forced civilians to flee their homes and
have destroyed homes and farmland. Balweed Muhammed Nasser Awad, 57, said he
and his family fled the city of Jaar last summer after his son, a fisherman,
was killed in a U.S. strike targeting suspected al-Qaeda militants. Today,
they live in a classroom in an Aden school, along with hundreds of other
refugees from the conflict.
"Ansar al-Sharia had nothing to do with my son's death. He was killed by the
Americans," Awad said. "He had nothing to do with terrorism. Why him?"
No Yemeni has forgotten the U.S. cruise missile strike in the remote tribal
region of al-Majala on Dec. 17, 2009 - the Obama administration's first
known missile strike inside Yemen. The attack killed dozens, including 14
women and 21 children, and whipped up rage at the United States.
Today, the area is a haven for militants, said Abdelaziz Muhammed Hamza,
head of the Revolutionary Council in Abyan province, a group that is
fighting AQAP. "All the residents of the area have joined al-Qaeda," he
said.
http://www.washingtonpost.com/rf/image_296w/2010-2019/WashingtonPost/2012/05
/30/Foreign/Graphics/296yemenicivilians.jpg
(The Washington Post/The Long War Journal) - U.S. drone strikes on rise in
Yemen
------------[ Sent via the dehai-wn mailing list by dehai.org]--------------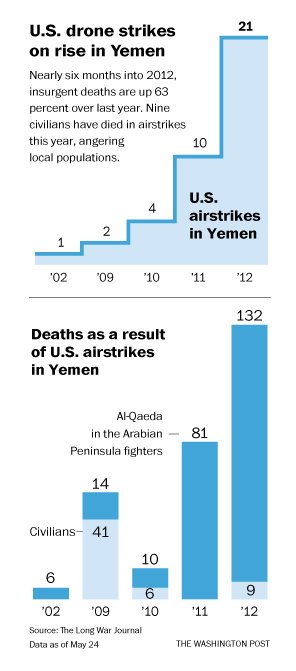 (image/jpeg attachment: image001.jpg)
Received on Wed May 30 2012 - 14:49:29 EDT