From: Berhane Habtemariam <Berhane.Habtemariam_at_gmx.de_at_dehai.org>
Date: Tue, 29 May 2012 00:06:04 +0200
China brings jobs to Ethiopia but at what cost?
By James Melik Reporter, Business Daily, BBC World Service
28 May 2012 Last updated at 16:17 GMT
China has fast become Africa's largest trading partner - but who exactly is
reaping the benefits?
While Europe is struggling with recession, it is a very different story in
Africa where the continent overall is expected to enjoy growth of 6% in
2012.
But there is concern that the fruits of economic expansion and foreign
investment are not being evenly shared around.
One example of Chinese investment is a shoe factory just south of the
Ethiopian capital Addis Ababa, on a huge industrial site known by locals as
China Town.
Two production lines make 2,000 pairs of shoes every day for global brands,
including Guess and Tommy Hilfiger.
Despite perks such as the factory having its own canteen and tennis courts,
and the workers being supplied with their own uniform, the workers often
receive a wage which is only a fifth of what a worker in an indigenous
factory would receive.
Delivering skills
The shoe factory is run by the Huajian Group, whose vice president Helen Hai
says that instead of receiving higher wages, the workers are trained in
shoe-making skills.
"I took 86 Ethiopian graduates to China to teach them how to make shoes,"
she says.
"Now we have a programme working closely with the government to train
another 300."
She is adamant that after their training, workers can choose to remain or to
work for other shoe factories.
"We offer tennis courts, uniforms, food - and in the future we will also
offer free accommodation," she says. "And we are also in the process of
applying for a Fairtrade certificate as we definitely treat our workers
fairly."
She adds: "In the past China has given a lot of money to African countries,
but now we want people here to have the capability to make goods themselves
- that is why training is always the core in our strategy."
Local sourcing
Shoe manufacturing has something of a tradition in Ethiopia, and another
smaller factory is run by Bethlehem Tilahun Alemu.
"I wanted to show that it is possible for a local person to be globally
successful," she says, "And that is exactly what we have done."
It is a powerful idea which has provided an example for many young women and
men in Ethiopia.
Her Sole Rebels company employs 75 people, making the soles of shoes from
recycled car tyres and the uppers from Ethiopian spun cotton.
"The culture of recycling has been in Ethiopia for a long time, and recycled
tyres have long been used for shoes," she notes.
"It is a cheap material and locally sourced, whilst we source the spun and
dyed cotton from the local community," she says.
She explains how it is her ethos to employ local people, and says that 99%
of the shoes they produce are exported.
"This is a local grass-roots business that we built from scratch. We have a
brand and authenticity," she says.
She is also proud that her company is certified as Fairtrade.
"We pay our people four or five times what other people are paying," she
says, adding that she is not worried about her workers getting trained and
then going to work for Chinese factories - because they will not get paid as
much.
Local attraction
Helen Hai says the Huajian Group plans to invest $2bn (£1.3bn) in Ethiopia
for a variety of reasons, including Ethiopia's "good economic policy".
Its competitive labour in the global market was also an attraction -
compared with China, it is one-seventh cheaper to employ someone in
Ethiopia.
The good supply of raw materials - leather for making shoes - and its good
geographic location, allowing easy access to Europe and the rest of Africa,
were also factors.
"We signed an understanding with the Africa Development Fund," she says.
"We will jointly invest $2bn in the next 10 years - which will create job
opportunities for 100,000 people."
She maintains that the biggest challenge for investing in Ethiopia is that
people are not familiar with doing international business, although she is
confident that will change over time and her company is working closely with
the government to solve that issue.
Investment encouraged
Long-time Africa campaigner Sir Bob Geldof says people should not worry
about Chinese investment in Africa and rebuffs the idea of economic
colonialism.
"China is not interested in that. Africans are not going to go through that
kind of experience again, ever," he says.
"Shut up, get down here, get on with it and it is mutually beneficial. You
can talk about what sort of government works best, about values, about
rights.
"Those things are being talked about. When they are ignored, there is no
growth, just instability, war and hunger."
He further maintains that democracy is not a prerequisite for growth.
"How do we know that? Look at Singapore or China. Business leaders there
work with whatever government they have to - their job is to create
business."
Ethiopian worker in shoe factory overseen by Chinese supervisorChinese
companies bring in their own people to manage their factories
<
http://www.bbc.co.uk/news/business-18094181#story_continues_1
> Continue
reading the main story
Related Stories
* <
http://www.bbc.co.uk/news/world-africa-18143515
> Viewpoint: Africa
must do more to profit from China
* <
http://www.bbc.co.uk/news/world-africa-11955516
> US 'wary of China
role in Africa'
------------[ Sent via the dehai-wn mailing list by dehai.org]--------------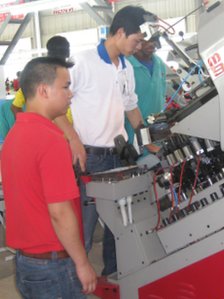 (image/jpeg attachment: image001.jpg)
Received on Mon May 28 2012 - 18:06:09 EDT