From: Berhane Habtemariam <Berhane.Habtemariam_at_gmx.de_at_dehai.org>
Date: Sun, 27 May 2012 23:29:04 +0200
Strife in Yemen-Hadi tries harder, against the odds
The new president, buffeted by bombs and in-fighting, seems to be
persevering
May 27th 2012 | SANA'A | from the print edition
http://media.economist.com/sites/default/files/imagecache/290-width/images/p
rint-edition/20120526_MAM991.png
THE suicide-bomb that was set off on May 21st in the heart of Sana'a,
Yemen's capital, by an adherent of a branch of al-Qaeda, killing more than
100 soldiers and injuring several hundred more, epitomised the country's
continuing insecurity. It also put a spotlight on Yemen's new president, Abd
Rabbo Mansour Hadi. The blast walls that protect his house in Sana'a are
said to be the highest in the country. Apparently he seldom ventures out.
Yet, since the former vice-president was sworn in on February 27th,
displacing his predecessor, Ali Abdullah Saleh, who lasted 33 years in the
job, he has made the campaign against Yemen's jihadist network his priority.
This month Mr Hadi unveiled a new effort to tackle al-Qaeda in its southern
havens. The United States and the European Union are backing him up. The
Americans are still giving military aid and have stepped up their deployment
of drones.
The jihadists, fighting under the banner of Ansar al-Sharia (Partisans of
Islamic Law), said in a Facebook post that the suicide-bombing, carried out
near the presidential palace, was aimed at Yemen's defence minister in
retaliation for a campaign that has killed dozens of their fighters.
Until the attack on May 21st, it was generally thought that the portly,
balding, 66-year-old Mr Hadi, a former military man from the south who has
often been portrayed as shy and unassertive, had been doing rather well.
Many Yemenis had doubted whether he would be able to step out of Mr Saleh's
shadow. But he had gradually begun to do so. "I don't think anyone believed
he would come out looking as strong as he has, considering the challenges,"
said Abdul-Karim al-Iryani, a former prime minister, earlier this month.
Apart from having to take on al-Qaeda and its allies, Mr Hadi has been
engaged in a no less testing battle to cut down to size the remnants of Mr
Saleh's power circle.
Under an agreement brokered in November by members of the Gulf Co-operation
Council, led by Saudi Arabia, Mr Saleh agreed to end his long rule in
exchange for immunity for him and his family. Among other things, the armed
forces, whose divisions during last year's uprising brought Yemen to the
brink of civil war, were to be revamped.
Mr Saleh has continued to intrigue behind the scenes, seeking to block
decrees issued by Mr Hadi to reorganise the forces and to oust Mr Saleh's
many relatives and friends from senior posts. But the former president has
steadily been outflanked. Some say he now suffers from mild dementia, after
a rocket attack last summer that nearly killed him and forced him to fly to
Saudi Arabia for medical treatment. Hours after the suicide attack Mr Hadi
sacked four high-ranking commanders and promised on television to fight on
against al-Qaeda "until we have eradicated it, whatever sacrifices we must
make."
He has a long way to go. Rebels of the Houthi clan hold sway in much of the
north, around Saada, while a secessionist movement has gained momentum in
the south. Mr Saleh's system of tribal patronage is largely intact. A
"national dialogue" is due to begin this autumn to accommodate Yemen's
diverse groups and interests. If it fails, the country could fall apart.
That would benefit Ansar al-Sharia and al-Qaeda. During the upheavals of
last year, jihadists took over swathes of the rugged mountainous southern
provinces of Shabwa and Abyan, where they have operated for years. But now,
in a notable territorial advance, they also control several towns, which
they proclaim to be an Islamic emirate. There the jihadists have virtually
taken over the functions of government, providing locals with a modicum of
law and order as well as electricity and water. They also dispense justice
based on sharia law.
Al-Qaeda's black flag can now be spotted in parts of Aden, the strategic
port that is the main city of the south. If the jihadists were to gain
control of it, they could threaten the Bab al-Mandab strait at the foot of
the Red Sea, through which much of the oil supplied to the West is shipped.
This month Yemen's armed forces tried to close in on the jihadists'
stronghold of Jaar, renamed "the emirate of Waqar", and on Abyan's capital,
Zinjibar. Hundreds on both sides are said to have been killed.
Some say the jihadists have a few hundred fighters, others several thousand.
Plainly they can strike almost at will. In the past few months they have
overrun several military bases in the south, seizing heavy weapons, even
tanks. In one attack this year they captured 73 Yemeni soldiers.
Mr Hadi may be planning a fresh assault before the fasting month of Ramadan,
which starts this year on July 20th. But his forces are likely to prove
ineffective unless he first manages to sort out who really commands them:
his fragile new establishment, or the rump of Mr Saleh's old one.
------------[ Sent via the dehai-wn mailing list by dehai.org]--------------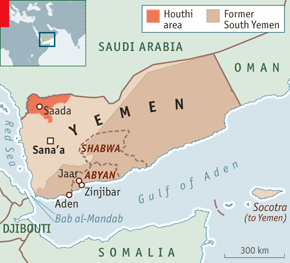 (image/png attachment: image001.png)
Received on Sun May 27 2012 - 17:29:07 EDT