From: Berhane Habtemariam <Berhane.Habtemariam_at_gmx.de_at_dehai.org>
Date: Wed, 16 May 2012 23:39:47 +0200
Qatar: Geopolitical Cosmopolitanism
Akshay Mathur
May 16, 2012
Qatar topped the Middle East rankings in the just-released 2012 MasterCard
Worldwide Index for Consumer Confidence. To those who have followed the
trajectory of this nation, it comes as no surprise that this tiny peninsula
off Saudi Arabia has transformed into a city-state of commercial energy and
urban magnificence. Less known is Qatar's growing role in international
geopolitics, and those who are aware of its position are puzzled by what
Qatar hopes to achieve from it.
Since the beginning of 2011, Qatar has raised its profile as an active
participant in world affairs. During 2011-12, when Qatar simultaneously held
the presidency of the Arab League and of the U.N. General Assembly, it used
the platform successfully to oust Libyan leader Moammar Gaddafi while
independently providing Qatari military and monetary support to the rebels.
Similarly, it supported the revolutions in Tunisia and Egypt through the
reportage of its state-owned Al Jazeera Network, which blanket-covered the
protests. Qatar was the first country to recall its ambassador from Syria
before calling for President Assad to step down, and was host to the peace
accords between the Sudanese government and Darfur rebels in 2011.
Growing simultaneously with Qatar's international profile is a
cosmopolitanism within the country. Doha is already home to the United
Nations offices; the Al Jazeera Network, which is an established popular
voice of the Middle East; the controversial office of the Taliban; the
headquarters of the U.S. Central Command; the liberal U.S. think tank
Brookings Institution; several multinational companies; and a rotating
calendar of intellectual international conferences such as the Doha Forum
and United Nations meetings. These institutional interactions-coupled with
the grandeur of the city of Doha and its beautiful seaside esplanades,
shining skyscrapers, refurbished ethnic villages and opulent theatres-is a
magnet for international diplomats and executives.
Bold aspiration
Some indication of state strategy is evident in the Qatar National Vision
2030. It is a statement of bold aspiration, one that puts building a
knowledge economy and international engagement at the same level of priority
as oil and gas exploration.
The 2,500-acre Education City, supported by the government-owned Qatar
Foundation, is the largest foreign cluster of American universities outside
of the United States. Georgetown University teaches foreign affairs,
Carnegie Mellon focuses on information technology, Northwestern University
teaches journalism.
Where entrepreneurship, enterprise and cosmopolitanism are not instinctive,
it is being enabled by creating forums that reward these skills. On Jan. 29,
Enterprise Qatar, a joint initiative between Carnegie Mellon University and
the Qatar Business Association, launched a business plan competition called
Al-Fikra for identifying and promoting creative business ideas that would be
based in Qatar. Similarly, the World Innovation Summit for Education
organized by the Qatar Foundation for Education, Science and Community
Development began in 2009. It supports innovative ideas for raising
awareness of education as a means to development, and has seen entries from
Paraguay to Ghana. Every year, they choose six winning ideas to support with
finance and advice. Nanhi Kali, an NGO that promotes education for girls in
India, supported by Mahindra & Mahindra (which also supports Gateway House)
won the award the first year it was launched in 2009.
Away from the limelight, geopolitics is being practiced from the bottom up.
Georgetown University organized its first ever Young Leaders Seminar in
Qatar in April. It brought together 18 leaders under the age of 35 from
different regions of Africa, the Middle East and South Asia with varied
backgrounds such as social activism, journalism, political dissidents and
scholars for a healthy discussion and understanding of global developments.
The same weekend, Reach Out to Asia (ROTA), an NGO set up by the Emir of
Qatar for engaging the expatriate community in Qatar (80 percent of Qatar's
population comprises expatriates on work visas), also organized a youth
conference that brought participants from Yemen to Japan. The 350-strong
student conference discussed how sports and conservation of the environment
can provide a platform for dialogue between countries that do not engage
with each other.
Power of energy wealth
Beyond the diplomacy and intellectual pursuit is the power of Qatar's energy
wealth, used for its geopolitical goals. With the third-largest natural gas
reserves and the 13th-highest oil reserves in the world, Qataris are the
richest people on the planet, with a per capita GDP of over $100,000. At the
April 21 World Investment Forum meeting in Doha, Qatar Investment Authority
revealed that its Sovereign Wealth Fund is now over $100 billion and will
have $30 billion more to invest in 2012 alone. So far, it has invested the
money in European markets such as the French energy company Total, and in
the London-based property of the tony Harrods department store. But now,
many developing countries such as Sudan, Colombia, Djibouti, Namibia, Rwanda
and Uganda are wooing Qatar for investments in food processing,
infrastructure and agriculture sectors. Sudan has successfully even won a $2
billion loan in March that includes the purchase of government bonds that
saved the country's sliding currency.
Geopolitical cosmopolitanism
All these developments exemplify a kind of geopolitical cosmopolitanism that
is new to Qatar and the world. So far, all moves indicate that Qatar wants
to go further in influencing the developments in the region-either as a
neutral peacemaker or through the use of hard or soft power-simply because
it can. It is a more anodyne stakeholder than perhaps any other in the
region, where leadership is split between Western powers, Saudi Arabia, Iran
and Turkey. Qatar seems determined to use its developing intellectual heft
to play an active role in the region, even if not neutral, while it
bulldozes its way to becoming a commercial hub like Dubai or Singapore. One
direct benefit is its new friendship with the United States, which is happy
to befriend another Sunni monarchy besides Saudi Arabia and increasingly
depends on Qatar to communicate with non-state groups such as the Taliban.
Unfortunately, there are not too many successful precedents to follow. In
the past, Jordan has played a similar role in the Middle East, mediating
between Israel and Palestine. In fact, there is an uncanny resemblance
between the royal couples-King Hussein and Queen Noor of Jordan, and Sheikh
Hamad and Sheikha Mozah of Qatar-both glamorous, worldly and cultural icons.
More recently, Turkey has played a similar role between Iran and the P5+1.
But Jordan's role was limited to Israel and Palestine. Dubai and Singapore
have largely remained commercial centers. India, Brazil and South Africa
have only now started to identify and vocalize their global role after
acquiring some economic confidence. Russia and China remain reticent about
overthrowing authoritarian governments purely on Western pressure.
Norway is the only country that has had some success of being a neutral
peacemaker. It did so with Israel and Palestine at the Oslo Accords in 1993,
and then again with the Sri Lankan government and the rebel Tamil Tigers in
2002. Its history as a non-colonizer of economic strength gave it the
necessary credibility to be a neutral participant with no direct stakes.
Challenge of diverging interests
As Qatar engages further internationally, it will face the challenge of
absorbing and responding to diverging international interests and
implications of its participation in the world. By training the Libyan
military and flying bombing sorties, it won the accolades of NATO and
revived an ailing Arab League but has certainly lost the credibility of a
neutral peacemaker. Many at home and in the region are already troubled by
the difference of coverage between Al Jazeera English and Al Jazeera Arabic,
as was obvious in the reporting of the recent protests in Bahrain.
Internally, Qataris remain satisfied with their leadership so far. No one
but a few journalists showed up for the "Day of Rage" in Qatar on March 16,
2011, to protest against the administration of the ruling Sheikh Hamad.
Women have the right to vote in national elections and have 100 percent
literacy, and over 30 percent are part of the workforce. Some gender
disparities remain with regard to marriage and travel, but Sheikha Mozah has
promised changes.
Regardless of the uncertainties, the cosmopolitan education being imparted
in Education City to domestic and international students will certainly help
Qatar make and retain friends all over the world-at least just enough to
maintain internal solidarity while it begins the learning process of playing
the international role it aspires to.
This article was written for Gateway House: Indian Council on Global
Relations, www.gatewayhouse.in. Akshay Mathur is head of research at Gateway
House.
http://worldpress.org/images/articles/qatar.jpg
The night skyline of Doha, Qatar. (Photo: Jim Noetzel, Shutterstock)
------------[ Sent via the dehai-wn mailing list by dehai.org]--------------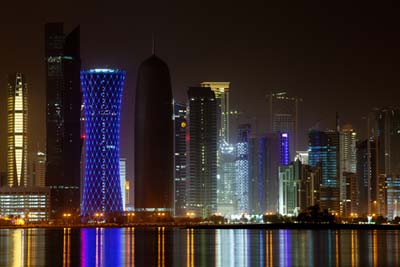 (image/jpeg attachment: image001.jpg)
Received on Wed May 16 2012 - 17:39:50 EDT