From: Berhane Habtemariam <Berhane.Habtemariam_at_gmx.de_at_dehai.org>
Date: Fri, 27 Apr 2012 23:53:19 +0200
Sudan v South Sudan-Close to the brink
Sudan and South Sudan are edging towards a war neither can afford
Apr 28th 2012 | BENTIU, JUBA AND NAIROBI | from the print edition
THE military build-up is immediately apparent in the barracks in Rubkona,
just a few miles south of the disputed border between the two Sudans. It is
usually home just to the 4th division of the South Sudanese army, but pickup
trucks with mounted machineguns and the logo of the 6th division loll in the
shade while the 2nd division puts on a show for visiting journalists. Both
units are usually based much farther south. Alcohol laces the breath of a
parading soldier early in the morning. Generals, including the army chief of
staff and the deputy head of military intelligence, discuss the latest
events.
On April 20th South Sudan announced the withdrawal of its troops from the
Heglig oilfields north of the de facto border after seizing them ten days
earlier. The leaders of the new country, which formally gained independence
from the north only nine months ago, had come under intense pressure from
the African Union and the UN, which described the advance as an "illegal
act". The north claimed a military victory, saying it had killed hundreds of
Southern Sudanese. The truth probably lies in-between: finding it harder
than it anticipated to hold on to Heglig, South Sudan retreated under fire.
Civilians and soldiers looted anything of value. Oil installations are
severely damaged-a big blow to Sudan's economy, which is already reeling
from the south's secession.
Along the grassy border, even after the southern withdrawal, fighting has
continued. There were ground clashes on April 22nd and Sudan conducted a
series of air raids. On April 23rd MiG jets roared over Bentiu and Rubkona
(see map). Plucky locals, not all in uniform, fired haplessly at them with
AK-47s and the odd machinegun. The aircraft tried to destroy a bridge
between the two towns, which allows South Sudan to send reinforcements to
what is now thought of as "the front".
One jet also strafed Rubkona's market, killing at least two people. The next
day, farmers and charcoal-sellers were among those wounded when a market in
Lalop was hit. A local leader, Taban Deng, claims that well over 80
civilians have been killed in air raids since the beginning of March. Nyaka
Tunguar, a teaseller, was the only survivor when a rocket hit her stall. "I
was injured and five people died, but they died for their land, so I am
proud." Nationalist sentiment is running high in both countries, though
Sudan's archbishop, Daniel Deng, is probably right when he warns that the
two governments are close to starting a war that their people do not need or
really want.
http://media.economist.com/sites/default/files/imagecache/290-width/images/p
rint-edition/20120428_MAM949.png
Sudan's leaders deny any cross-border incursions. President Omar al-Bashir
was bullish when he visited Heglig after its recapture. "There can be no
negotiations", he said, with the South Sudanese, who understand only "the
gun and bullets". A couple of days earlier he described South Sudan's
politicians as insects to be eradicated. Hardliners in Khartoum, the
northern capital, want the army to sweep deep into the south, or at least to
take over oilfields beyond the border. More thoughtful types in the top
brass realise the northern army is overstretched; it is already engaged in
the rebellious regions of Darfur, Southern Kordofan and Blue Nile.
The United States has protested loudly against aggression on both sides. A
presidential envoy visited the north and south but had relatively little to
offer. The African Union (AU) urged both sides to stop fighting, and said
they had three months to sort out their disagreements, which include the
exact location of the border, the status of each country's citizens in the
other state and, above all, oil. But the AU has few powers for imposing a
resolution.
Some of its members may be better placed to influence events. Ugandan
officials have warned that they will respond to a Sudanese attack on Juba,
the southern capital, from the air. That is no empty threat: a recent
purchase of Russian Sukhoi fighter jets puts Sudan in range. Kenya, like
Uganda a big investor in the south, has been more measured in its response,
stressing that South Sudan should become a member of the East African
Community, a trade block. Kenyan leaders are keen for South Sudanese oil to
flow through a proposed pipeline to a new port due to be built on Kenya's
coast near Lamu.
Ethiopia is also involved. Meles Zenawi, the prime minister, has worked hard
to build trust on both sides. Ethiopian traders supply many Sudanese in both
countries with cheap goods. Mr Meles has previously hosted talks and sent
peacekeepers to some parts of the disputed border. He could now decide to
withdraw or reinforce them. Ethiopian officials say they are working with
Egypt, with which it has had testy relations, to find a common position.
But can outsiders persuade the warring parties to stand down? The north is
not very responsive at the moment, whereas southern politicians are sending
mixed signals. President Salva Kiir flew to China on April 23rd, another
country with influence on both sides, and listened to pleas for peace. But
his vice-president, Riek Machar, said back home, "We will defend ourselves.
If they continue bombarding, if they continue to attack us, we definitely
will retaliate."
There is grandstanding on both sides, along with the mobilisation of
civilians. Sudan has boosted its Popular Defence Force, a state militia, and
the south is telling its people to stop fighting tribal battles and defend
the homeland. War is closer than at any time since the 2005 peace deal that
ended decades of civil war. This time, there is unlikely to be a winner.
------------[ Sent via the dehai-wn mailing list by dehai.org]--------------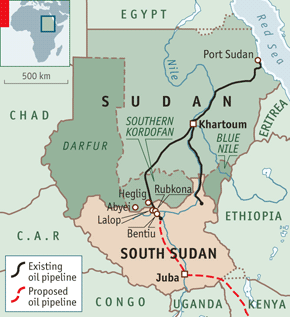 (image/png attachment: image001.png)
Received on Fri Apr 27 2012 - 17:53:49 EDT