From: Berhane Habtemariam <Berhane.Habtemariam_at_gmx.de_at_dehai.org>
Date: Sat, 21 Apr 2012 00:27:38 +0200
Is war between the Sudans inevitable?
By James Copnall BBC News, Juba
20 April 2012 Last updated at 10:42 GMT
Sudan and South Sudan are at war - of sorts - and have been for longer than
it appears.
President Omar al-Bashir's bellicose declarations about liberating South
Sudan from the "insects" who govern it stole the headlines.
South Sudan's conquest of the Heglig oilfields last week, with its
far-reaching military and economic implications, is the physical proof of
the conflict.
But it is not yet certain these recent events will result in meaningful and
continued fighting outside the already embroiled border region.
President Bashir delivers two styles of speech.
In the first he reads from a measured text.
In the second he speaks off the cuff, often using humour, always stirring
the passion of his supporters with dramatic rhetoric and images.
In the past he has talked of an Islamic Sudan with "no place for ethnic and
cultural diversity" and hinted at painful events that might befall elections
observers, UN peacekeepers or other enemies.
These kind of speeches energise the base, as they say in American politics -
but do not always translate into a meaningful change to an established
reality.
His fiery words in Khartoum and then el-Obeid, in front of military recruits
wearing combat uniforms, may well fall into this category.
Land swap?
After all, it is possible to argue Sudan and South Sudan are already
fighting an undeclared war, and have been for some time.
In May last year, before South Sudan became independent, Sudanese tanks
rolled into the disputed region of Abyei, sweeping aside South Sudanese
police, even though these men were probably soldiers put in a different
coloured uniform.
Khartoum's "invasion" of Abyei was condemned initially, then in effect
accepted as a reality on the ground, to factor into negotiations.
Juba may have been given a handy precedent for its recent takeover of
neighbouring Heglig.
Already the idea of an Abyei-Heglig swap has been hinted at.
But Abyei is not the only example which suggests a long-running state of war
between the neighbours.
Since rebels took up arms against Khartoum in South Kordofan, and then Blue
Nile, there have been accusations they are being supported by Juba.
The SPLM-North rebels once fought alongside the men who won independence for
South Sudan, but were left north of the border at separation.
The US and the UN, among others, have told Juba to stop supporting
SPLM-North - an accusation South Sudan denies.
Khartoum has its own difficult-to-avoid charges to ward off too: South
Sudanese rebels are largely based in the Sudanese capital.
Small Arms Survey has shown, convincingly, that Juba and Khartoum are both
almost certainly supporting proxy rebels on the other's territory.
Oil output hit
It has been a key and heated topic of the negotiations in Ethiopia's
capital, Addis Ababa, which are on hold for the moment.
Khartoum perceives the well-armed SPLM-North's actions as proof that South
Sudan has been attacking it for many months. Juba has seen ethnic violence
fuelled over decades by Khartoum's divide and rule tactics.
There have also been direct Sudan-South Sudan clashes on the border before
these latest events, and Sudan has been caught bombing South Sudanese
territory too.
Under this reading, Sudan and South Sudan have been carrying out a sort of
low-level, unacknowledged war for some time.
There is no doubt Heglig has taken the situation to a much more dangerous
dimension.
South Sudan's troops have struck a crippling blow to Sudan's economy.
An oil industry source, who works in Heglig, says it may account for as much
as 80,000 barrels per day of Sudan's 120,000-130,000 bpd output.
Khartoum cannot afford to lose this. It simply does not have the foreign
currency reserves to keep importing fuel to make up the gap, and there are
fears the prices of basic good could rise.
Many of the South Sudanese leaders, and the various Sudanese rebel groups
with similar agendas, will hope this pressure could bring about the downfall
of President Bashir.
In this context it is evident the Sudanese have to regain the oilfields,
either through an South Sudanese withdrawal because of international
pressure, or through force.
Or, as a Sudanese official put it, "by hook or by crook".
Military limitations
It is also easy to see why President Bashir might favour at least a limited
dose of military action.
He and others in his inner circle may hope the unifying nature of combat
against a "common enemy" would rally a fractured nation behind him.
It may take more than this, because after two decades in power, in which the
Sudanese have been constantly at war, the people's patience is running out.
South Sudan has its problems too.
The decision to shut down oil production in January - 98% of government
revenue - after Sudan impounded South Sudan's oil shipments amid a dispute
over transit fees - was highly popular, but the effects are being felt.
There is the beginnings of a fuel crisis in Juba, and infrastructure
projects and development are on hold.
Here, too, President Salva Kiir may feel he can stave off criticism by the
patriotic fervour created by fighting a war.
Both sides are mobilising troops.
Further fighting in Heglig is inevitable, and if Sudan retakes the
oilfields, it is difficult to tell whether its soldiers would stop there.
The question is whether either side really intends - or is able - to spread
the war further.
These have been skirmishes in a couple of locations, but no sign yet of
major battles.
Both countries have serious military limitations.
Sudan is fighting off rebels in Darfur, South Kordofan and Blue Nile, and
was not able to hold on to its prize possession, Heglig.
South Sudan does not have the firepower, particularly in the air, of its old
enemies.
The lack of oil revenue also means both would struggle to pay for another
costly war.
Both armed forces, and in particular South Sudan, have command and control
problems, which means on a local level military leaders sometimes launch
assaults which surprise the top brass in the capital.
An all-out war would create great misery, as wars do.
But it is not yet clear if either side has the resources, or the desire, to
conduct a war for a sustained period of time outside of a relatively limited
front.
Main disputes between the two Sudans
* Transit fees the South should pay Sudan to use its oil pipelines
* Demarcating the border
* Both sides claim Abyei
* The rights of each other's citizens now in a foreign country - there
are estimated to be 500,000 southerners in Sudan and 80,000 Sudanese in the
South
* Each accuses the other of supporting rebel groups on its territory
Sudan: A country divided
* <
http://www.bbc.co.uk/news/world-africa-17783636#over1
> Oil fields
* <
http://www.bbc.co.uk/news/world-africa-17783636#over7
> Geography
* <
http://www.bbc.co.uk/news/world-africa-17783636#over2
> Ethnic
groups
* <
http://www.bbc.co.uk/news/world-africa-17783636#over3
> Infant
mortality
* <
http://www.bbc.co.uk/news/world-africa-17783636#over4
> Water &
sanitation
* <
http://www.bbc.co.uk/news/world-africa-17783636#over5
> Education
* <
http://www.bbc.co.uk/news/world-africa-17783636#over6
> Food
insecurity
Show regions
Map showing position of oilfileds in Sudan, source: Drilling info
international
Both Sudan and the South are reliant on their oil revenues, which account
for 98% of South Sudan's budget. But the two countries cannot agree how to
divide the oil wealth of the former united state. Some 75% of the oil lies
in the South but all the pipelines run north. It is feared that disputes
over oil could lead the two neighbours to return to war.
------------[ Sent via the dehai-wn mailing list by dehai.org]--------------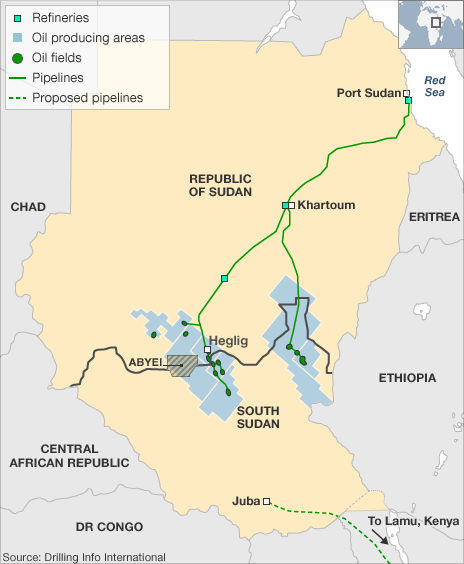 (image/gif attachment: image004.gif)
Received on Fri Apr 20 2012 - 18:27:39 EDT