From: Berhane Habtemariam <Berhane.Habtemariam_at_gmx.de_at_dehai.org>
Date: Fri, 20 Apr 2012 20:22:23 +0200
Shipping in east Africa-Ocean ahoy!
Losing its coast has not stopped Ethiopia developing its shipping
Apr 21st 2012 | ADDIS ABABA, BERBERA AND DJIBOUTI | from the print edition
http://media.economist.com/sites/default/files/imagecache/290-width/images/p
rint-edition/20120421_WBM999.png
ETHIOPIA became landlocked in 1992, when its Red Sea coast was lost to the
new state of Eritrea. It lost access to its former ports soon afterwards.
Since the outbreak of a vicious two-year war between the two countries in
1998, the Red Sea ports of Massawa and Assab have been off-limits to
Ethiopian freight (see map). Instead, Ethiopia has to rely on Djibouti for
imports and exports. That comes at a heavy price: it costs more to truck a
container from Djibouti to Addis Ababa, Ethiopia's capital, than to ship the
same container from China to Djibouti.
But losing the coastline has not scuppered Ethiopia's merchant fleet. The
state-owned Ethiopian Shipping Lines (ESL) has eight ships afloat and nine
under construction in China. That is modest compared with the armadas of the
biggest shipping firms. But having any sort of ocean-going capability is
good for national pride. At ESL's Addis headquarters, complete with
portholes and model ships, the outgoing boss, Ambachew Abraha, remembers
proudly his days as an engineer aboard the freighter Queen of Sheba. "She
was a real beauty," he says. "With her I sailed to Rotterdam, Hull,
Middlesborough."
Mr Abraha was recently replaced as part of a shake-up of the company, which
has seen a portfolio of state-owned transit and warehousing facilities added
to it. The aim is to offset the high freight costs Ethiopian businesses pay
by streamlining the entire transport process. A new railway is planned from
Djibouti to Addis, and dry ports inside Ethiopia will allow goods to pass
more quickly out of Djibouti, cutting the price of storage and customs.
Last year ESL made a profit of $40m. The new umbrella company looks likely
to do even better. But a lot depends on Ethiopia getting more access to blue
water. Its trade officials plan to do more business via the port of Berbera
in Somaliland, a mostly unrecognised breakaway from Somalia, and with Port
Sudan in Sudan. They are also cheered by a Kenyan plan to build a
"super-port" at Lamu, a Swahili fishing-town near Kenya's border with
Somalia. A new road and railway would connect Lamu with Ethiopia and head on
to South Sudan and possibly Uganda.
It might also reduce the risk of Ethiopian vessels being captured by Somali
pirates. They have so far escaped that fate, perhaps because the pirates
fear that the Ethiopians would launch a swift and bloody reprisal. But for
all shippers, the threat of Somali piracy has nonetheless pushed up
insurance costs and forced vessels to make expensive detours.
ESL handles 45% of Ethiopia's shipping. Most of this is on the company's own
vessels, but some space is bought from other shipping lines. China is
financing ESL's new vessels, which will have improved cranes and holds for
handling more complex cargoes, such as the colossal turbines needed to build
Ethiopia's new hydroelectric dams. Many of ESL's ships leave Africa emptier
than when they arrived, but that is changing. The shipping company hopes to
increase its exports of coffee, grain, minerals, leather and textiles.
Ethiopia's maritime ambitions are not limited to ESL. A school for sailors
has been set up at a university in the lakeside town of Bahir Dar. It has
ambitions to train 5,000 ship's engineers and other officers for the world's
fleets within the next decade-providing low-cost competition for Sri Lankan
and Filipino sailors. The government reckons these sailors could send home
$250m a year in salaries. They would also return, as Mr Abraha has, with
valuable skills and a hankering for the briny unusual in a landlocked
country.
------------[ Sent via the dehai-wn mailing list by dehai.org]--------------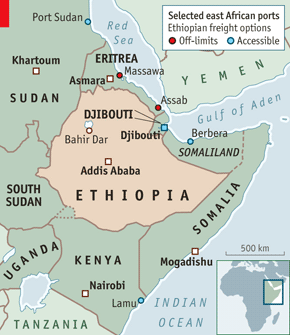 (image/png attachment: image001.png)
Received on Fri Apr 20 2012 - 14:22:23 EDT