From: Berhane Habtemariam <Berhane.Habtemariam_at_gmx.de_at_dehai.org>
Date: Fri, 20 Apr 2012 15:57:34 +0200
Sudanese president threatens war against South Sudan over oil field
By
<
http://www.washingtonpost.com/sudarsan-raghavan/2011/02/22/ABkvITI_page.htm
l> Sudarsan Raghavan and
<
http://www.washingtonpost.com/colum-lynch/2011/02/28/ABxM9EP_page.html
>
Colum Lynch, Published: April 20, 2012
NAIROBI - Sudan's president, Omar Hassan al-Bashir, on Thursday threatened a
full-blown war against its newly independent neighbor South Sudan, the
starkest indication yet that the United States and its allies have been
unable to bring stability to this corner of Africa despite years of efforts.
Appearing at a rally in the volatile province of North Kordofan, Bashir
vowed to teach South Sudan a "final lesson by force." A day earlier, he
threatened to "liberate" South Sudan from the "insects" that rule it.
It was unclear whether the comments, coming days after South Sudan seized
the disputed Heglig oil field near the border, represented a formal
declaration of war or were merely intended to persuade the United States,
the United Nations and regional powers to force South Sudan to leave the
area.
Nevertheless, Bashir's fiery remarks prompted a torrent of criticism from
the United Nations and Washington, which was instrumental in forging a
<
http://www.washingtonpost.com/wp-dyn/articles/A60373-2005Jan9.html
> 2005
peace deal that ended a decades-long civil war between the two sides and has
spent billions to keep South Sudan stable in a region plagued by terrorism
and militant Islam. If war erupts again, the United States and its allies
could be drawn into trying to mediate another protracted conflict.
In New York, U.N. Secretary General Ban Ki-moon voiced frustration that the
two countries have ignored repeated calls to return to the negotiating table
to settle their differences.
"The last thing the people of these two countries need is another war - a
war that could claim countless lives, destroy hope and ruin the prospects of
peace and stability and prosperity of all Sudanese people," he said at a
news conference.
Ban called on South Sudan to immediately withdraw its forces from the town
of Heglig, saying its seizure constituted "an infringement of the
sovereignty of Sudan and a clearly illegal act." He also called on Khartoum
to stop shelling and bombing South Sudanese territory and to withdraw its
forces from disputed territories.
South Sudanese officials insisted that Khartoum was the aggressor, saying
the north had attacked four areas since Wednesday. "We are only defending
ourselves," said Col. Philip Aguer, a spokesman for South Sudan's military,
adding that South Sudanese troops repulsed the northern forces.
The United Nations has been in a state of almost permanent crisis management
<
http://www.washingtonpost.com/world/violence-between-two-sudans-has-echoes
-
of-darfur/2012/03/09/gIQALukS3R_story.html> since South Sudan gained
independence in July. In the weeks before that, Sudan invaded the disputed
territory of Abyei and launched an offensive against its former military
foes in South Kordofan, leading to the displacement of hundreds of thousands
of civilians, who face the prospect of starvation.
The U.N. Security Council has been trying to muster a diplomatic response
that could persuade the two sides to back down. This week, the United States
floated the idea of imposing U.N. sanctions to compel the two parties to
step back from the fighting. But confidence in a diplomatic solution
appeared to be waning.
On Tuesday, former South African president Thabo Mbeki warned the 15-nation
council in a closed-door meeting that the two sides were trapped in the
"logic of war" and that it may be "too late to talk" them down from their
military confrontation.
South Sudan has demanded that the United Nations deploy a peacekeeping force
in the area before it agrees to withdraw, something the world body has
refused to do. South Sudanese officials have said that it is only fair that
the United Nations, which authorized the deployment of an ongoing Ethiopian
peacekeeping mission in Abyei, do the same in Heglig.
The United States proposed that the United Nations draw peacekeepers from
the Ethiopian force, but the proposal has generated little support in the
council.
Princeton Lyman, the U.S. special envoy to Sudan and South Sudan, told
reporters in a conference call that he is engaged in intensive diplomatic
efforts, involving African leaders and the Security Council, to try to head
off a return to violence.
Lyman sought to play down reports that the two sides had returned to war and
denied published reports that he had concluded the two sides were already at
war.
"Obviously, armed clashes are taking place, and that's very true and
terribly, terribly troublesome," he said. "But in the discussions I've had
with - in both Khartoum and Juba - I can say with confidence that virtually
everyone I've talked to has said, 'Look, we don't want to go to all-out war
with the other; we need to find a way out.' "
An oil-centered conflict
The violence underscores the extent to which
<
http://www.washingtonpost.com/world/africa/china-in-a-tug-of-war-between-tw
o-sudans/2012/03/07/gIQAQUUrWS_story.html> oil is at the heart of the
dispute. Khartoum, which controls the pipelines that take oil out of South
Sudan, depends heavily on oil transit fees. South Sudan, which depends on
oil for 98 percent of its revenue, has refused to pay the fees, which it
says are exorbitant.
Khartoum responded by seizing oil tankers carrying South Sudanese oil and
imposing economic blockades. That prompted South Sudan to shut down its
entire oil production in February. That month, Sudan allegedly bombed an oil
field in South Sudan that was nine miles from the border.
Since then, oil installations and areas around them are increasingly being
targeted militarily. Heglig is the scene of the latest fighting. South Sudan
says the Heglig oil field is within its territory, based on borders outlined
in 1956 by Britain, Sudan's former colonizer. Officials say their forces
will not leave the oil field until the United Nations or the African Union
sends a neutral force to oversee the area.
Although Heglig's oil reserves are said to be in decline, the field remains
Sudan's largest.
'It's going to get worse'
Bashir, who seized power in a 1989 coup and is wanted on war-crimes charges
by the International Criminal Court, has vowed to retake the oil field and
push on toward Juba, the capital of South Sudan. The capture of Heglig by
the South Sudanese "has revived the spirit of jihad and martyrdom among the
Sudanese people," he said at the rally in el-Obaid, North Kordofan's
capital, according to the official Sudan News Agency.
"Heglig is not the end but the beginning," he added, according to a
translation by the Reuters news agency.
Andrew Natsios, who was envoy to Sudan under President George W. Bush, said
Thursday, "You are seeing already the worst fighting since 1956, and it's
going to get worse. These are two conventional forces that are battling each
other; this is not a guerrilla war."
The civil war between the Muslim north and the mainly animist and Christian
south led to the deaths of 2 million people and displaced millions.
On Thursday, China,
<
http://www.washingtonpost.com/world/africa/china-in-a-tug-of-war-between-tw
o-sudans/2012/03/07/gIQAQUUrWS_story.html> the dominant foreign player in
Sudan's oil industry, voiced concern over the tensions and urged both sides
to stop fighting. "China has worked hard to ameliorate the problems between
the two Sudans, and we will continue to work with the international
community at mediation efforts," Foreign Ministry spokesman Liu Weimin told
reporters in Beijing.
Lynch reported from the United Nations.
http://www.washingtonpost.com/rf/image_296w/2010-2019/WashingtonPost/2012/04
/20/Web-Resampled/2012-04-20/296hegligLOC--300x692.jpg
(Gene Thorp/The Washington Post)
------------[ Sent via the dehai-wn mailing list by dehai.org]--------------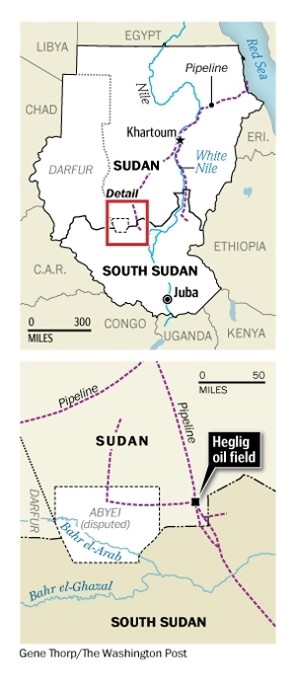 (image/jpeg attachment: image001.jpg)
Received on Fri Apr 20 2012 - 09:57:37 EDT