From: Berhane Habtemariam <Berhane.Habtemariam_at_gmx.de_at_dehai.org>
Date: Fri, 20 Apr 2012 15:44:25 +0200
Hunger in Yemen-Disaster approaching
Among other troubles, Yemen faces a creeping famine
Apr 21st 2012 | HODEIDA AND SANAA | from the print edition
ANISA is only 18, but already a mother of two and a widow. She married her
husband, a fisherman, at 13. He "fell in the sea", she says, and never came
back. Cradled in her lap, Anisa's younger daughter Amina is just shy of her
third birthday. She looks more like a baby than a toddler. A fine layer of
sweat covers her oversized forehead. She breathes rapidly, her belly
sticking out from a dirty T-shirt, distended by hunger. Like many poor rural
Yemenis, Anisa and Amina have suffered a series of shocks from which they
may not recover.
Even before 2011, when an uprising unseated Ali Abdullah Saleh, Yemen's
ruler of 33 years, and fighting between military and tribal factions
threatened to tear the country apart, life was hard for Yemen's poor.
Rabbat, Anisa's village, is an inland hamlet of the coastal province of
Hodeida where farming has been hit by years of drought and rising fuel
prices. Young men travel far in search of dangerous, low-paid work on
fishing boats or try their hand at smuggling to Saudi Arabia.
Life was just bearable before the political crisis. Anisa's father, a
barber, gave what he could. Neighbours helped with food and money. This
community spirit has long cushioned suffering in a country aid workers have
described as "on the brink" for decades.
Everything in Yemen travels by road, and most water is drawn from the ground
using diesel-powered pumps. During the unrest both roads and fuel supplies
were often cut, so prices for basic goods rose fast. Many businesses closed,
and farms suffered another year with little rain. Unemployment rose above
50%. In late 2011, the government decided to cut fuel subsidies.
As household budgets have shrunk, better-off Yemenis have had less to give
their poorer neighbours. Many have taken to buying food and water on credit.
Anisa has no way of paying off the 20,000 riyals ($90) she owes for water,
and worries about getting more. She and her daughters now eat twice a day
when others can spare food or money: tea, bread, rice, maybe some fish if
they are lucky.
In March, the UN's World Food Programme (WFP) reported that levels of food
insecurity in Yemen had doubled since 2009. Today 5m people go hungry so
often that it affects their long-term health. According to Unicef, the WFP's
counterpart for children, some 30% of kids in Hodeida are "acutely"
malnourished, threatened with stunted growth and cognitive impairment. The
30% figure is twice the level the UN uses as a benchmark for crisis. And
hunger is rising, says Lydia Tinka, a veteran of multiple African crises who
works in Hodeida for Oxfam, a British charity.
The big aid agencies are gearing up for an appeal, but fear it will be hard
to raise money until there is evidence that people are starving to death.
Yemenis like to keep things behind closed doors; failure to care for
children is seen as shameful and meetings with people like Anisa remain a
rarity. Until poorer Yemenis open up or start dying, their plight risks
being ignored.
http://media.economist.com/sites/default/files/imagecache/290-width/images/p
rint-edition/20120421_MAP002_0.jpgAmina and Anisa
------------[ Sent via the dehai-wn mailing list by dehai.org]--------------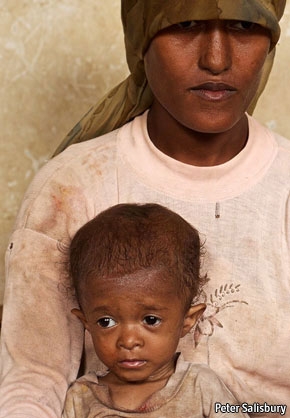 (image/jpeg attachment: image001.jpg)
Received on Fri Apr 20 2012 - 09:44:28 EDT