From: Berhane Habtemariam <Berhane.Habtemariam_at_gmx.de_at_dehai.org>
Date: Wed, 11 Apr 2012 22:31:23 +0200
Somalia's al-Shabab Islamists move north into Puntland
* 11 April 2012 Last updated at 13:12 GMT
Al-Shabab militants have moved north to semi-autonomous Puntland after being
pushed out of central Somalia, Puntland President Abdirahman Farole says.
They are there to strengthen ties with al-Qaeda in Yemen, which lies a short
distance across the sea, he told the BBC.
Al-Shabab, hardline Islamists, merged with al-Qaeda in February.
They are under pressure on a number of military fronts in the south of
Somalia - but still mount frequent attacks.
The leader of Puntland says al-Shabab fighters and commanders have been
arriving over the past few days.
Security threat
The president says they are gathering in Puntland's Galgala mountains and
the Golis range that borders the self-declared republic of Somaliland.
"We believe that these militants and their senior officials are a threat to
the security of our region," President Farole said, adding that he is ready
to deploy troops against them.
Puntland and Somaliland are relatively peaceful, and have avoided the bulk
of the fighting that has racked southern Somalia since its last effective
national government was toppled 21 years ago.
Correspondents say the move of some members to Puntland could signal a
significant regrouping for al-Shabab, which has lost control of several key
strongholds in central and southern Somalia in recent months.
Ethiopian and Somali government forces, backed by African Union troops,
pushed al-Shabab out of the capital Mogadishu in August last year and the
central town of Baidoa in February.
But the bombing earlier this month of the newly re-opened national theatre
in Mogadishu - in which the head of Somalia's Olympic committee and its
football chief were killed - shows al-Shabab remains a potent force.
Map
Somalia - Failed State
* How a mother survives Somalia
<
http://www.bbc.co.uk/news/world-africa-17116237
>
* <
http://www.bbc.co.uk/news/world-africa-17254299
> Life in
ex-al-Shabab stronghold
* <
http://www.bbc.co.uk/news/world-africa-16853499
> Why is Uganda in
Somalia?
<
http://www.bbc.co.uk/news/world-africa-17144557
> Will the world help or
hinder?
------------[ Sent via the dehai-wn mailing list by dehai.org]--------------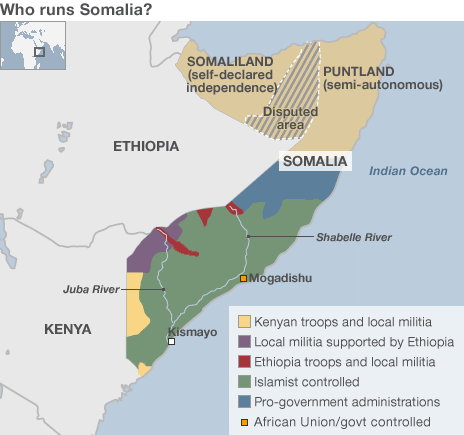 (image/gif attachment: image001.gif)
Received on Wed Apr 11 2012 - 16:31:25 EDT