From: Berhane Habtemariam <Berhane.Habtemariam_at_gmx.de_at_dehai.org>
Date: Mon, 26 Mar 2012 18:55:30 +0200
Israel's arrest of Bedouin man sheds light on Sinai kidnappings of African
refugees
Rahat resident allegedly secured ransom payments for gang that abducted
Eritrean and Sudanese refugees; Israel Police says 'well-oiled' system of
kidnappers working in concert with Hebron money changers.
By Yanir Yagna <
http://www.haaretz.com/misc/writers/yanir-yagna-1.629
>
Latest update 12:00 26.03.12
A Bedouin resident of southern Israel was charged last week with serving as
an accomplice to a criminal organization that kidnapped Eritrean and
Sudanese nationals in the Sinai Peninsula and extorted their families for
ransom.
The indictment Yusuf al-Qarnawi was presented by Israel's State Prosecutor's
Office Be'er Sheva District Court on Friday and elucidates the alleged inner
workings of the gang.
According to the charges, al-Qarnawi was approached in June 2011 by two
alleged kidnappers, one a resident of Sinai and the other from the Gaza
Strip, who requested his help in picking up ransom from family members of
people they had kidnapped.
Al-Qarnawi was allegedly told to call the family and friends of the asylum
seekers kidnapped in the Sinai and receive the ransom payment, according to
the indictment, after which he handed the money over to the kidnappers.
The indictment states al-Qarnawi accepted five payments monthly between June
2011 and February 2012, for which he was paid $300 for ransom payments of
$20,000 or less, and $450 for ransom payment of more than $20,000.
The indictment goes on to elaborate the gang's alleged mode of operation. In
June 2011, they allegedly kidnapped an Eritrean citizen, held him captive
with another 70 prisoners, all blindfolded. During his captivity, he was
starved, beaten, and forced to call his family and ask that they pay a
$25,000 ransom, under threat of death.
Shortly after, al-Qarnawi sent his brother to pick up a $15,000 ransom from
the victim's family. A day later, they allegedly demanded the family hand
over an additional $10,000.
In another case presented in the indictment, two Eritrean women were
abducted. They were held chained in captivity in a house with another 40
other kidnapped persons. While in captivity, they were starved, beaten with
sticks and tortured by electric shock. One the kidnappers raped one of the
woman, says the indictment.
The indictment says that the kidnappers demanded $40,000 for each of the
women, threatening that were they not to receive the stated ransom in full
they would remove their kidneys and sell them instead. To show the families
the seriousness of their intent, the kidnappers would call the victims'
families and let them hear their cries. Al-Qarnawi picked up the ransom for
these two victims in person.
Commander Moti Asor of the Israel Police Southern District (Lachish Region)
Counter Terror Unit, who headed the investigation, explained how the gang
worked:
"The Sudanese and Eritrean citizens travel through the Sinai on their way
to Israel. In the Sinai there are families that specialize in smuggling.
They charge them money to get them across the border," he said. "About a
year ago, these families decided to institutionalize the practice - they
started hold the refugees captive and demand ransoms from them ranging
between $39,000 to 40,000."
"The refugees held by them are given an opportunity to call their families
and friends in Israel," said Asor. "At a later point the kidnappers threaten
the kith and kin and have them listen to them torture their loved ones."
"There is a well-oiled system of kidnappers from Gaza and Sinai, working in
concert with money changers in Hebron," he added. "They reached Al-Qarnawi.
He was in transport and knew traders in Gaza, that how they found him. They
would send him to meetings in Tel Aviv to pick up the money. After the money
was received they'd free the prisoner. Al-Qarnawi confessed his part in five
cases, but we believe there are many more. There are family members that are
afraid to file complaints with the police because they are illegal aliens."
African refugees and labor migrants in a park near the Central Bus Station
in Tel Aviv.
African refugees and labor migrants in a park near the Central Bus Station
in Tel Aviv.
Photo by: Daniel Tchetchik
------------[ Sent via the dehai-wn mailing list by dehai.org]--------------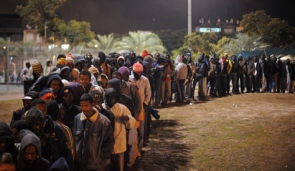 (image/jpeg attachment: image001.jpg)
Received on Mon Mar 26 2012 - 12:55:35 EDT