From: Berhane Habtemariam <Berhane.Habtemariam_at_gmx.de_at_dehai.org>
Date: Sat, 24 Mar 2012 14:22:16 +0100
Yemen's Air Force Is In Disarray
Mar 24, 2012
By Sharon Weinberger
Sanaa, Yemen
http://www.aviationweek.com/media/images/defense_images/Bombers/arabspring_W
EINBERGER_AWST.jpgOn March 4, a brazen attack by Al Qaeda insurgents on an
army base in the south of Yemen caught government soldiers by surprise. Some
reports placed the death toll at nearly 200, with eyewitnesses describing a
nightmarish scene of mutilation and beheadings.
Yet, as the Al Qaeda insurgency boils over in southern Yemen, the majority
of the country's air force is not currently involved in counterterrorism
operations or even flying regular air patrols. Rather, many top air force
officers and pilots are sitting in makeshift tents in the capital, Sanaa,
demanding the removal of the air force commander, who they say has
systematically destroyed the service.
The strike by air force rank and file started in January and comes at the
end of Yemen's Arab Spring, a popular and at times bloody revolution that
eventually led to a negotiated transfer of power from Yemen's president of
33 years, Ali Abdullah Saleh, to Abdu Rabu Mansur Hadi, previously the vice
president. But an entrenched network of Saleh's family members remains in
control of many Yemeni civil and military institutions, including the air
force, which is run by the former president's half brother, Mohammed Saleh.
"We are here to end the corruption and get rid of the family leader," says
Staff Lt. Col. Abdullah Al Yemeni, a flight engineer on strike who received
U.S. training at Maxwell AFB, Ala. "He has made the Yemeni air force into
something like a farm or a company."
With thousands of other officers striking alongside Al Yemeni, the protest
has brought the air force to a near standstill at a time when Yemen is a
central theater of operations in the ongoing U.S. war against Al Qaeda and
its affiliates. The result, despite several hundreds of millions of dollars
in security assistance from the U.S. to Yemen over the past four years, is
that a key tool in the global war against Islamic terrorists is essentially
grounded.
Indeed, the strike comes at a critical time: unrest in the Yemen's south,
home to Al Qaeda in the Arab Peninsula (AQAP) continues to grow, as
evidenced by the attack this month. Nor is this just an internal problem for
Yemen, according to senior U.S. officials.
"We judge [that] AQAP remains the node most likely to attempt transnational
attacks," Director of National Intelligence James Clapper told Congress in
January.
But Al Yemeni and other striking pilots, mechanics and senior officers
interviewed by Aviation Week paint a bleak portrait of the air force after
two decades under Muhammad Saleh. They describe grounded aircraft, an
autocratic commander who siphoned off U.S. money; and a former president who
used Al Qaeda as a fund-raising banner.
Yemen operates a haphazard mix of Russian- and U.S.-provided equipment, a
reflection of the country's role as a political pendulum between East and
West since the Cold War. Today, the air force operates U.S.-built Bell
Helicopter Hueys and Northrop F-5s, as well as Soviet-built aircraft such as
Mil Mi-17 helos and Sukhoi Su-22 fighters.
For security reasons, Yemeni officers decline to state the exact number of
aircraft in their inventory. But according to local reports, the air force
has perhaps several hundred aircraft, many in no condition to fly. The air
force's one squadron of F-5s is in particularly bad shape, according to
pilots and engineers. "Most of the aircraft are grounded," says Capt. Asem
Al Hasani, an F-5 pilot.
To keep even a handful of F-5s in the air, for example, mechanics have had
to cannibalize engine parts, leaving several F-5s sitting on the ground
without engines. But even the F-5s that are flying are in questionable
condition. "[Muhammad] Saleh said, 'fly until you destroy all parts of the
aircraft,'" says Al Hasani.
A particular complaint of F-5 pilots is that the cartridges that power their
ejection seats are expired. Al Hasani recalls a colleague who died in an F-5
crash 13 years ago; the aircraft suffered mechanical problems, and when the
pilot attempted to eject, nothing happened. "It's the last chance for your
life," stresses Al Hasani. "You have to be able to exit."
Air force Col. Muhammad Muhammad Awad says Saleh ordered service life
extensions 29 times for the F-5 seats, despite the expired cartridges.
Both pilots and mechanics allege that the air force commander has repeatedly
overruled mechanics and engineers who refuse to sign off on maintenance
reports, instead ordering pilots to fly aircraft deemed to be unsafe. "He
destroyed all of the technical achievements of the Yemeni air force," says
Gen. Abdul Aziz Al Muhaya, deputy commander of Dulaimi Air Base near Sanaa.
Yemen's two Lockheed C-130Hs also illustrate the perilous state of the air
force. Al Hasani recounts a recent case when a squadron commander issued a
report advising that one C-130 be grounded due to a maintenance issue. "We
gave [Mohammed Saleh] a maintenance report that said the aircraft was due
for inspection," he says. "But he gave an order to the maintenance commander
to fly."
Making problems worse, air force officials say the maintenance facility to
which the aircraft were sent for repairs was not qualified to do the work,
resulting in even more damage. "We asked for assistance from the U.S.," says
Al Yemeni. "Experts came in to study the aircraft and the cost to rebuild
it. They gave us a report that it's about $70 million to get them back in
service." Both C-130s remain grounded and there is no timeline for getting
them in the air again.
Counterfeit parts have also made their way into the supply chain because,
pilots and mechanics allege, the air force commander uses family-owned
companies to buy parts off the black market at cut-rate prices. U.S.
assistance-which has provided spare parts for a number of its aircraft like
the F-5s, the Bell 407s, and the Hueys-has only partially alleviated this
problem, and a number of senior officers also allege massive corruption
involving U.S. funds meant for the air force.
Indeed, the state of the Yemeni air force is at odds with the amount of
assistance provided by Washington in the past few years, including foreign
military financing funds for the two C-130Hs, delivery of four Bell UH-1Hs
in January 2011, and support and spare parts for the Mi-17s and F-5s.
Another $82.8 million was designated for the air force to support its
helicopters in counterterrorism operations, according to the Pentagon.
But much of that assistance has not been used for counterterrorism, say air
force officers. For example, Gen. Ali Abdullah Saleh Al Haymi alleges that
$40 million meant for operations against Al Qaeda were never directed to
that effort, and even weapons provided to the military were used to prop up
the regime rather than fight terrorism. "U.S. assistance was used to kill
Yemeni people, not to kill Al Qaeda," asserts Al Haymi.
Mohammed Albasha, a spokesman for the Yemeni embassy in Washington, insists
that no U.S. security assistance funds have been embezzled and that
President Hadi is working with a new committee that will address the
concerns of the armed forces, including the air force. "The military has
initiated the daunting task of restructuring and modernizing the armed
forces," he says.
------------[ Sent via the dehai-wn mailing list by dehai.org]--------------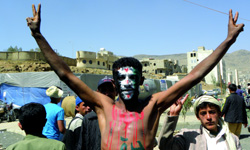 (image/jpeg attachment: image001.jpg)
Received on Sat Mar 24 2012 - 09:23:18 EDT