From: Berhane Habtemariam <Berhane.Habtemariam_at_gmx.de_at_dehai.org>
Date: Sat, 24 Mar 2012 00:59:25 +0100
Battles over Libya's dangerous migrant smuggling routes
By Wyre Davies BBC News, Kufra, Libya
23 March 2012 Last updated at 09:54 GMT
A large group of migrants sitting in rows on the ground
The town of Kufra in Libya's distant southern desert is a long way from
anywhere - historically it was a key trading station and place of rest for
travellers between central and northern Africa. It has also long had a
reputation for smuggling and in recent years that cargo has increasingly
been human beings.
Although there was relatively little fighting in this dusty, run-down town
during last year's uprising against Libya's former leader Col Muammar
Gaddafi, there have been violent clashes in recent weeks in which more than
100 people have lost their lives.
The fighting has been between local Arab Zwia groups and the Tabu - black
Africans associated with the smuggling trade from Chad and further afield.
The Tabu have been accused of fomenting violence and instability to keep the
border tense and their smuggling routes open.
Perhaps predictably, caught up in the middle are thousands of refugees and
economic migrants from sub-Saharan Africa.
Migrants seeking jobs and a better life or fleeing violence in their home
countries have often moved through Libya and used Kufra as a staging point.
But the new Libyan government says the situation along its southern border
is becoming unmanageable.
To be more exact the concerns and complaints come from local officials in
the Kufra region - there is no sense of any central authority here in the
desert, and that is part of the problem.
Robbed by traffickers
At an old abandoned police station in the centre of Kufra we found more than
800 African refuges and migrants. They were mainly men but some women also
from Somalia, Chad, Sudan and beyond.
Most of the men I spoke to had paid large sums of money to unscrupulous
traffickers to facilitate the long journey across the desert. Many, like one
young man from Somalia had then been robbed of everything he had left.
"It was a really long, difficult journey," he told me as he sat, crammed in
the dusty courtyard, shoulder to shoulder with hundreds of others.
"Near the border [with Chad] we were held and beaten for many days.
Everything we had was taken from us."
The refugees say they are being well looked after by the local council in
Kufra.
Conditions are basic and cramped but a large pot of pasta and vegetables,
cooking on the open fire, suggested they were being fed and given basic
shelter.
Although a small number of aid workers from the International Committee of
the Red Cross come and go to check on the condition of the refugees, local
officials say it is not enough.
Ali Abdulrahim is the new Libyan government's security chief in Kufra. His
sparse office overlooks the courtyard crowded with quiet, stoical but almost
expressionless migrants.
"We need much more help from the aid agencies, but these people cannot stay
here," says Mr Abdulrahim.
"We have to do something about our open borders."
Desperate measures
Local officials and Arab (Zwia) fighters say that armed men, often coming
from Chad, are hiding in among the migrants and trying to penetrate Libyan
territory, keeping the smuggling trade going.
Officials in Kufra want to build a wall of wrecked vehicles to try to keep
migrants out
At one checkpoint outside the city I saw a truck with assorted rifles and
machine guns that, soldiers said, had been confiscated from African
migrants.
Sub-Saharans are often accused in Libya of being paid fighters. Most,
including the vast majority of people we came across, had nothing whatsoever
to do with the fighting. They were clearly frightened and desperate people.
With little evidence of a co-ordinated approach to the problem from a
non-existent central authority in distant Tripoli, the local official showed
me the new, desperate, approach to containing the crisis.
"This is how we're going to keep the refugees out," says Mr Abdulrahim,
showing me a small mountain of old, wrecked cars some already loaded into
trucks.
The plan was simple - but almost certainly unworkable. A 150km (93 mile)
"barrier" along part of Libya's border with Chad, five metres high and made
from nothing but old cars.
Desperate times bring desperate measures.
------------[ Sent via the dehai-wn mailing list by dehai.org]--------------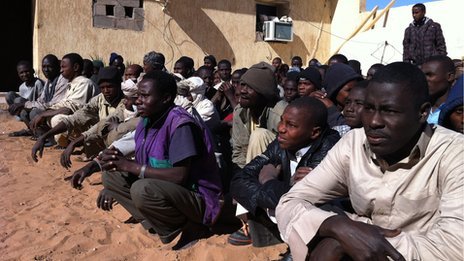 (image/jpeg attachment: image001.jpg)
Received on Fri Mar 23 2012 - 19:59:26 EDT