From: Berhane Habtemariam <Berhane.Habtemariam_at_gmx.de_at_dehai.org>
Date: Thu, 15 Mar 2012 22:37:46 +0100
Why is Uganda fighting in 'hellish' Somalia?
By Dan Damon BBC World Service, Kampala
15 March 2012 Last updated at 09:18 GMT
Ugandan troops make up the bulk of the African Union force helping Somalia's
UN-backed government. With much of the country under the control of
al-Shabab Islamist militants, it is probably one of the most dangerous
missions that a soldier could embark on. So why are Ugandans choosing to
take part?
Maj Duncan Kashoma still carries the cost of his service in Mogadishu.
The scars on his body are easily visible. The fragments of shrapnel inside
him, less so.
"I'm waiting for another operation on my left leg to remove more metal
pieces. They will remove my kneecap. They already took off the right
kneecap. In cold weather, it hurts a lot."
Maj Kashoma was one of the first Ugandan officers to enter Somalia when the
African Union Mission in Somalia (Amisom) began in 2007.
Exposed
He says Ugandan soldiers were used to operating under the cover of the
jungle in pursuit of the rebel Lord's Resistance Army in the north, but they
were not fully prepared for the exposed fighting in Somalia's desert terrain
and in Mogadishu's shattered cityscape.
"My soldiers had been firing an anti-aircraft gun from the roof of a
building in front of the State House in Mogadishu. When you use that gun in
one position, the enemy will locate the place and you have to change.
"I had gone there to change that to a new position. But I think they had an
infiltrator from al-Shabab directing the fire. They hit three positions at
once. I was hit with an 83mm mortar."
Maj Kashoma was seriously injured.
He had loosened his flak jacket. His chest and abdomen were sliced open.
"My intestines came out. I didn't know. I was trying to see what had
happened to my soldiers. In those circumstances, when you are shot, you
don't know until they tell you".
Six of his men were killed.
"I was bleeding for three days," he says.
Some shrapnel is still in his eye and he is now awaiting help from a
specialist eye hospital in London.
In the 1980s, Maj Kashoma joined the National Resistance Movement (NRM) that
fought its way across Uganda to take power from the Ugandan military regime
that had an appalling human rights record.
He entered the capital, Kampala, with NRM leader - now President - Yoweri
Museveni in 1986.
Sleepless nights
John Njoroge has also seen first-hand the nerve-wracking conditions the
Ugandan Amisom troops face in Mogadishu.
The journalist - who writes for Kampala's Daily Monitor newspaper - has been
embedded with them three times.
"It's hellish. Just getting to Mogadishu is bad enough. We flew in on an old
Russian plane chartered by the UN - 40 of us sitting next to boxes of live
ammunition," he says.
"You land with a bang. They get down onto the short runway as fast as
possible because there are al-Shabab controlled hills overlooking the
airstrip."
Mr Njoroge talks of sleepless nights because of the continuous fighting -
but the quiet nights did little to allay his fears.
"I was scared stiff on a later night because there was no shooting - it was
quiet. I was afraid al-Shabab had overrun the camp."
The Ugandan army is reluctant to talk in detail about the number of
casualties it is taking.
Army spokesman Col Felix Kulayigye says they have lost 80 men since the
operation began in 2007; Ugandan analysts and journalists consider that to
be a massive underestimate.
Mr Njoroge says that when they are told two soldiers have been killed, they
assume the figure is more like 20.
"You can tell that from the number of medical flights coming into the UN
base in Kampala," he says.
Col Kulayigye says al-Shabab is a difficult enemy because they often look
like civilians and because they have become expert in the use of
non-conventional weapons such as improvised explosive devices, or IEDs.
They also disguise themselves as government soldiers - a method used to
devastating effect when two suicide bombers attacked the Amisom headquarters
in Mogadishu in September 2009, killing more than 20 people.
Pay rise
With the mission being such a dangerous one, why is Uganda so involved -
providing 5,700 troops?
For an individual soldier, the financial incentive to fight in Somalia is
clear.
The lowest paid Ugandan soldiers earn around $120 (£76) per month; if they
opt to fight in Somalia they earn more than $1,000.
For Col Kulayigye, Ugandan troops are on Somali soil because of regional
politics: "If Somalia is unstable, Kenya is unstable. And if Kenya's
unstable, then we are unstable, first and foremost."
Mr Njoroge claims there is another reason.
"Uganda has never had a peaceful transition of power. Guns and soldiers have
always been involved in a change of regime.
"The ruling NRM party does not want thousands of soldiers hanging around in
barracks with time on their hands. And there is no work for them outside the
army - unemployment is 50% here," he says.
"President Museveni has been in power for almost 26 years and his popularity
is waning. Military officers are already getting restless. From the
government's point of view, better for them to be fighting in Somalia."
Support for that argument comes in the form of what Ugandan newspapers are
calling "the battle of the generals" - a brewing row between the current
chief of the Ugandan Defence Forces, Gen Aronda Nyakairima, and retired army
commander Maj Gen Mugisha Muntu, who is now a member of the opposition Forum
for Democratic Change.
Gen Muntu recently advised his successor, "be wise and avoid ending up like
the proverbial fly, which followed a corpse into the grave".
Then there is the "proxy war" theory that comes up in many conversations
about Uganda's role.
Some say the Ugandan military is doing the job that the US wants done, but
is not willing to get directly involved in.
Some people are glad that Uganda is punching above its weight in the region
by leading Amisom, others believe Uganda's involvement has turned the
Islamist militants' guns against it.
In July 2010, a double suicide bombing in the Ugandan capital, Kampala,
killed 76 people who were watching the football World Cup final on
television, leading to calls to withdraw Ugandan forces.
Others say the cost of the mission is too high, believing the money should
instead be spent on improving broken roads and installing electricity for
the many Ugandans who are still not connected to the grid - as high as 88%
of the population according to some estimates.
But for Maj Kashoma - who has paid such a high price for his nation's
intervention in Somalia - the reasons for remaining are close to his heart.
"I joined this army when I was still young. If you see what happened in our
country before we liberated it, it was chaos, like in Somalia; people losing
their lives for nothing.
"I think that's what gives us a reason to liberate our sisters and brothers
in Somalia."
Al-Shabab: Terror timeline
An al-Shabab fighter in Mogadishu (archive shot).
* February 2009: Suicide attack on an African Union military base in
Mogadishu kills 11 soldiers
* June 2009: Security Minister Omar Hashi Aden and more than 30 others
killed in suicide attack in Beledweyne, north of Mogadishu
* September 2009: Double suicide attack on AU military base in
Mogadishu kills more than 20 people
* December 2009: Suicide bombing at a university graduation ceremony
in Mogadishu kills 24 people, including three government ministers, doctors
and students
* July 2010: Double suicide bombing in Uganda's capital, Kampala,
kills 76 people watching the football World Cup final on television
* August 2010: Attack on a hotel in Mogadishu kills more than 30
people, including parliamentarians
* September 2010: Car bomb attack outside Mogadishu's airport kills at
least nine people
* February 2011: Suicide bombing at a police station in Mogadishu
kills at least eight people
* June 2011: Interior Minister Abdi Shakur Sheikh Hassan killed by
suicide bomber in Mogadishu
* October 2011: Lorry bomb attack kills more than 70 people in
Mogadishu
Who has troops in Somalia?
* Uganda - largest contributor
* Burundi
* Djibouti - recently joined
* Kenya - troops already there, to join Amisom command this month
* Current Amisom strength - 12,000
* UN Security Council last month approved increase to 17,000
------------[ Sent via the dehai-wn mailing list by dehai.org]--------------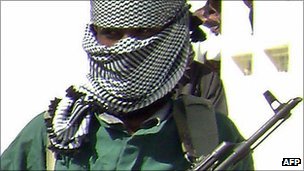 (image/jpeg attachment: image001.jpg)
Received on Thu Mar 15 2012 - 17:37:51 EDT