From: Berhane Habtemariam <Berhane.Habtemariam_at_gmx.de_at_dehai.org>
Date: Wed, 8 Feb 2012 14:08:44 +0100
Beggars' banquet symbolized by new headquarters of African Union.
By Richard Poplak.
08/02/2012
When one walks into the new building of a major institution, be it a bank or
a government office or a multi-lateral body, one parses the structure for a
narrative. Very often, the architect will have that narrative at the ready,
brandishing it in interviews, in dry PBS documentaries or on a website
created by a Swiss think tank.
<
http://www.usafricaonline.com/wp-content/uploads/2012/01/china-leader-wt-Af
rican-leaders-pix.jpg>
http://www.usafricaonline.com/wp-content/uploads/2012/01/china-leader-wt-Afr
ican-leaders-pix.jpg
China-leader-and-chief-funder-of-new-Africa-Union-hdqtrs-wt-African-leaders-
pix
The building will be loaded with symbols, its form reflected by its
function. In an era of star-chitects like Frank Gehry and Daniel Liebeskind,
this can all feel like a little much. Shut up and build, we think.
How refreshing it is, then, to go for a stroll around the new African Union
headquarters in dusty Addis Ababa. Here is a structure in which form
perfectly marries function – the building means nothing, and nothing will
ever get done inside it.
Or, looked at from another perspective, the building doesn't need to
symbolize anything further than its existence, wherein it becomes a
staggeringly articulate representation of Africa's greatest skill: begging.
Yup, the new African Union headquarters are a 52,000 sq. meter ode to the
art of the ask.
<
http://www.usafricaonline.com/wp-content/uploads/2012/01/African-Union-new
_
headquarters-pix.jpg>
http://www.usafricaonline.com/wp-content/uploads/2012/01/African-Union-new_h
eadquarters-pix.jpg
The first thing we notice is the tiled silver dome that acts as the
building's centerpiece. This reminds us of nothing so much as an overturned
beggar's bowl, left in the street after a solid day of mewling at the feet
of passers by. The dome reaches the height of 99.9m, which is a reference to
the great day in multilateralism's history, when the OAU dropped a letter
and became the AU. One gets misty-eyed just thinking about it.
Then there's the tower. Stretching up 20 storeys to tickle God's chin, what
does it resemble? A beggar's outstretched hand – the über-beggar who's such
an adept that his entreaties reach heaven.
Or, in this case, China.
The building is, of course, the result of a massive Chinese handout, to the
tune of about $200-million – but really, who knows how much it cost? (One
does not get straight answers from this bunch.) On inauguration day, we
heard how thankful Africans are for this largesse, along with all the
technical skills and materials and engineers and expertise that were
similarly imported. The continent that brought you the pyramids and Great
Zimbabwe is now reduced to begging for help to erect a complex that would be
routine anywhere in the mildly developed world.
All of that help came from China. Even the furniture. Chairman Jean Ping
told us yesterday that although chairs and desks were not included in the
original provision, they were later added so that the complex would be
"functional immediately". The Chinese know us well – had they not given us
what to sit on, we would have sat on the floor. We've fallen so far that we
can't even go to Game and stock up on some trimmings. The credit card would
bounce.
The idea for the compound took shape at the Forum on Africa China
Cooperation, or Focac, in 2006. Chinese president Hu Jintao loved the
concept so much that he decided to "donate" the building, and "assist" in
its design and construction. The land was offered up by the government of
Ethiopia, along with tax exemptions on all the materials imported from
China, and a willingness to look the other way when it came to hiring locals
to help out with all the "assistance".
Work started in January 2009, and it was completed late last year. The
building now replaces the old headquarters, 40 years in the making,
completed by the Germans and inaugurated in 2003 by South Africa's own Thabo
Mbeki. That space, in which less than nothing got done, could use a lick of
paint. It's crowded and grubby and very 1987. We needed a new one. All we
had to do was ask.
Mission accomplished.
One thing that must be said about the new spot – it's shiny. It looks like
something you'd find in one of China's second cities, like Chongqing. It is
simultaneously flashy and banal, easy to notice and even easier to ignore.
There are strange decisions – an outdoor amphitheatre that suggests openness
even though we know there won't be any. Doors that feel a little shaky on
their hinges. A helipad, in case any of our martinets should have to suffer
through Addis's traffic. A large outdoor screen emblazoned with the Xinhua
news service logo.
None of this could we have achieved by ourselves. Instead, in order to raise
this fine structure – this symbol of continental unity – from the bare
African earth, we used the one skill that unites us all. We stretched out
our collective hands, batted our eyelashes, looked simultaneously cute and
hungry.
And we begged.
•Richard, reporter and novelist, is the author of the highly acclaimed book
titled Ja, No, Man: Growing Up White in Apartheid-Era South Africa (Penguin,
2007). He was born in Johannesburg, South Africa and moved to Canada in the
1990s. He has won South Africa's Media-24 Best Feature Writing Award.
------------[ Sent via the dehai-wn mailing list by dehai.org]--------------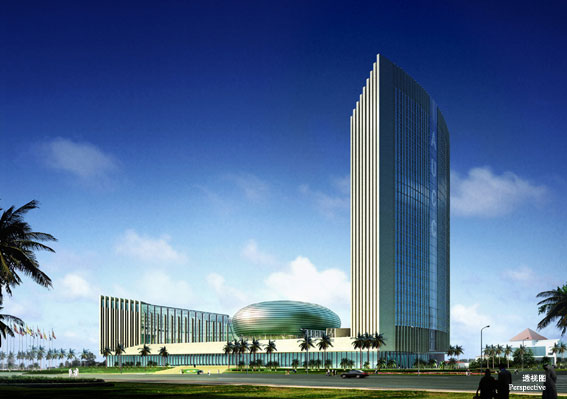 (image/jpeg attachment: image003.jpg)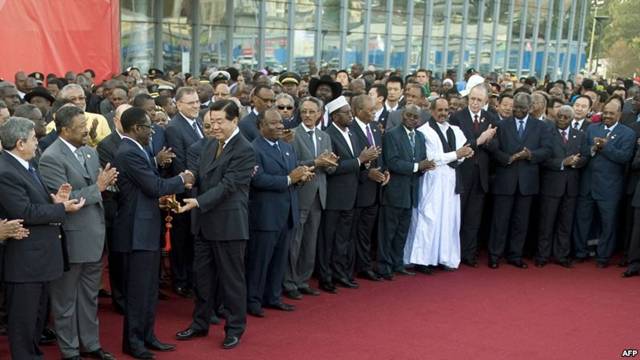 (image/jpeg attachment: image002.jpg)
Received on Wed Feb 08 2012 - 08:08:52 EST