From: Berhane Habtemariam <Berhane.Habtemariam_at_gmx.de_at_dehai.org>
Date: Fri, 3 Feb 2012 23:04:29 +0100
KENYA: Clashes highlight dangers of devolution
ISIOLO, 3 February 2012 (IRIN) - Politically motivated violence in the
northern Kenyan town of Moyale, which has left dozens dead and tens of
thousands displaced in recent weeks, shows little sign of abating and there
are fears that the clashes could continue until elections are held for new
local government positions.
The main two pastoralist communities involved, the Borana and the Gabra,
have a long history of sometimes violent competition over resources.
But by many accounts, an unintended consequence of Kenya's new devolutionary
constitution has raised the stakes considerably. The prospect of real
political and budgetary power - concentrated since independence in distant
Nairobi - rather than water, pasture and cattle-raid vendettas, now drives
the violence.
"Every conflict in 2012 will have political and ethnic implications and can
therefore not be treated as normal criminal activity," Mzalendo Kibunjia,
chairman of the National Cohesion and Commission (NCIC),
<
https://www.facebook.com/permalink.php?story_fbid=172600292840170&id=133856
426714557> said in a recent statement.
The NCIC is a government entity set up in 2008 to eliminate ethnic
discrimination and promote inter-communal reconciliation.
"The conflicts in northern Kenya must be treated as electoral related and
not be dismissed as conflict over water, pasture and cattle rustling. The
NCIC has established that the ongoing violent conflicts [in Moyale and
<
http://www.irinnews.org/report.aspx?reportid=94312
> Isiolo] are politically
motivated in anticipation of the 2012 elections," Kibunjia said.
However, presidential, legislative and local elections might not be held
until early 2013 according to a recent High Court ruling.
<
http://www.kenyaredcross.org/index.php?option=com_content&view=article&id=2
51&Itemid=124> The Kenya Red Cross added:"The trigger of the current
conflict is allegedly competition over positions in the county government
structures as designated in the new Kenyan constitution and land-related
issues."
Incitement
The spate of sporadic clashes is thought to have been sparked by a single
killing in early November just across the border with Ethiopia.
Since then, political leaders from each community have allegedly incited
violence against the other, regardless of whether those members are
combatants.
"Different communities used to share mixed schools, mixed waterholes, mixed
shopping centres, mixed everything. Now they can't be on the same street
together," said one aid worker, who recently visited the town.
Several political leaders, including a former member of parliament, have
been arrested on suspicion of fuelling the increasingly generalized
conflict.
"Here, a politician can kill his opponents, it happens every [election]
year, but not a single politician or trader known to have planned and killed
people has ever been convicted," Aba Dika, an elder in Moyale, told IRIN.
However, Eastern Province Police Commander Marcus Ochola told IRIN such
impunity was on the way out.
"I am confident our officers, who are still collecting additional evidence,
will support strong cases against those responsible for these skirmishes,"
he said.
Another police official said detectives were investigating reports that some
suspects had used social media to incite violence and congratulate kinsmen
when prominent members of rival communities had been killed.
Aid workers who visited Moyale said hundreds of houses had been burnt and
that crops, livestock and property had been destroyed. There have also been
reports of shortages and increasing food prices due to the interruption of
transport and the closure or destruction of shops.
Thousands of people - insecurity has prevented an accurate assessment - have
been displaced from their homes, with many fleeing into southern Ethiopia.
The Red Cross estimates that 9,500 families - some 57,000 people - have
fled, 60 people have been killed and more than 1,000 houses burnt.
The worst-affected areas include the settlements of Heilu, Kinisa, Buthye,
Bori, Mansile, Illadu, Manyatta and Odda.
The UN's World Food Programme suspended distributions to around 2,200 people
in Heilu and Odda after 15 tonnes of food were looted from stores there in
late January.
Traumatized
"The extent of displacement now and the indiscriminate targeting of the
violence - women, children and older persons, any member of the [rival]
community has been killed - have left people really traumatized," said one
humanitarian official, who asked not to be named.
"The fear is that between now and elections [we] will see displacement and
returns, displacement and returns, with nothing really in balance. There
won't be much room for manoeuvre until some sort of political solution is
agreed upon. That seems very far away right now, from what we have seen," he
added.
"It's not easy to arrange peace meetings when the parties are so mistrustful
and fearful of the other's intentions. Willingness and commitment are not
there at the moment, it seems. Willingness to cease hostilities has been
very low. It's quite tragic," said the aid worker.
Education blow
Education has been badly affected in Moyale, with 18 of the area's 31
schools yet to reopen after the Christmas break and many school-age children
among the displaced, either in Ethiopia or in makeshift camps.
Livestock trader Abduba Wario said his income had dried up because the
town's livestock market was closed and he had been unable to send his two
daughters to school in the central Kenyan town of Meru.
"It's risky, no trucks are available. I appeal to the government and NGOs to
provide all school-children with transport and police escorts for learning
in other parts of the country," he said.
The state of education facilities serves as an important indicator of the
wider security climate, according to the aid worker.
"Children returning to school is the first step in terms of reconciliation,
a return to normality. If it is safe for children to go to school it is also
safe for health workers and others to return to their posts," he said.
Amid reports that leaders of warring communities have mobilized across the
porous border, Kenyan security forces are working with those from Ethiopia.
"We are liaising with our counterparts in Ethiopia to trace the fighters who
fled when Kenyan security officers were deployed to quell the fight," said a
security official, who asked not to be named.
na-aw-am/mw
<
http://www.irinnews.org/photo/Details.aspx?ImageId=201202031039490059
>
http://www.irinnews.org/images/2012/201202031039490059.jpg
Photo: <
http://ochaonline.un.org/kenya/
> OCHA Eastern Africa
A map showing areas affected by conflict in Moyale
<
http://www.irinnews.org/photodetail.aspx?ImageId=201202030927370598
>
http://www.irinnews.org/images/2012/201202030927370598.jpg
Photo: <
http://www.kenyaredcross.org
> Kenya Red Cross
Hundreds of houses have been burnt in the inter-ethnic conflict
------------[ Sent via the dehai-wn mailing list by dehai.org]--------------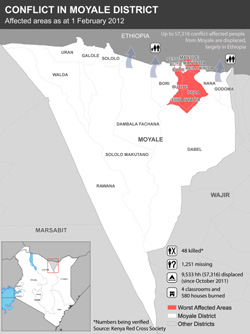 (image/jpeg attachment: image001.jpg)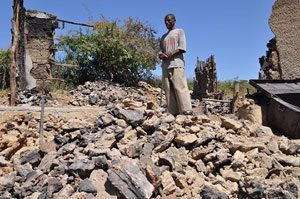 (image/jpeg attachment: image002.jpg)
Received on Fri Feb 03 2012 - 17:04:28 EST