From: Berhane Habtemariam <Berhane.Habtemariam_at_gmx.de_at_dehai.org>
Date: Thu, 2 Feb 2012 22:41:00 +0100
Arab spring economies-Unfinished business
Revolutions have hurt the wallets of bosses and workers alike
Feb 4th 2012 | CAIRO, TABARKA AND TRIPOLI | from the print edition
ON a good day Abdenaceur Hammoudi takes home 15 dinar ($10) from selling
fruit in the Tunisian coastal town of Tabarka. Since the overthrow of
president Zine el-Abidine Ben Ali last January, municipal inspectors no
longer demand a three-dinar-a-day bribe. But prices have risen sharply and
Mr Hammoudi now pays wholesalers almost double for his supplies. Customers
have become scarce and loans are as hard to come by as ever. "The government
needs to build factories to bring us proper jobs," he says.
A year ago the self-immolation of a Tunisian fruit seller, Muhammad
Bouazizi, inspired uprisings that toppled the leaders of Egypt, Libya and
Tunisia, and caused violent chaos in Bahrain, Syria and Yemen. The protests
were motivated not just by demands for greater political freedom but also by
popular frustration with unemployment and economic stagnation.
Mr Bouazizi, who could not afford a trading licence, set himself on fire
after officials confiscated goods of his worth about $200. Whatever its
political triumphs, the revolution he sparked has caused an economic
downturn. Tunisia saw its GDP growth in 2011 go from 3% to 0%, according to
the IMF-the Tunisian government says the economy actually contracted by
1.8%. Egypt saw a decline from 5% to 1%. Libya's economy is thought to have
contracted by more than 50% after its six-month civil war paralysed the oil
industry. A former Libyan bank governor reckons the country suffered as much
as $15 billion in damage during the conflict to oust Colonel Muammar
Qaddafi.
Inflation is on the rise, though exact figures are hard to find. Worried
Egyptians are depositing far less money in their banks, fearing a
devaluation of the currency. Unemployment is also rising fast. One estimate
sees an increase in the official rate from 10% to 15% in Egypt. Youth
unemployment is reckoned to be at least 25%.
Tourism, on which some 15m Egyptians depend, has been harmed, too. Workers
in once-busy resorts on the Nile have flocked to Cairo, the capital, hoping
to pick up menial work. In Tunisia many hotels remain closed. Having bought
one in a fire sale, a new owner says, "I'm buying the walls, nothing else."
He dismissed all the staff.
http://media.economist.com/sites/default/files/imagecache/290-width/images/p
rint-edition/20120204_MAC501.gif
Foreign investment has been hit hardest of all. A Tunisian analyst reckons
120 foreign firms shut up shop, cutting 40,000 jobs. Yazaki, a Japanese
cable manufacturer, pulled out of a poor rural region. Overall foreign
direct investment dropped by more than a quarter (see chart). In Egypt it
plunged from $6.4 billion in 2010 to $500m last year; in Libya it dropped
from $3.8 billion to almost nothing.
A few foreign companies have signalled an interest in coming back. Italy's
Eni, an energy giant, says it will invest $600m in Tunisia this year. Thanks
to its existing investment in health care, the country also has hopes of
attracting medical tourists from Europe and the rest of north Africa, where
facilities are abysmal.
In Libya construction and oil companies are falling over themselves in a
race to rebuild what will probably be a wealthy country. Cities like Misrata
that were destroyed in the fighting need immediate attention. Executives
speak of a "gold rush". The United Arab Emirates, France and other countries
that supported the rebels have sent official business delegations.
Many entrepreneurs see unprecedented potential under new governments
accountable to their people. The toppling of dictators could open up the
private sector, once reserved for those with ties to the ruling circle.
Tunisia has a well-educated workforce and decent infrastructure. Libya has
the world's eighth-largest oil reserves; the flow is expected to reach 2010
levels later this year. Egypt has a large domestic consumer market. "There
is great excitement. Not every day do you get countries which have been
under an autocratic regime for 42 years suddenly opening," says Kevin
Virgil, an investment adviser who hopped on a plane to Tripoli the day
Qaddafi was killed. Nonetheless few deals have been signed and most
investors remain on the sidelines.
Why they faltered
There are four main reasons for the economic downturn in the post-revolution
countries. The first is instability, both imagined and real, that has driven
away customers and undermined business confidence. Post-revolution Libya is
largely lawless. Young, unemployed men with guns roam the streets. Security
firms are decamping from Baghdad to Tripoli. Tattooed former soldiers
populate the breakfast rooms of reopened business hotels.
In Egypt the discredited police force has withdrawn from many districts,
leaving control to local youths (at least 73 people died in a riot after a
football match on February 1st). George Bahna, who runs an
engineering-services company, says he abandoned a large project near the
city of Suez when locals raided his warehouse and fought gun battles over
control of his property. "They stole the metal doors at the entrance," he
says.
Even relatively stable Tunisia has seen continuing disturbances. In the
country's north-west, roads were blocked by angry protesters in January. The
government has recorded a total of 330 sit-ins and other protests in the
first three weeks of this year over a lack of government services.
The second cause of the downturn is strikes. Workers feel able at last to
vent their frustration after years during which they feared repression.
Owners report that in many places employees demand more pay and the
replacement of managers who have supposed ties to the old regime. "When a
strike takes place they have no united leadership, so you're dealing with 60
people tugging at your jacket asking for this and that. And when you've made
concessions and you think you've resolved it, it all begins again after a
couple of months," says one owner. Civil servants have also been making
demands for higher salaries and the replacement of their bosses. Fayza Aboul
Naga, Egypt's minister for planning, has said the country is in "no shape to
respond to the demands".
The poor state of the government machinery is a further reason for the
downturn. In many areas the state has either ground to a halt or been
overwhelmed by rapid change. Egypt has had four finance ministers in the
past year. Businessmen complain of red tape becoming "even redder" as
corrupt bureaucrats down tools since they no longer dare to demand bribes.
In Libya, where the state barely existed under the paranoid Qaddafi, many
institutions have to be built from scratch. Diplomats say 2012 is "year
zero". In all three post-revolution countries, new leaders-who for the first
time face legal accountability for their actions-are reluctant to sign off
on projects, afraid that they may later have to answer questions in court.
This is especially common in Libya, where the National Transitional Council
says it will not ink any long-term deals until an elected government is in
place.
The final reason for the downturn is the chill that has descended over all
businesses connected to the previous rulers, especially privatised ones.
Some sales of state assets are rightly seen as acts of plunder. Even where
the regimes instituted painful but necessary reforms the benefits mainly
went to insiders, leading the public to associate privatisation with crony
capitalism. Now that the old rulers have left, their successors are going
after some of their cronies, piling on yet more uncertainty.
Libya's new rulers have said they might revise certain oil contracts.
Tunisia has confiscated over 300 companies deemed to be owned or controlled
by the discredited cronies, including a 51% stake in Orange Tunisie, a
telecoms firm, that was owned by Marwan Mabrouk, the son-in-law of the
deposed president. In Egypt wrangling continues over deals made under former
President Hosni Mubarak; Damac Properties and Al-Futtaim, two property
companies, have agreed to make additional payments for land they bought
cheaply from the government in 2006. A senior executive at a
property-development firm in Cairo says, "We had to take out ads after the
revolution to tell people that we are a major employer, and we received
threats from people who wanted to blackmail us."
The new rulers
Many local businessmen hope that new governments can dispel the gloom. Alas,
ministers are preoccupied. Egypt, Libya and Tunisia all face fiscal crises.
Tackling them is the first order of business for new ministers. Egypt is the
worst off. Its foreign-currency reserves have dwindled, from $36 billion to
$10 billion in the past year, and an inflation-inducing devaluation is
looming. The government is struggling to finance a budget deficit of 10% of
GDP. In January the government managed to sell only a third of a planned
$580m bond offering, even though it will be paying yields close to 16%.
The IMF says it stands ready with technical assistance and loans to balance
the books and rebuild foreign reserves. It is negotiating a $3.2 billion
loan with Egypt that would send a good signal to investors. The IMF is also
offering help to Tunisia. Libya is still waiting for the unfreezing of $170
billion in Qaddafi-era deposits abroad.
Most of all the new governments want foreign investment. Abdullah Dardari, a
UNESCO economics adviser and former Syrian government minister, says
oil-producing Gulf states could easily and profitably invest 10% of their
sovereign-wealth funds in north Africa to promote growth and regional
stability. "Countries should look at regional ties," he says.
How soon investors return partly depends on the policies of the new
governments. They are mostly made up of moderate Islamists who spent decades
in opposition to authoritarian rulers-which makes them suspicious to both
the West and the Gulf. In public so far the new governments have emphasised
their support for free markets and property rights. They say they look to
economically liberal Turkey for inspiration.
Nevertheless the priority for leaders in Tunisia and Egypt is popular
concerns, such as cleaning up corruption, creating jobs and investing in new
roads and schools. Tunisia's government has vowed to raise growth to 8% and
reduce unemployment from 19% to 8.5% by 2016. Egypt says it will restructure
and boost private enterprises such as textile factories that employ some
70,000 workers.
http://media.economist.com/sites/default/files/imagecache/290-width/images/p
rint-edition/20120204_MAC496.gif
Successful Egyptian entrepreneurs with links to the Islamist Freedom and
Justice Party, which won recent parliamentary elections, are promising to
dispense advice and capital to small-business owners. Islamist leaders have
brushed off calls by hardliners for bans on bikinis and alcohol in tourist
resorts. Rachid Ghannouchi, the leader of Tunisia's ruling Nahda party, has
encouraged executives to list more companies on the local stock exchange,
which has risen recently (see chart).
But for all the wooing of voters and investors, the new leaders so far lack
credibility and expertise. Their plans mostly resemble wishlists. In a
worrying flight of economic nationalism, both Tunisia and Egypt have
suggested they aim to achieve food self-sufficiency. There is little talk of
cutting red tape, privatising state-owned enterprises or slimming the obese
public sector, nor have officials contemplated phasing out wasteful and
badly targeted subsidies. The hardest part of the north African revolutions
is yet to come.
------------[ Sent via the dehai-wn mailing list by dehai.org]--------------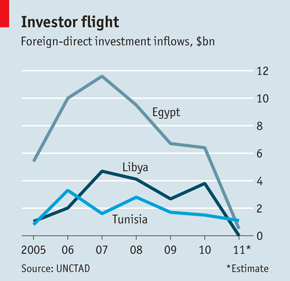 (image/gif attachment: image001.gif)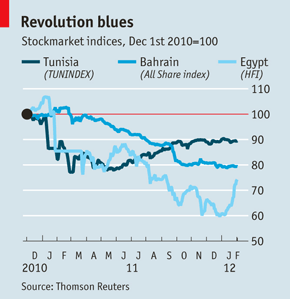 (image/gif attachment: image002.gif)
Received on Thu Feb 02 2012 - 16:41:00 EST