From: Berhane Habtemariam(B <Berhane.Habtemariam_at_gmx.de_at_dehai.org>
Date: Thu, 26 Jan 2012 19:41:12 +0100
Resettlement Debate Highlights Ethiopia$B!G(Bs Rights Problem
- By William Davison
January 26, 2012
<
http://africanarguments.org/2012/01/26/resettlement-debate-highlights-ethio
pias-rights-problem-by-william-davison/zenawi/>
http://africanarguments.org/wp-content/uploads/2012/01/Zenawi.jpg
Ethiopian President Meles Zenawi's government comes under criticism in a
recent Human Rights Watch report
Human Rights Watch released its latest highly critical report on Ethiopia
last week, claiming abuse and coercion in a resettlement program. While
Ethiopia$B!G(Bs government detests the interventions of foreign rights groups, a
restrictive law means there are virtually no domestic monitors of abuses.
$B!F(BWaiting Here for Death$B!G(B screamed the headline of Human Rights Watch$B!G(Bs
latest report on Ethiopia.
The study released last week said that $B!H(Btens of thousands of indigenous
people had been forcibly moved$B!I(B in the Sudan-bordering Gambella region as
part of a resettlement program.
The sensational report, which alleges a series of abuses by security forces
overseeing the scheme, had the desired effect, with the group$B!G(Bs finding
plastered across Western media. $B!H(BEthiopia evicting its own people to feed
others: Human Rights Watch,$B!I(B said the header in the U.K.$B!G(Bs Daily
Telegraph.
The food reference is to the commercial farms that are being developed
across the sparsely-populated region. Indian and Saudi Arabian investors are
already developing huge plots, while the government has earmarked around 40
percent of the state for large-scale farming. The government has not
stipulated that the crops grown should be sold in Ethiopia, and critics
believe most of it will be exported. HRW said locals and former officials
told its researchers the $B!F(Bvillagization$B!G(B program was designed to clear
land for leasing.
For the Ethiopian government, HRW$B!G(Bs name is mud. $B!H(BThese persistent and
unfounded allegations of human rights watch based on its neo-liberal
ideology will not deter Ethiopia from pursuing in its development path,$B!I(B
said the Ministry of Federal Affairs in response to the report. A 2010 HRW
release alleging that the ruling party was suppressing the opposition by
denying supporters access to aid programs cemented its position as an enemy
of the state.
Prime Minister Meles Zenawi$B!G(Bs government argues the resettlement of, so
far, around 100,000 Anuak and Nuer people in Gambella is voluntary and is
aimed at clustering scattered households in order to provide services
including schools, health clinics and agricultural assistance. The
over-arching goal is $B!H(Bto tackle poverty and ignorance and to usher in a new
era of Ethiopian renaissance,$B!I(B the government says.
In its interviews on the ground with $B!H(Bover 100$B!m(B people - around 1 in a
1,000 of those involved in the program so far - HRW$B!G(Bs researcher said
$B!H(Bvirtually everyone$B!I(B they spoke to said moves were involuntary.
Interviewees in Gambella were selected through advice from contacts, it
says. The organisations also spoke to Gambellan refugees in Kenya who had
been affected by the program.
While HRW$B!G(Bs sample size is small, the government$B!G(Bs position that all moves
are made of individuals$B!G(B free will rings hollow. In the nation$B!G(Bs south
where the government is planning a 150,000 hectare sugar plantation it also
says that resettlement will be voluntary. No explanation is offered of how
residents can have a choice of whether they move when they are being
displaced by a state-owned field of sugar cane.
Aside from the abuse and coercion, HRW also slams the government for not
providing promised services in the new locations. It then turns its fire on
donors, paradoxically accusing them of funding the local governments that
provide the services.
Officially, the U.K., which has just made Ethiopia its top aid recipient,
said it is not supporting the program, but is worried about the poor service
provision. Privately, one senior aid official expanded on the stance:
$B!H(BVillagization is not a development policy to be supported. However, HRW
tend to lack transparency in their methods and reporting, unfortunately,
seemingly more keen on the headline than the full truth.$B!I(B
With the government hostile and donors too sceptical to investigate
inconvenient findings, it is hard to see what the direct benefit of HRW$B!G(Bs
reporting is on the victims it identifies.
In its defence, in Ethiopia$B!G(Bs monolithic system, it is performing a
valuable investigative role. Political opposition is virtually non-existent,
no established media operates in Gambella and the rest of civil society is
muted. Pact Ethiopia, one of only a handful of international charities with
programs in the state, declined to even give me a background briefing on the
$B!F(Bsensitive$B!G(B region when I approached them recently.
One Ethiopian organization that would have monitored the resettlement is the
Human Rights Council (HRC), but its plight is symptomatic of a system that
largely does not tolerate critical debate.
In late 2009, parliament passed a law that banned any charity that receives
over 10 percent of its funding from abroad from promoting rights.
With around three-quarters of its funding foreign and its whole program
based on human right monitoring and advocacy, the Human Rights Council was
eviscerated. Last week it had another hearing in a futile legal battle to
reverse a decision to freeze its bank accounts. It seems unlikely that it
will be producing itemised reports detailing human rights abuses across the
country for much longer.
In an interview with English journalist Peter Gill in a 2010 book, Prime
Minister Meles justified the law by saying that Ethiopian civil society
should develop without the influence of foreign donors. According to one
leading member of Ethiopia$B!G(Bs charity sector, the reality is that $B!H(Bthe law
was intended to stop serious engagement in advocacy work, and it$B!G(Bs
working.$B!I(B HRC says its embattled organization is now the only NGO
monitoring human rights in Ethiopia. $B!H(BEthiopia$B!G(Bs once vibrant human rights
community is on the verge of extinction,$B!I(B it says.
In Gambella, the government plans for around 70 percent of the population to
resettle over the three-year period of the program. Such ambition puts
pressure on local officials to push through implementation. Earlier this
month, there was a cull of leading regional politicians due to a lack of
$B!H(Befficiency,$B!I(B government spokesman Bereket Simon said.
Ideally, villagization would be constantly scrutinized by Ethiopian civil
society to ensure that abuses do not result from this pressure. Instead,
the vacuum is filled by Human Rights Watch$B!G(Bs clandestine research and
searing conclusions. An intervention that is likely to have little effect on
the program other than steeling the government$B!G(Bs resolve to ensure that it
goes ahead with minimum interference from outsiders.
William Davison is a freelance journalist based in Ethiopia.
------------[ Sent via the dehai-wn mailing list by dehai.org]--------------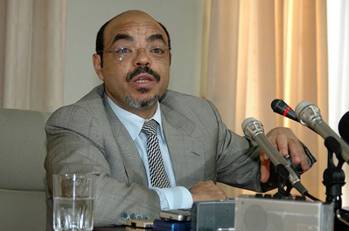 (image/jpeg attachment: image003.jpg)
Received on Thu Jan 26 2012 - 13:41:33 EST