From: Berhane Habtemariam <Berhane.Habtemariam_at_gmx.de_at_dehai.org>
Date: Thu, 19 Jan 2012 17:27:55 +0100
Inside story of the UK's secret mission to beat Gaddafi
By Mark Urban Diplomatic and defence editor, Newsnight
19 January 2012 Last updated at 12:38 GMT
Video-
http://www.bbc.co.uk/news/magazine-16573516
British efforts to help topple Colonel Gaddafi were not limited to air
strikes. On the ground - and on the quiet - special forces soldiers were
blending in with rebel fighters. This is the previously untold account of
the crucial part they played.
The British campaign to overthrow Muammar Gaddafi's regime had its public
face - with aircraft dropping bombs, or Royal Navy ships appearing in Libyan
waters, but it also had a secret aspect.
My investigations into that covert effort reveal a story of practically
minded people trying to get on with the job, while all the time facing
political and legal constraints imposed from London.
In the end, though, British special forces were deployed on the ground in
order to help the UK's allies - the Libyan revolutionaries often called the
National Transitional Council or NTC. Those with a knowledge of the
programme insist "they did a tremendous job" and contributed to the final
collapse of the Gaddafi regime.
The UK's policy for intervention evolved in a series of fits and starts,
being changed at key points by events on the ground. The arguments about how
far the UK should go were thrashed out in a series of meetings of the
National Security Council at Downing Street. Under the chairmanship of Prime
Minister David Cameron, its key members were:
* Chief of the Defence Staff General Sir David Richards
* Defence Secretary Liam Fox
* Foreign Secretary William Hague
Mr Cameron's chief of staff, Ed Llewellyn, was a key voice in urging action
following start of the Libyan revolution last February, say Whitehall
insiders.
The first significant involvement of British forces inside Libya was a
rescue mission mounted just a couple of weeks after the rising against
Gaddafi broke out. On 3 March, Royal Air Force C130 aircraft were sent to a
desert airstrip at Zilla in the south of the country to rescue expatriate
oil workers. Many had been threatened by gunmen and bandits.
This airlift of 150 foreigners, including about 20 Britons, to Valletta
airport in Malta went smoothly, despite one of the aircraft being hit by
ground fire soon after taking off.
Accompanying the flights were about two dozen men from C Squadron of the
Special Boat Service (SBS), who helped secure the landing zone. It was a
short-term and discreet intervention that saved the workers from risk of
abduction or murder, and caused little debate in Whitehall.
Events, though, were moving chaotically and violently onwards, with the
Libyan armed forces breaking up and Benghazi emerging as the centre of
opposition. The government sought to open contacts with the National
Transitional Council both overtly and covertly.
It was the undercover aspect of this relationship that almost brought
Britain's wider attempt to help the revolution to grief. The Secret
Intelligence Service, or MI6, sought to step up communications with some of
its contacts in the opposition. It was decided to send a pair of the
service's people to a town not far from Benghazi to meet one of these
Libyans.
MI6, say people familiar with what happened, decided to avoid the Royal Navy
frigate in Benghazi at the time, or any other obvious symbol of national
power as the base for this meeting. Instead, they opted to be flown from
Malta into Libya at night by Chinook helicopter in order to meet local
"fixers" who would help them get to the meeting.
In planning this operation, SIS chose to use a highly sensitive arm of the
special forces, E Squadron, in order to look after its people. Six members
of E Squadron, which is recruited from all three Tier 1 units (SAS, SBS and
Special Reconnaissance Regiment) duly boarded the Chinook to "mind" the
intelligence people.
They were equipped with a variety of weapons and secure communications gear.
In keeping with E Squadron's sensitive role, they were in plain clothes or
black jumpsuits (accounts vary), and carried a variety of passports.
The plan unravelled almost immediately. The landing of their helicopter
aroused local curiosity.
The Libyan revolution, like many others, was accompanied by a good deal of
paranoia about foreign mercenaries and spies, and the British party could
not have appeared more suspicious. They were detained and taken to Benghazi,
the men on the ground having decided that to open fire would destroy the
very bridge-building mission they were engaged in.
This debacle in Benghazi rapidly became even more embarrassing, as the
Gaddafi government <
http://www.bbc.co.uk/news/world-middle-east-12660785
>
released an intercepted phone call in which a British diplomat pleaded with
the NTC for the team's release.
As a result of what happened with E Squadron, those who would advocate using
special forces to help topple the regime were sidelined for months. It also
caused great difficulties for MI6, which had plans to turn some key figures
in Gaddafi's inner circle.
When, on 19 March, Colonel Gaddafi's tanks were bombed as they entered
Benghazi, the conflict entered a dramatically different phase. High-profile
military action was under way, and the leaders of the UK, US, and France
were increasingly committed to the overthrow of the Libyan leader.
But the means that could be used would be tightly limited as a result both
of the unhappy experience of Iraq, and the terms of the UN resolution that
had authorised the air action.
Under <
http://www.un.org/News/Press/docs/2011/sc10200.doc.htm
> UN Security
Council Resolution 1973, countries were authorised to use force "to protect
civilians and civilian populated areas under threat of attack". The text
noted that the measures used to achieve this aim excluded "a foreign
occupation force of any form on any part of Libyan territory".
The resolution authorised force but its limitations, both in avoiding any
mention of support to forces fighting Col Gaddafi's army and apparently in
ruling out "boots on the ground", defined much of British government
thinking.
Yet key figures in the Downing Street discussions were convinced that air
strikes alone would not achieve the result they wanted. At sessions of the
National Security Council, Gen Richards and Mr Fox made the case for
planning to provide training and equipment for the revolutionary forces of
the NTC.
At a meeting near the end of March, we have been told, authorisation was
given to take certain steps to develop the NTC's embryonic ground forces.
This involved the immediate dispatch of a small advisory team, and the
longer-term development of a "train and equip" project. Ministers were
advised, say those familiar with the discussion, that this second part of
the plan would take at least three months to implement.
When half a dozen British officers arrived at a seaside hotel in Benghazi at
the beginning of April, they were unarmed and their role was strictly
limited. They had been told to help the NTC set up a nascent defence
ministry, located in a commandeered factory on the outskirts of the city.
The first and most basic task of the advisory team was to get the various
bands of Libyan fighters roaring around in armed pick-up trucks under some
sort of central co-ordination. As reporters had discovered, most of these
men had little idea of what they were doing, and soon panicked if they
thought Col Gaddafi's forces were attacking or outflanking them.
There were a number of legal issues preventing them giving more help. Some
Whitehall lawyers argued that any type of presence on the ground was
problematic. Legal doubts were raised about arming the NTC or targeting Col
Gaddafi.
Once the air operation was put on a proper Nato footing, these issues became
even more vexed, insiders say, with the alliance saying it would not accept
men on the ground "directing air strikes" in a way that some newspapers,
even in late spring, were speculating was already happening.
The British government's desire to achieve the overthrow of Gaddafi while
accommodating the legal sensitivities registered by various Whitehall
departments led to some frustration among those who were meant to make the
policy work.
"It just seemed to me an unnecessarily muddled way of going about a business
that we all knew the underlying aims of," said one. "It was almost as if we
have lost the ability to define a clear objective and go for it."
However, the accidental bombing of NTC columns by Nato aircraft in early
April provided those who wanted more direct assistance with a powerful
argument. British and French officers on the ground were permitted to
co-ordinate more closely with the NTC for the purposes of "deconfliction" or
preventing such accidental clashes from happening again.
Under the deconfliction rubric, British advisers made their way to places
like Misrata, then under siege, where the RAF was focusing its air strikes.
The stage was set then for months of bombing which, as it progressed, both
exhausted the stocks of precision weapons available to some Nato allies and
the patience of many politicians for what was going on. Insiders say that,
discreetly, they were soon doing more than deconfliction, actually
co-ordinating certain Nato air attacks.
Taking as his cue the March approval in principal for a training programme,
Gen Richards had started a series of low profile visits to Doha, the capital
of Qatar.
This Gulf emirate had taken a leading role in backing the NTC, and its
defence chief was by June brokering an agreement with the UK and France to
provide material back-up as well as training for the NTC.
France was to prove more forward-leaning than the UK in this, and by August
was providing weapons to NTC units in the Nefusa mountains of western Libya.
The UK, meanwhile, had agreed to focus its efforts in the east of the
country. It was as part of this new effort that British special forces
returned to Libya.
Although plenty of people in Whitehall still remembered the March debacle,
it was agreed to allow a limited number of British advisers to take a direct
part in training and mentoring NTC units in Libya. Sources say the number of
men sent from D Squadron of 22 SAS Regiment was capped at 24. They were
performing their mission by late August.
While France and Qatar were ready to provide weapons directly, the UK was
not. However, this made little practical difference since the SAS was
operating closely with Qatar special forces who had reportedly delivered
items such as Milan anti-tank missiles.
There were some suggestions from Whitehall that the training itself should
be conducted outside Libya in order to remain within the narrow
interpretation of the UN resolution, but the SAS was apparently soon present
at a base in southern Libya.
During the months that this project had taken to come to fruition, the slow
grinding down of Gaddafi's forces by air attack had continued. Soon after
the foreign trainers arrived, NTC units swept into Tripoli.
Some people close to the Libyan revolution say that the Qatari chief of
defence staff claimed credit for coming up with the strategy of pushing
simultaneously towards the Libyan capital from different directions.
Certainly, the foreign special forces on the ground played a role in
co-ordinating the different columns.
The SAS had meanwhile strayed beyond its training facility, with single men
or pairs accompanying the NTC commanders that they had been training back to
their units. They dressed as Libyans and blended in with the units they
mentored, says someone familiar with the operation.
There had been concerns that they would be spotted by the press, but this
did not happen. "We have become a lot better at blending in," says someone
familiar with the D Squadron operation. "Our people were able to stay close
to the NTC commanders without being compromised."
Instead, as the revolutionaries fought their way into Gaddafi's home town of
Sirte, they were assisted by a handful of British and other special forces.
Members of the Jordanian and United Arab Emirates armies had fallen in
behind the Qataris too.
When, on 20 October, Gaddafi was finally captured and then killed by NTC
men, it followed Nato air strikes on a convoy of vehicles carrying leading
members of the former regime as they tried to escape from Sirte early in the
morning. Had British soldiers on the ground had a hand in this? Nobody will
say yet.
In keeping with its long standing policies on special forces and MI6
operations, Whitehall has refrained from public statements about the nature
of assistance on the ground. The Ministry of Defence reiterated that policy
when asked to comment on this story.
Speaking at a public event late last year, though, Gen Richards commented
that the NTC forces "were the land element, an 'army' was still vital". He
also noted that "integrating the Qataris, Emiratis and Jordanians into the
operation was key". He did not, however, allude to the presence of more than
20 British operators on the ground.
Last October the Chief of the Qatar Defence Staff revealed that "hundreds"
of his troops has been on the ground in Libya.
British sources agree Qatar played a leading role - and accept it put more
soldiers in than the UK - but question whether the number was this large.
Around the more secret parts of Whitehall, the suggestion is that the number
committed on the ground by all nations probably did not exceed a couple of
hundred.
As for Britain's decision finally to deploy an SAS squadron, "they made a
fantastic difference", argues one insider.
It is part of the essence of troops of this kind that they often operate in
secrecy, providing their political masters with policy options that they
might not wish to own up to publicly.
But given that the UK's earlier relationship with Col Gaddafi and his
intelligence services caused great embarrassment, it could be that attention
will one day focus more closely on British assistance to the NTC,
particularly if the Libyan revolution comes unstuck.
Watch Mark Urban's full report on BBC Two's Newsnight on Wednesday 18
January 2012 at 22:30 GMT, or catch up with the
<
http://www.bbc.co.uk/iplayer/episode/b019x42x/Newsnight_18_01_2012/
> BBC
iPlayer and <
http://news.bbc.co.uk/1/hi/programmes/newsnight/default.stm
>
Newsnight website.
Secret unit within the special forces
Soldier looking through binoculars
The existence of E Squadron is well known within the special forces
community but has not hitherto been discussed publicly. It was formed five
years ago to work closely with the intelligence service MI6, and is mainly
involved in missions where maximum discretion is required, say Whitehall
insiders.
Its role as a small, handpicked force operating with MI6 makes it the
modern-day successor to the shadowy cell sometimes referred to as the
Increment.
While the existence of teams of this kind is a gift for thriller writers
looking to insert a hit team of hardened SAS men into their plotline, the
reality of E Squadron's operations has been a little more prosaic.
Last March's debacle,
<
http://www.bbc.co.uk/news/world-middle-east-12658054
> in which six members
of the squadron were caught in Libya, was highly embarrassing. The reason
for their presence, escorting two people from MI6, gives a clue to the
facilitating role they often play in foreign intelligence operations in
risky places.
After 9/11, with major military commitments in Afghanistan and then Iraq,
MI6 stepped up its intelligence-gathering in many places that had hitherto
been off the radar or considered too dangerous.
It was often backed up by UK special forces, but the competing demands on
them to support special operations in Afghanistan and Iraq eventually led to
the creation of E Squadron.
According to special forces people, E Squadron is a composite organisation
formed from selected SAS, SBS and Special Reconnaissance Regiment operators.
It is not technically part of the SAS or SBS, but at the disposal of the
Director of Special Forces and MI6.
The squadron often operates in plain clothes and with the full range of
national support, such as false identities, at its disposal.
Whitehall sources suggest E Squadron was prepared to launch a rescue of a
British citizen kidnapped in the Sahara in 2009, but could not obtain
political clearance to do so before he was murdered by the hostage-takers.
Decoding the special forces
* British Army's Special Air Service (SAS), formed in 1941 to drop
troops by parachute behind enemy lines. Main role of its 400 members is to
gather intelligence on the ground, but also has history of tackling perilous
engagements - most famously storming the Iranian embassy in London in 1980.
* Special Boat Service (SBS), formed in 1940, is Royal Navy's
equivalent, and the two services have strong links. SBS specialises in
operations at sea and on river networks, but sometimes operates inland.
* Special Reconnaissance Regiment (SRR), formed in 2005. Few details
of its function or personnel have been made public, but its main purpose is
to carry out covert surveillance operations, freeing SAS and SBS for combat.
Related Stories
* Libya crisis told in maps
<
http://www.bbc.co.uk/news/world-africa-13860458
>
* How Gaddafi died <
http://www.bbc.co.uk/news/world-africa-15390980
>
* SAS members 'captured in Libya'
<
http://www.bbc.co.uk/news/world-middle-east-12658054
>
------------[ Sent via the dehai-wn mailing list by dehai.org]--------------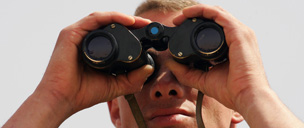 (image/jpeg attachment: image003.jpg)
Received on Thu Jan 19 2012 - 11:27:55 EST