From: Berhane Habtemariam <Berhane.Habtemariam_at_gmx.de_at_dehai.org>
Date: Fri, 13 Jan 2012 20:54:00 +0100
UN agency seeks solution for long-term refugees in eastern Sudan
13 January 2012 –
The head of the United Nations refugee agency has praised efforts to find a
lasting solution for tens of thousands of long-term refugees in eastern
Sudan, most of them Eritreans, but voiced concern over the vulnerability of
the younger ones to human trafficking.
"Our refugee programme in Sudan is one of the oldest in Africa, at 45
years," said António Guterres, the UN High Commissioner for Refugees, at a
<
http://www.unhcr.org/4f1005e99.html
> news conference in the Sudanese
capital, Khartoum, yesterday at the end of visits to South Sudan and Sudan
that started last weekend.
"Since then, the [Sudanese] Government has been hosting refugees from many
countries generously," said Mr. Guterres, acknowledging the strain that host
communities in eastern Sudan have experienced after accommodating refugees
for decades.
We are prepared to support the Government to crack down on the smugglers and
to protect the victims.
He said his agency, the UN High Commissioner for Refugees (
<
http://www.unhcr.org/cgi-bin/texis/vtx/home
> UNHCR), would launch an
initiative to help the long-term refugees to become more self-reliant
through setting up income-generating schemes, while supporting development
projects for the host communities.
The so-called transitional solutions initiative will be supported by the
Sudanese Government and jointly implemented by UNHCR, the UN Development
Programme ( <
http://www.undp.org/
> UNDP) and the World Bank.
Earlier on Thursday, Mr. Guterres visited Kassala in eastern Sudan which
hosts more than 86,000 refugees, many of whom fled conflict between Eritrea
and Ethiopia half a century ago. The majority of refugees there were born in
camps in Sudan, and share the culture and language of the host community. At
Shagarab I camp, Mr. Guterres met with refugee women who have benefited from
a micro-credit scheme funded by UNHCR.
Every month, some 2,000 asylum-seekers reach the camp, mostly single young
men from Eritrea. Some come to escape military conscription, while others
are motivated by a possibility of a better life elsewhere, according to
UNHCR. Many stay in the camps for a couple of months before joining
smuggling networks that transport them to Khartoum, the Middle East or
Europe.
"It's painful to see so many young people become victims of trafficking and
kidnapping. Some are even killed. We are prepared to support the Government
to crack down on the smugglers and to protect the victims," said Mr.
Guterres.
He also addressed issues of the future of an estimated 700,000 South
Sudanese who are still in Sudan after their country seceded in July last
year. Some 110,000 of them have so far been registered to return to South
Sudan, but are stranded in Khartoum and other areas due to a lack of funds,
transportation and security.
"Both governments have agreed to a bilateral plan of action, which we hope
will be established in the near future to allow for a more effective return
to the south. This will involve air movements for the most vulnerable
people, but the opening up of safe convoys by land will be most crucial,"
Mr. Guterres added.
<
http://www.un.org/News/dh/photos/large/2012/January/13-01-2012-GuterresSuda
n.jpg>
http://www.un.org/News/dh/photos/large/2012/January/13-01-2012-GuterresSudan
.jpg
High Commissioner António Guterres with Eritrean and Ethiopian refugees in
Shagarab I camp, eastern Sudan. Photo: UNHCR/A.Awad
------------[ Sent via the dehai-wn mailing list by dehai.org]--------------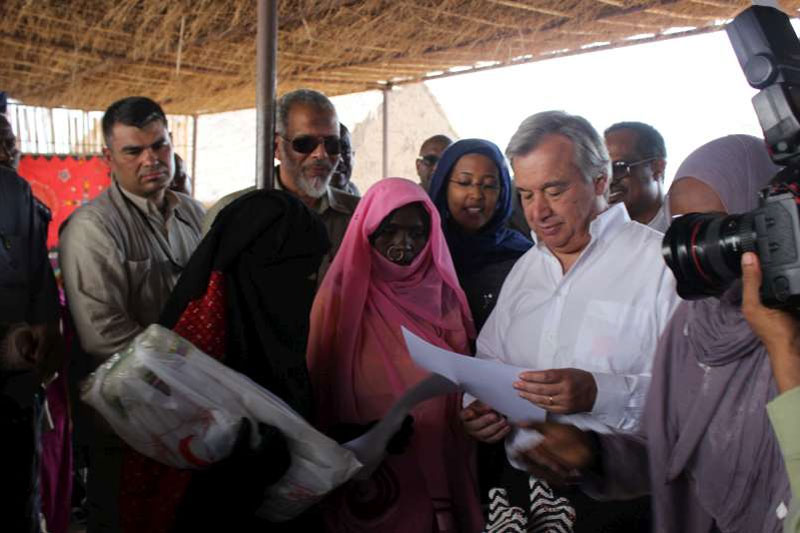 (image/jpeg attachment: image001.jpg)
Received on Fri Jan 13 2012 - 14:54:33 EST