From: Berhane Habtemariam <Berhane.Habtemariam_at_gmx.de_at_dehai.org>
Date: Mon, 9 Jan 2012 20:54:11 +0100
Lack of transparency in mining sector killing Africa's potential
http://www.theeastafrican.co.ke/image/view/-/2320/data/43/-/1al6uwz/-/ico_pl
us.png
By BERNA NAMATA, The EastAfrican ( <javascript:void(0);> email the author)
Posted Sunday, January 8 2012 at 12:42
Secrecy in handling mining contracts and lack of disclosure on oil and
mining revenues are crippling Africa's mineral potential, denying the
continent billions of dollars as commodity prices rise.
Experts meeting in Addis Ababa last week warned that while the sector has
benefited from the recent commodity boom with net profits for top 40 mining
companies expanding by 156 per cent to $110 billion this has yet to
translate into substantial benefits for African countries due to governance
issues within the sector.
"Contracts remain mired in secrecy; communities continue to be
marginalised," said Stephen Karingi, director of the Regional Integration,
Infrastructure and Trade Division at the United Nations Economic Commission
for Africa (UNECA) .
Mr Karingi while speaking at the African Union Conference of Ministers
responsible for mineral resources said while high earnings in the past seven
years have prompted countries like Australia and India to increase taxes on
windfall earnings, in Africa, countries have not taken advantage of the
current mineral commodity price boom to review their tax regimes.
Since 2003, mineral commodity prices have surged on account of high demand
in emerging countries like China, India and Brazil.
"We are hesitant to increase taxes on account that we might frighten away
the goose and hence have no more golden eggs!
I am not sure that so far we have any golden eggs," he said, in reference to
African countries losing out on mineral revenue in their quest to attract
foreign investment.
A report on Africa's mineral development regimes by the International Study
Group released last week, stated that while foreign investment has
regenerated and expanded mineral production and exports, its contribution to
social and economic development objectives has been far less certain and has
even been contested in many countries.
The report further said African countries have not been getting adequate
compensation from the exploitation of their mineral resources.
"The contribution from the development of the mineral industry to the
national economy needs to be enhanced... the public should be well aware of
the revenues generated from the sector and how they are being spent," Mr
Karingi said.
But according to Yao Graham, co-ordinator of the Accra based Third World
Network - Africa, an NGO engaged in advocacy on development issues, more
transparency and accountability is needed within the private sector,
particularly mining companies.
"There is a need for more transparency and accountability from companies in
relation to the kind of transactions they undertake because it is well
established now that transfer pricing by companies and mis-pricing by
companies drain a lot of resources out of African countries," he said.
"If we paid more attention to what companies are doing we would be able to
tremendously increase the amount of revenue that comes to countries because
those mechanisms basically reduce the tax base of countries,"
Mr Graham said governments should be more vigilant and aware of double
standards by big corporate companies which frequently "advertise" their
social corporate responsibility projects, while also pushing for tax
holidays that deprive governments of revenue tax policies and in
aggressively avoiding tax.
"Where is the ethic in building a few toilets (corporate social
responsibility)...when the focus of your corporate energy is on avoiding
tax?" he said, adding that if companies want to show corporate social
responsibility it must also be reflected in their tax strategies that they
are contributing an optimum amount to the tax revenue.
Children wash copper at an open-air mine in Kamatanda in the rich mining
province of Katanga, southeastern Democratic Republic of Congo (DRC). Some
400 children from Kamatanda and surrounding villages, who have dropped out
of school, help miners transport, sort or wash the mineral. Forced by
poverty, hundreds of children leave school to work at the mine. File Photo
Children wash copper at an open-air mine in Kamatanda in the rich mining
province of Katanga, southeastern Democratic Republic of Congo (DRC). Some
400 children from Kamatanda and surrounding villages, who have dropped out
of school, help miners transport, sort or wash the mineral. Forced by
poverty, hundreds of children leave school to work at the mine. File Photo
------------[ Sent via the dehai-wn mailing list by dehai.org]--------------


(image/png attachment: image001.png)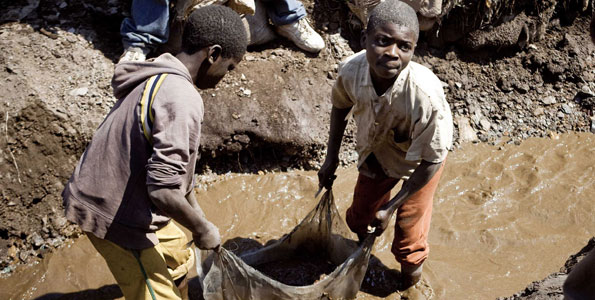 (image/jpeg attachment: image002.jpg)
Received on Mon Jan 09 2012 - 14:54:26 EST