From: Berhane Habtemariam <Berhane.Habtemariam_at_gmx.de_at_dehai.org>
Date: Thu, 22 Dec 2011 23:56:57 +0100
Morocco still provoking resistance in Western Sahara
By Aidan Lewis BBC News, Laayoune
22 December 2011 Last updated at 08:43 GMT
Like much in Western Sahara, the facts of Said Dambar's death are contested.
The 26-year-old was fatally shot by a policeman, who has now been sentenced
to 15 years in prison. The authorities say it was an accident.
But Mr Dambar's family suspect a cover-up. They say officials made a series
of false claims: That he and the policeman were friends, that Mr Dambar had
attacked him, and that he was drunk.
They also wonder why they found sand in Mr Dambar's trousers if he was shot,
as the authorities claim, in the policeman's flat.
A year after he died, his body is still in the mortuary. The family has
refused to pick up the body, saying he was never given a proper autopsy.
They think he was targeted because of the family's role in a protest camp
that led to the worst outbreak of violence in Moroccan-occupied Western
Sahara for years.
It is a case that shows how deep mistrust and anger between the authorities
and indigenous Sahrawis can run, 35 years after Morocco seized control of
this stretch of desert land.
"We are a family that just wants to live in peace," says Mattou Dambar, one
of Said's sisters. "After [Said's] death and the attacks [on the family] we
are really afraid. They told us: 'You won't get jobs unless you forget about
the autopsy.'"
"We have to bury my brother," she adds. "It hurts me every day."
'Hatred and revenge'
The fragile peace in Moroccan-controlled Western Sahara was briefly
shattered in November 2010.
Thousands of Sahrawis had pitched tents near the region's main city,
Laayoune, to demonstrate over social and economic complaints, in what
Sahrawi activists like to see as a precursor of the Arab Spring.
"We went like everyone else so we could have a job and some land," said
Mattou Dambar.
"The demands were social - nothing more."
What happened next at the Gdeim Izik camp quickly became obscured in the fog
of a propaganda war.
Officials said they forcefully dismantled it because dangerous political
activists had taken control. They say 11 unarmed soldiers were killed and 17
injured.
According to activists, at least four Sahrawis were killed as the violence
spread to Laayoune - though this number is far lower than initial estimates.
The climbdown shows that Sahrawi campaigners, desperate for attention, can
be prone to exaggeration.
Yet they also contend that the Moroccan intelligence services planted false
claims to embarrass them.
And they complain that there followed a crackdown that fits with a long
pattern of abuse. A military court is still holding 22 Sahrawi suspects in
provisional detention at a prison in Sale, near the Moroccan capital, Rabat.
The events exposed an ill-concealed rancour that has periodically surfaced
here, between much longer stretches of impasse.
"What worries me is the lack of confidence, and the hatred and revenge that
emerged," says Ghalia Djimi of the Sahrawi human rights group ASVDH.
How far that sentiment might translate into full opposition to Moroccan rule
is the question at the heart of the Western Sahara dispute.
But it is one that Morocco has always shied away from, repeatedly dodging a
referendum that includes the option of self-determination.
"I can't say anything because we need a vote," says Ms Djimi when asked how
many people want independence.
"The only thing I know is that nearly all Sahrawi families have been
affected by cases of marginalisation, disappearances, or detention."
'Algerian agenda'
Morocco says it has brought peace and prosperity to the two-thirds of
Western Sahara that it controls.
It staked its claim to the territory when more than 300,000 Moroccan
civilians crossed the border in the "Green March" of 1975, as Spanish
colonial forces were preparing to leave.
That followed a ruling by the International Court of Justice rejecting
Moroccan and Mauritanian claims of sovereignty to Western Sahara.
While Mauritania withdrew from the southern part of the territory in 1979,
Morocco continued to fight the Sahrawi independence movement, the Polisario
Front, until a ceasefire in 1991.
It has since held its ground behind a 1,500-mile sand wall, guarded by as
many as 160,000 soldiers.
International efforts to resolve the dispute, the last case in the UN's
African decolonisation dossier, have repeatedly failed.
The issue has poisoned relations between Morocco and its neighbour Algeria,
which backs Polisario and continues to host the movement and tens of
thousands of Sahrawi refugees.
Most Sahrawis live in the area controlled by Morocco, but they are
outnumbered by Moroccans from the north who have settled, attracted by heavy
subsidies and higher salaries.
Moroccan officials claim Algeria is now propping up the independence
movement, which they argue enjoys little real backing outside the refugee
camps.
"There are groups of separatists, but how many?" asks Dkhil Khalil, the
governor of Laayoune. "Perhaps 1%. So it means nothing. No-one can impose an
Algerian agenda on us."
He accuses Mr Dambar's family of exploiting their case to advance the
separatist cause.
Some ethnically Sahrawi and pro-Moroccan officials in Laayoune express
support for an autonomy plan that was offered by Morocco during recent talks
at the UN. But Polisario, which says the pro-Moroccan officials have been
bought off, continues to hold out for a referendum.
There seems little international political will to force an end to the
deadlock.
"Compared with the desperate efforts to give South Sudan independence, the
French and the US are very comfortable," says Jacob Mundy, a Western Sahara
expert and assistant professor at Colgate University in the US.
He says that for there to be a solution, "there would have to be a
significant change in the basic dynamics of the conflict... whether it was
the collapse of the Moroccan regime, the collapse of the Algerian regime or
the collapse of the Polisario".
The activists in Laayoune feel forgotten and neglected.
Aminatou Haidar, a campaigner who gained some rare attention two years ago
when she staged a hunger strike in Lanzarote airport, says she is
disappointed with an international community that stands by "with their arms
folded - either indifferent or complicit".
Driving through the heavily patrolled streets of Laayoune, where activists
are closely monitored by plain-clothes policemen, she says the pattern of
repression and abuse is being passed on to younger Sahrawis.
Her 15-year-old son was recently threatened with rape and abuduction, she
says, and other teenagers are also being targeted.
"The new generation - that of my son - is even more determined than those
who came before," she says.
Western Sahara
Map
* Seized by Morocco in 1975 after Spain and Mauritania withdrew
* Polisario Front seeks independence but Morocco is only prepared to
grant autonomy
* Polisario fought a guerrilla war against Morocco but a ceasefire has
been in place since 1991
* Western Sahara profile
<
http://www.bbc.co.uk/news/world-africa-14115273
>
Related Stories
* Rich resources underlie conflict
<
http://www.bbc.co.uk/news/world-africa-16101666
>
* Morocco 'abused Sahara detainees'
<
http://www.bbc.co.uk/news/world-africa-11852434
>
* Morocco accused over Sahara raid
<
http://www.bbc.co.uk/news/world-africa-11733770
>
------------[ Sent via the dehai-wn mailing list by dehai.org]--------------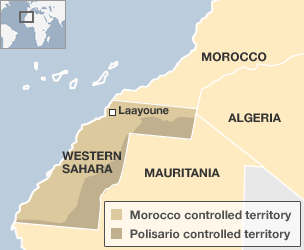 (image/gif attachment: image001.gif)
Received on Thu Dec 22 2011 - 17:56:55 EST