From: Berhane Habtemariam <Berhane.Habtemariam_at_gmx.de_at_dehai.org>
Date: Tue, 13 Dec 2011 20:11:29 +0100
Opposition Leader Labels Ethiopian Government 'Dictatorship'
Peter Heinlein | Addis Ababa
* December 13, 2011
The newly elected leader of Ethiopia's largest opposition group says his
party faces a monumental task in trying to unseat what he calls "dictators"
bent on silencing dissent. The party held leadership elections even as some
of its top officials are being tried on terrorism charges.
Hundreds of regional party leaders clapped in approval as former Ethiopian
president Negasso Gidada was elected head of Unity for Democracy and
Justice, the largest faction of the Medrek (Forum) opposition coalition. The
election was the first since former UDJ leader Birtukan Mideksa fled into
exile earlier this year after being freed from prison, where she had been
serving a life sentence.
Negasso's acceptance speech was sober, free of the celebration that often
accompanies victory. He called for the release of Andualem Arage and Natnael
Mekonnen, two rising stars in the party who are on trial in federal court on
terrorism charges. They, along with journalist Eskinder Nega, face the death
penalty if convicted.
Negasso called on Prime Minister Meles Zenawi's ruling party to open up
political space for opposition parties to operate freely. In a VOA
interview, he charged that while publicly advocating democracy, the ruling
Ethiopian Peoples' Revolutionary Democratic Front, the EPRDF, is intent on
suppressing dissent and creating a one-party state.
"The system is from the old communist, it is the Marxist-Leninist way of
thinking, and that is why we see, for example, that it is working with the
Chinese Communist Party, because they have the same kind of belief.
Therefore, it's a character of EPRDF to say it is the only one which is
correct and it has to lead."
Negasso said the current system makes it impossible for the opposition to
win elections. He said the only hope for changing the government is through
peaceful struggle.
"We have seen dictators cannot exist forever. We have seen that," said
Negasso. "At one time, the people will say no. It may not happen this year,
or after two years or so, but at some time the people will be angry and will
stand up. That's what is going to happen."
Negasso expressed particular concern about what he called a trend to use the
state-run media to demonize opposition groups. He pointed to a recent
three-part series on state television called Akeldama, or Land of Blood. The
program suggested that UDJ leaders such as Andualem and Natnael were using
their political work as a cover for terrorist activities linked to the
outlawed Ginbot Seven party.
"Even if they had connection with Ginbot Seven, which the government thinks
is terrorist, what the program did was accuse people as criminals and then
try to prove what it says by bringing fake evidences, and giving judgment,"
he said. "People who are accused are innocent until proven by the court.
What the program did is a big violation of the constitution."
Government spokesman Shimeles Kemal, a former prosecutor, said the purpose
of the Akeldama series was to warn citizens about the threat of terrorism.
In a phone interview, Shimeles said opposition groups have been warned to
guard against terrorist infiltrators.
"Medrek and some of its member party organizations have made themselves
vulnerable to get infiltrated by terrorist elements," he said. "And the
police have time and again advised these organizations to check through
their own internal recruiting criteria as well as internal mechanisms so as
to sift out infiltrators from their local members."
Shimeles defended the decision to air Akeldama at a time when Andualem,
Natnael and Eskinder are on trial, facing the death penalty. He said the
government's Anti-Terrorism Task Force has a duty to disclose its activities
to the public, adding "This is perfectly in accord with any democratic
practice, including in the United States."
****************************************************************************
*********************************
US Ambassador Tells South Sudan to Open Up to Other Political Parties
John Tanza
* December 13, 2011
Map of Sudan and South Sudan
The United States first ambassador to South Sudan said the world's newest
country needs to open up the democratic space to allow other political
parties to take part in the nation building process.
<
http://southsudan.usembassy.gov/
> Ambassador Susan Page arrived in Juba
earlier this month. She was nominated to become ambassador by President
Barrack Obama in August and was confirmed by the U.S. Senate in October.
In a recent interview with VOA, just prior to her leaving for South Sudan,
Ambassador Page acknowledged that the problems facing Juba are not unique to
the people of South Sudan and she expressed confidence that the South
Sudanese people will work hard to overcome the numerous challenges facing
them.
And she said the country has the goodwill of the international community.
''I feel as if this is not a completely new place, but they are starting off
with a bonus of being a new country with a lot of goodwill, but a lot of
challenges ahead of them," she added.
Outstanding post-independent issues
Page's posting to South Sudan comes at a difficult time in relations between
Juba and Khartoum. The two nations have been unable to resolve many
outstanding post-independence issues, including oil revenue sharing. Sudan
has threatened to halt South Sudan's oil exports in a disagreement over
transit fees, and Khartoum confiscated shipments to make up for payments it
claims South Sudan owes.
When South Sudan separated from the north earlier this year, it inherited
most of the once unified nation's oil fields. But, South Sudan is
landlocked and all of its oil flows through Sudan's pipeline to reach
international markets.
Recent talks in Addis Ababa, Ethiopia aimed at resolving these issues did
not bridge the gap and new talks are scheduled for later in December.
Ambassador Page admitted that the two ruling parties, Sudan's National
Congress Party and the Sudan People's Liberation Movement in South Sudan,
must work together to resolve post independent issues. She said she would
work to encourage the two parties to continue negotiations.
Good governance, corruption and rule of law
Business opportunities have boomed and investors have flocked to South
Sudan, beginning with the 2005 peace agreement, which ended the more than
two-decade civil war, and the declaration of independence in early July.
Page warned that Juba needs to create a stable environment to encourage
investment. ''I feel as if South Sudan is open for business, and if they can
make the country appealing to investors, if they can get corruption under
control, open the country to other political parties, the country can
become a really first century country with opportunities of development for
its people," she said
The new envoy also urged the government in Juba to open up the democratic
space to allow other political parties to openly express their views. She
said her priority would be to work with civil society and human rights
groups, as well as the United Nations Mission in South Sudan to push the
government in Juba on the issues of good governance and corruption.
''Corruption is a problem, they have acknowledged it, they have asked for
our assistance and we have several advisors working with them,'' she
explained.
She further urged Juba to make some progress on reviewing the new the
interim constitution by including other political parties and the
opposition. The U.S. diplomat added that her country would work with Juba to
ensure that its leaders maintain civilian control of the army and
institutions of national intelligence. She warned that the time would come
when the people of South Sudan will vote out leaders who are not serving
their people.
U.S. opens up South Sudan oil sector
Khartoum has been under U.S. sanctions since 1997, but these sanctions could
prove harmful to South Sudan, which is landlocked so that its oil can only
reach international markets through Sudanese pipelines, which Page
acknowledged.
The U.S. Office of Foreign Assets Control (OFAC) announced in December that
it was lifting economic sanctions that had prohibited Americans from
dealings with the petroleum and petrochemical sector in the Republic of
South Sudan.
These sanctions were in place largely because of the benefit the Government
of Sudan receives because crude from South Sudan makes it to market at Port
Sudan via pipelines through Sudan, and the Government of Sudan receives some
benefit from this process.
The new regulation explicitly allows American participation in downstream
activities, including the refining, sale and transport of petroleum from
South Sudan, so long as the petroleum in not refined in Sudan.
The new regulations will make it significantly easier for U.S. citizens and
companies to invest in all sectors of the South Sudanese economy.
Ambassador Page expressed confidence in the current negotiations,
facilitated by the African Union High Level Implementation Panel, which is
led by former South African President Thabo Mbeki, to address the oil
related economic problem between the two countries.
Interview with US Ambassador to South Sudan, Susan Page. Part One
download iconDownload:
<
http://av.voanews.com/VOA_Clickability_Feed_Connector/26/50/TANZA-_PAGE.Mp3
> MP3
Right click (Control click for Mac) and choose Save Link/Target As
Interview with US Ambassador to South Sudan, Susan Page. Part Two
download iconDownload:
<
http://av.voanews.com/VOA_Clickability_Feed_Connector/26/343/TANZA_PAGE_PAR
T_2_FINAL.Mp3> MP3
Right click (Control click for Mac) and choose Save Link/Target As
Interview with US Ambassador to South Sudan, Susan Page. Part Three
download iconDownload:
<
http://av.voanews.com/VOA_Clickability_Feed_Connector/26/668/TANZA_AMBASSAD
OR_PAGE_PART_3.Mp3> MP3
Right click (Control click for Mac) and choose Save Link/Target As
Related Articles
*
<
http://www.voanews.com/english/news/africa/South-Sudan-Seeks-Foreign-Invest
ors-to-Reopen-Shuttered-Factories-134079288.html> A barge with food and
other imports arrives at the Nile port of Kosti at White Nile State, South
Sudan, September 21, 2011.
<
http://www.voanews.com/english/news/africa/South-Sudan-Seeks-Foreign-Invest
ors-to-Reopen-Shuttered-Factories-134079288.html> South Sudan Seeks Foreign
Investors to Reopen Shuttered Factories
Undersecretary for commerce says new nation intends to revive manufacturing
in bid to create jobs, become less reliant on imports
------------[ Sent via the dehai-wn mailing list by dehai.org]--------------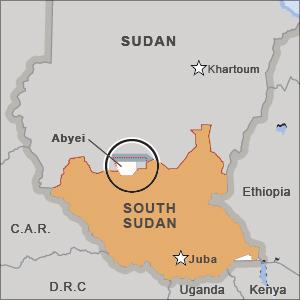 (image/jpeg attachment: image001.jpg)


(image/gif attachment: image002.gif)

(image/jpeg attachment: image003.jpg)
Received on Tue Dec 13 2011 - 14:11:34 EST