From: Berhane Habtemariam <Berhane.Habtemariam_at_gmx.de_at_dehai.org>
Date: Wed, 30 Nov 2011 11:16:43 +0100
At UN, Push for Eritrea Sanctions Without Hearing President, "US & 14
Dwarfs"
By Matthew Russell Lee
UNITED NATIONS, November 28 -- Pushing for a quick vote on additional
sanctions on Eritrea, Gabon
<
http://www.innercitypress.com/ungab1eritrea101411.html
> late Tuesday with
the support of the United States
<
http://www.innercitypress.com/usun1eritrea081011.html
> put a draft
Security Council resolution "into blue" and demanded a vote on Wednesday,
Inner City Press learned on Tuesday night.
Another African Council member expressed surprise and opposition, telling
Inner City Press that "if it only went into blue at 5:30, then they sure
couldn't vote until 6 p.m. on Wednesday." Other Council members are opposed
to that timing.
But it has become a showdown, with the US claiming the support of two of
the Council's three African members as well as IGAD, and virtually daring
other Council members to put up a fight.
It is similar to the request by Eritrean president Afwerki to address the
Council, <
http://www.innercitypress.com/sc1afwerki102711.html
> formalized
on October 25 as document S/2011/663. There are European members of the
Council which support granting Afkerki's request, not because they support
Eritrea but because "when a head of state asks to address the Council, it
should be granted."
But the US put on a block -- Susan Rice told Inner City Press why, click
here <
http://www.innercitypress.com/sc2afwerki110311.html
> -- and no other
member has "dared" call for a procedural vote.
"We all have our priorities," one member told Inner City Press. Another
Permanent Representative is known to refer to the Council as "
<
http://translate.google.com/?hl=en&tab=iT#fr%7Cen%7CBlanche%20Neige%20et%20
les%20quatorze%20nains> Blanche Neige et les quatorze nains" Disney style.
The resolution would urge all UN members for "increased vigilance" on any
financing that could assist destabilizing activities and against Eritrea's
mining sector.
Why this sudden timing? A well placed source tells Inner City Press that
the US would prefer not to deal on this with Russia, which takes over the
Council presidency on Thursday. So the US tries to push it through under
Portugal. Some Working Methods - click here for more on that, and watch this
site.
http://www.innercitypress.com/srice2dw.jpg(c
) UN Photo
Susan Rice
<
http://translate.google.com/?hl=en&tab=iT#fr%7Cen%7CBlanche%20Neige%20et%20
les%20quatorze%20nains> et les quatorze nains," denouement on Eritrea block
& rush not yet shown
------------[ Sent via the dehai-wn mailing list by dehai.org]--------------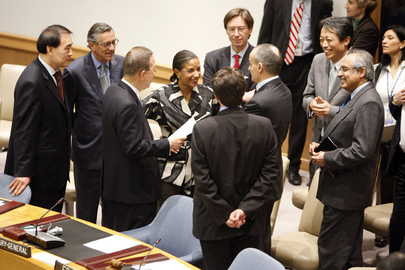 (image/jpeg attachment: image001.jpg)
Received on Wed Nov 30 2011 - 05:16:51 EST