From: Berhane Habtemariam <Berhane.Habtemariam_at_gmx.de_at_dehai.org>
Date: Fri, 25 Nov 2011 14:19:53 +0100
Reports and Papers-Hostage to Conflict: Prospects for Building Regional
Economic Cooperation in the Horn of Africa
Chatham House Report
Sally Healy, November 2011
http://www.chathamhouse.org/sites/default/files/public/Research/Africa/1111h
orn_r.pdf
Download paper here
<
http://www.chathamhouse.org/sites/default/files/public/Research/Africa/1111
horn_r.pdf>
http://www.chathamhouse.org/sites/default/files/r_horn2011.jpg
* This report examines the economic dimensions of regional conflict
and cooperation in the Horn of Africa. It asks whether, over the long term,
economic drivers have the potential to transform endemic conflict among
states or whether political stability is a precondition for enhancing
economic cooperation.
* The security interdependence that exists in the Horn is matched by
an equally complex degree of economic interdependence. For while these
countries have been deeply involved in warfare with one another and have
consistently worked to undermine or rearrange one another's regimes, there
is a wealth of other, potentially more positive, longestablished
relationships that exist between people all over the region.
Horn of Africa Project
<
http://www.chathamhouse.org/research/africa/current-projects/horn
>
------------[ Sent via the dehai-wn mailing list by dehai.org]--------------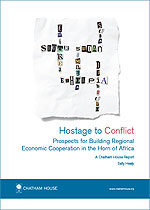 (image/jpeg attachment: image001.jpg)
Received on Fri Nov 25 2011 - 08:19:53 EST