From: Berhane Habtemariam <Berhane.Habtemariam_at_gmx.de_at_dehai.org>
Date: Mon, 21 Nov 2011 14:51:39 +0100
Will Kenya succeed in fighting Somalia's al-Shabaab militants?
By Hassan Isilow ( <javascript:void(0);> email the author)
Posted Monday, November 21 2011 at 00:00
Is the Kenyan government paying a price for deliberately not intervening
earlier in solving the Somali crisis, which has been ongoing for two
decades? This is the first thought that came to my mind when suspected
al-Shabaab sympathisers recently hurled grenades at innocent civilians in
Nairobi. One would expect Kenya to have intervened in the Somali crisis as
early as the 90s because the two countries share a border and an ocean.
Besides, Kenya also has a long history of friendship and cooperation with
Somalia. Another factor bonding the two nations is the large Somali ethnic
population which occupies Kenya's entire north eastern province. However,
when former Somali president Mohamed Siad Barre was overthrown in 1991,
Kenya turned a blind eye on the brewing crisis in neighbouring Somalia.
Several years later, the situation became worse in Somalia, with different
warlords battling for leadership. Kenya did not intervene in preventing this
crisis from getting worse. As a result, Kenya today receives thousands of
Somali refugees. There have also been reports of arms smuggling from Somalia
into Kenya, which are allegedly responsible for increased crime levels in
Kenya. If Kenya had intervened earlier in the Somali crisis, probably Kenya
would not be paying this price today?
As far as I remember, Kenya has only been playing quiet diplomacy on the
Somalia crisis. The biggest role Kenya has ever played was to provide a
mediation venue in Nairobi, where different warlords and the Transitional
Federal Government (TFG) officials came together to discuss the way forward.
I acknowledge this mediation effort, but I think Kenya could have done
better by sending troops into Somalia at the onset of the crisis, which I
believe would have prevented the situation from getting out of hand.
As I write this piece, Kenya seems to have gone into a fully-fledged war
with al-Shabaab fighters in southern Somalia. This is after Kenya recently
deployed her troops in southern Somalia to pursue suspected pirates and
al-Shabaab who entered into her coastal territory and kidnapped an elderly
French woman. The woman latter died while in the custody of pirates. This
incident scared off many tourists from visiting the Kenyan coast which is
one of Africa's main tourist destinations. Tourism being one of Kenyans main
foreign exchange earners, the state had to act by sending troops into
southern Somalia to combat the al-Shabaab fighters and pirates. To many,
this was a bold move. If Kenya had deployed her troops in southern Somalia
way back, probably al-Shabaab would have been history by now.
Regardless of the above, the Kenyan government should also observe human
rights as it carries out its mission of fighting al-Shabaab inside Somalia,
because Doctors without Boarders (MSF) recently reported that an internally
displaced people's camp in southern Somalia had be bombed by Kenyan
military. Three people were reportedly killed and 52 injured, mostly women
and children. Kenyan police officers have also previously been accused by
human rights groups of raping female Somali refugees crossing into Kenya.
The Kenyan government should act harshly on any officer found to have
committed acts of sexual violence.
Finally, the Kenyan police and the general public should not victimise
Somalis living in Nairobi's suburb of Eastleigh, because not all Somalis
sympathise with al-Shabaab. The continued victimisation and extortion of
money from these people will instead create more radicals, making it
difficult for Kenya to succeed in its war against al-Shabaab.
Mr Isilow writes from Johannesburg South Africa. <mailto:hisilow_at_gmail.com>
hisilow_at_gmail.com
*********************************************************************
Museveni to Bashir: Back off S. Sudan
http://www.monitor.co.ug/image/view/-/688874/data/43/-/345rd6z/-/ico_plus.pn
g By Emmanuel Gyezaho ( <javascript:void(0);> email the author)
Posted Saturday, November 19 2011 at 15:13
In Summary
President says Khartoum made a mistake of managing Sudan which means 'land
of black people'
Kampala
President Museveni has played big brother to Uganda's northern neighbour
South Sudan telling reporters at a news conference yesterday that Sudanese
President Omar al-Bashir should end "aggression" against the South.
"Bashir must stop organising aggression against the South," Mr Museveni said
at a joint news conference addressed with visiting South Sudan leader Salva
Kiir.
A statement from his office said Mr Museveni urged the Khartoum government
to back off South Sudan, the continent's newest independent country
following a breakaway from Sudan in July, stating that President Bashir must
abide by the 2005 peace agreement ending decades of conflict between the
north and south.
Reports indicate that the two countries could go to war anytime if the
on-going accusations and counter accusations by both countries.
Democratic vote
Mr Museveni said the Khartoum government had made the "mistake" of managing
Sudan, a country whose name means "land of black people", as an Arab country
and yet the country was "Afro-Arab."
Share This Story
<
http://www.facebook.com/sharer.php?u=http%3A%2F%2Fwww.monitor.co.ug%2FNews
%
2FNational%2F-%2F688334%2F1276784%2F-%2Fbgrcpyz%2F-%2Findex.html&t=Museveni%
20to%20Bashir%3A%20Back%20off%20S.%20Sudan%C2%A0-%20National%C2%A0%7Cmonitor
.co.ug&src=sp> 3Share
This newspaper was unable to obtain comment from Sudan's Ambassador to
Uganda Hussein Awad Ali despite repeated calls. According to the statement,
however, Mr Museveni said the South Sudan people had "voted twice
democratically" expressing their right of self-determination, adding that
anyone going against their wishes "must be out of his mind." "Uganda cannot
support people who are out of their minds," he said.
Gen. Kiir jetted into the country on Thursday for a two-day state visit, his
first to Uganda as head of state.
While officials had remained tight lipped over the significance of the
visit, described by International Affairs State Minister Okello Oryem as "a
courtesy call", sources confided to this newspaper that regional security
was top on the agenda.
South Sudan army said yesterday that Khartoum military war planes bombed its
territory on Thursday; just a day after the Sudan Armed Forces (SAF)
attacked its bases at Kuek in Upper Nile state and bombed Raja County in
Western Bhar el-Ghazal.
SPLA spokesman Philip Aguer Panyang said: "This is a terrible violation of
the sovereignty of South Sudan." The bombing followed a Wednesday fighting
between South Sudan army and Sudan forces at Kuek military base in Upper
Nile state, Col Aguer said.
South Sudan has belittled Khartoum's readiness to resume the African Union
mediated talks on post-independence arrangements that should have started
today in the Ethiopian capital Addis Ababa, and accused it of suspending the
talks unilaterally.
The ruling party secretary general and South Sudan's chief negotiator, Mr
Pagan Amum Okiech, told reporters on Friday in Juba that Khartoum has
rejected an invitation through the AU High Level Implementation Panel headed
by former South African President Thabo Mbeki, to resume talks in Addis
Ababa.
Both sides are yet to resolve a string of issues including the status of the
contested Abyei region, border demarcation, and oil shipment fees among
others. But tensions have continued to rise amidst regional and
international calls for restraint.
Sudan's response to the proposal would have been today in Addis Ababa.
President Museveni yesterday said that his government would offer unreserved
support for South Sudan's quest for accession to the East African Community
because the Sudan People Liberation Army (SPLA) has always been
pan-Africanist. "That is part of the reason we have been fighting to create
a strong Africa," he said.
Responding to queries over reported mistreatment of Ugandan traders in South
Sudan, Gen. Kiir said the incidents were isolated and were not the policy of
his young government.
Mistreatment of Ugandans
"We are new in government and our country was a lawless state," he said.
"When people come out of war, they behave like that. We always apologised to
the people of Uganda and I promise to correct that problem."
The two leaders issued a joint communique emphasising the promotion of
regional peace and security, regional integration, agreeing "to strengthen
bilateral cooperation, work together to concretise trade and remove all
trade barriers" between the two countries.
egyezaho_at_ug.nationmedia.com
http://www.monitor.co.ug/image/view/-/1276798/highRes/311957/-/maxw/600/-/94
b3sa/-/late001px.gif
President Museveni introduces President Kiir (R) to Speaker Rebecca Kadaga
yesterday in Kampala. Photo by PPU.
------------[ Sent via the dehai-wn mailing list by dehai.org]--------------


(image/png attachment: image001.png)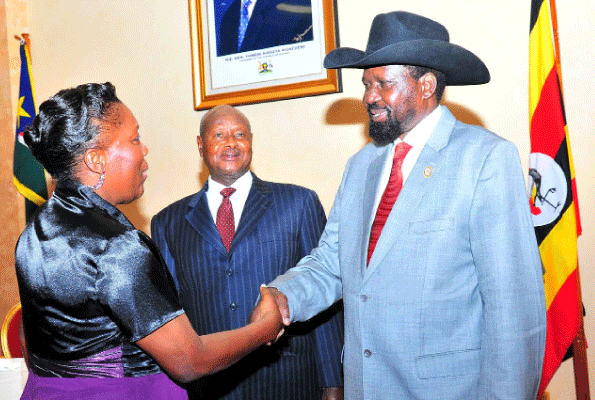 (image/gif attachment: image002.gif)
Received on Mon Nov 21 2011 - 08:52:17 EST