From: Berhane Habtemariam <Berhane.Habtemariam_at_gmx.de_at_dehai.org>
Date: Tue, 15 Nov 2011 13:32:18 +0100
<
http://bikyamasr.com/48428/in-yemen-al-houthis-on-war-path-again/
> In
Yemen, al-Houthis on war path again
<
http://bikyamasr.com/author/admin-2/
> Chiara Onassis | 15 November 2011
SANA'A: Yemen's defense minister reported that al-Houthis fighters, a Shia
led militia who renounced the government back in 2004 and claim to want to
restore the ancestral rule of the Imams over its territories, clashed with
al-Islah militants in al-Jawf province on Tuesday.
Since the state institutions meltdown, the group has grown bolder in its
advances, using the power vacuum left by the political crisis and popular
uprising as it knows that the government forces are concentrating their
attention elsewhere.
About a week ago, residents in Hajjah province north-west of Sana'a, warned
that the Shia rebels were seizing towns and villages, making their way
towards the seaport of Midi to secure an opening towards the red Sea and
ferry military equipment from outside Yemen.
Al-Houthis, which have their stronghold situated in Sa'ada, a northern
Yemeni province, which shares borders with the Kingdom of Saudi Arabia, are
now fighting off tribesmen loyal to al-Islah as they are seen to be their
ideological nemesis. Al-Islah is a pro-Sunni Islamic political party with
little tolerance to the Shia belief system, since they view it as flawed.
"Ten people from the opposition Islamic Islah Party and Shiite Houthi rebels
were killed and several others injured in clashes that erupted after Houthis
found out a member of the Islah Party wearing an explosive belt and killed
him before he attempted to blow himself up during Houthis' annual religious
festival of Eid al-Ghadeer in al-Mutoon district in Al-Jawf," said the
ministry in a statement posted on its website.
Despite having agreed to a truce a while back as both al-Islah and
al-Houthis were working at toppling President, recent weeks saw a resurgence
in armed clashes.
Interestingly, al-Houthis' media office is denying the allegation, arguing
that they had uncovered a suicide bomber plot targeting their supporters in
al-Mutoon district.
"An unidentified person tried to join a procession of Houthi supporters en
route to celebrate the day of al-Ghadeer festival, and when the procession's
escorts intercepted him, they found a wire of an explosive belt concealed
with him," read a press release. The group added that they believed the
attack was commandeered by the American.
<
http://cdn.bikyamasr.com/wp-content/uploads/2011/11/yemen_province_map.jpg
>
http://cdn.bikyamasr.com/wp-content/uploads/2011/11/yemen_province_map.jpg
Map of Yemen's provinces
------------[ Sent via the dehai-wn mailing list by dehai.org]--------------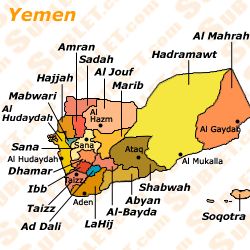 (image/jpeg attachment: image001.jpg)
Received on Tue Nov 15 2011 - 07:32:41 EST