From: Berhane Habtemariam <Berhane.Habtemariam_at_gmx.de_at_dehai.org>
Date: Mon, 14 Nov 2011 13:51:55 +0100
<
http://972mag.com/proposed-bill-would-indefinitely-detain-refugees-seeking
-
protection/27617/> Proposed law would indefinitely detain refugees seeking
protection
Israel was created 64 years ago by refugees and for refugees. But despite
its young age, the state seems to suffer from memory loss when it comes to
dealing with the refugees who seek its protection today.
By Sigal Rozen
Monday, November 14 2011| <
http://972mag.com/author/972blog/
> +972blog
The <
http://www.unhcr.org/pages/49da0e466.html
> Refugee Convention is
celebrating its 60th anniversary this year. The young State of Israel was
one of its enthusiastic supporters, hurrying to sign and ratify it, thereby
legally binding itself to the convention's principles.
During the 60 years that have passed, Israel has not legislated a refugee
law, and all attempts made to that effect by Israeli human rights
organizations and concerned Knesset members have failed.
In light of this, it is especially disturbing that the first Israeli law
slated to directly affect refugees entering Israel is the "Prevention of
Infiltration Law," which will be up for discussion in a Knesset committee on
Monday. Many of the MKs who support the law are likely children and
grandchildren of such "infiltrators," but their memory is short.
The proposed amendments to the Prevention of Infiltration Law passed a first
reading in the Israeli parliament on March 30, the final day of the winter
session, thus preventing the opportunity for public discussion. Hearings
were conducted in the Knesset Interior Committee during the summer recess,
despite the absence of the committee members and despite their requests to
postpone the hearings.
A similar bill was withdrawn in July 2010 after harsh public criticism. The
current law up for amendment is an emergency law, originally passed in 1954
to cope with the infiltration of Arabs who the state claimed sought to
sabotage Israeli security. While the previous bill cynically used a security
claim to justify draconian measures against desperate people, the present
amendment states clearly that its purpose is deterrence: "The expectation is
that the detention period will stop the massive infiltration or at least
minimize it," I have heard countless politicians say.
The proposed amendments do not distinguish between terrorists, migrant
workers and asylum seekers fleeing for their lives. The law will enable the
Israeli authorities to hold in administrative detention for up to three
years migrant workers and asylum seekers with their children, just because
they entered through Egypt without proper permits. Citizens and residents of
"enemy" countries, including survivors of genocide and their children from
the Darfur region of Sudan, could be subject to indefinite detention, as the
proposed bill stipulates that persons originating from such countries or
areas are not to be released under any conditions.
The first paragraph in Article 31 of the 1951 Convention Relating to the
Status of Refugees states: "The Contracting States shall not impose
penalties, on account of their illegal entry or presence, on refugees who,
coming directly from a territory where their life or freedom was threatened
in the sense of Article 1, enter or are present in their territory without
authorization, provided they present themselves without delay to the
authorities and show good cause for their illegal entry or presence."
Asylum seekers, upon arrival in Israel from the Sinai desert, usually sit
down on Route 10 and wait for the IDF patrol to collect and transfer them to
Saharonim prison near the border with Egypt. They want to be registered and
recognized.
But among the 149 asylum seekers it recognized as refugees in the last 60
years, Israel has not recognized even one Sudanese or Eritrean national.
According to the Ministry of Interior, 97 percent of the "infiltrators" who
entered in recent months are citizens of Eritrea and Sudan. The majority
escape Eritrea, where gross human rights violations, according to the
<
http://www.state.gov/documents/organization/160120.pdf
> 2010 Human Rights
Report of the US State Department, include "unlawful killings by security
forces; torture and beating of prisoners, sometimes resulting in death;
abuse and torture of national service evaders; harsh and life-threatening
prison conditions; arbitrary arrest and detention, including of national
service evaders and their family members."
One cannot help but assume that Israeli decision-makers avoid reading such
reports. Only by sticking to their ignorance can they continue to insist
that prolonged detention in a country like Israel, together with the slight
hope for ultimate freedom, is worse than their lives of slavery in the
dictatorship of Eritrea.
If the law passes, it will fail to fulfill its purpose: human rights
organizations will challenge it in the Supreme Court and in the meanwhile,
the government of Israel will spend millions of shekels to imprison men,
women and children fleeing for their lives.
Despite what the clerks of the Interior Ministry keep insisting, none of
those refugees will ask to be returned to Eritrea, when they know what is
waiting for them in their country's underground prisons.
Sigal Rozen is the Public Policy Coordinator of the Hotline for Migrant
Workers, which she helped found. She has been active on behalf of asylum
seekers for the last 13 years.
http://972mag.com/wp-content/uploads/2011/11/refugees1.jpg
Refugees and Israelis in 2010 protest against new detention facility planned
in the south (photo: Oren Ziv / Activesills)
------------[ Sent via the dehai-wn mailing list by dehai.org]--------------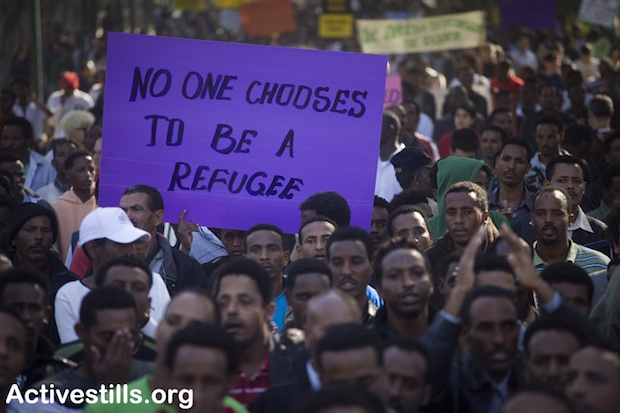 (image/jpeg attachment: image001.jpg)
Received on Mon Nov 14 2011 - 07:52:14 EST