From: Berhane Habtemariam <Berhane.Habtemariam_at_gmx.de_at_dehai.org>
Date: Thu, 10 Nov 2011 23:44:51 +0100
The rise of Qatar-Pygmy with the punch of a giant
The burgeoning influence of Qatar in the Arab world arouses admiration,
suspicion and puzzlement. But its motives are mainly pragmatic
Nov 10th 2011 | DOHA | from the print edition
http://media.economist.com/sites/default/files/imagecache/full-width/images/
print-edition/20111105_MAP001_0.jpg
VISITORS to Qatar tend to share the same bafflement that Hosni Mubarak
expressed when shown the Al Jazeera satellite channel's news studio in the
Qatari capital, Doha. "All that noise from this little matchbox?", Egypt's
then strongman grumbled, amazed that the station, paid for by Qatar's
rulers, could stir popular passions and big trouble for governments from the
Persian Gulf to the Atlantic.
Such wonder is not surprising. Until oil and gas made it rich, beginning in
the 1960s, this tiny, scalding, pancake-flat peninsula scarcely boasted a
settled population, let alone a town of any size. Even now, with a
population that has trebled in the booming 16 years since Sheikh Hamad bin
Khalifa al-Thani overthrew his father, the emirate holds just 1.7m people.
Fewer than one in seven of them is a native-born citizen, which helps
explain why Qatar's army is the smallest in the Gulf.
That minority status is also a reason for the Qataris' feeble appetite for
democracy. Their general response, when Sheikh Hamad announced recently that
a first-ever parliamentary election would be held in 2013, was a mild nod of
approval, even though the emir has dragged his feet on promised democratic
reforms for a decade.
http://media.economist.com/sites/default/files/imagecache/290-width/images/p
rint-edition/20111105_MAM964.gif
The bigger reason for such complacency is simply cash. Statistics showing
Qatar's residents to be the richest in the world, with a GDP per person of
$80,000-plus at purchasing-power parity, vastly underrate the wealth of a
pampered 250,000 or so who hold the privilege of citizenship.
Yet despite the bristling of shiny towers on its waterfront and the freshly
acquired treasures in its lavish new Islamic museum, Doha retains a dowdy
provincial feel. Residents find the artful recreation of a traditional
bazaar in the town centre cosier than the sprawling malls on its edges.
In any event, Qatar punches far above its weight: witness its recent
proclaimed triumph in Libya. Its muscle, in the form of weapons, cash, fuel,
airlift, six fighter-bombers, 100-plus field advisers and vigorous
diplomacy, bolstered NATO's bombers and drones and-more than any other Arab
country-helped oust Colonel Qaddafi, even as Al Jazeera's relentless
coverage speeded his messy slide to extinction.
While cheerleading the Arab spring, Qatar has interposed itself, with mixed
diplomatic success, in conflicts as far away as Lebanon, Palestine, Sudan,
Syria and Yemen. Its sheikhs sit on an array of big European boards and own
choice chunks of London. Their spreading portfolios embrace Chinese
refineries, French fashion houses and Spanish football teams. In 2022 Qatar
will host football's World Cup.
Such clout carries a cost in controversy. Critics sniff that the global
shopping sprees of institutions such as the ruling Thani family's investment
arm, Qatar Holdings, along with the Qatar Investment Authority, a
sovereign-wealth fund worth $70 billion, are a crude attempt to buy
influence. Chastened dictators obviously resent what they see as Al
Jazeera's meddling, whereas leftists, citing the presence of a giant
American airbase just outside Doha, charge Qatar with being Washington's
cat's paw. Arab liberals, meanwhile, look at the generous air time which Al
Jazeera gives to Islamists and at the Qataris' enthusiasm for radical
Islamist groups such as Hamas in Palestine and Hizbullah in Lebanon, and
conclude that the emirate is promoting not popular revolution but a
fundamentalist power grab.
Such doubts have long lingered, stoked in part by the innovation, when Al
Jazeera was launched in 1996, of airing religious voices at a time when
stodgily secular state monopolies filled Arab airwaves. But the charges grew
more pointed during Libya's seven-month conflict. The way much of Qatar's
aid seemed to end up in the hands of a closely knit coterie of Islamist
radicals, boosting armed Islamist factions, rang alarm bells not just in
neighbouring capitals and in the West but in Libya too.
http://media.economist.com/sites/default/files/imagecache/290-width/images/p
rint-edition/20111105_MAC008.gif
Last month Ali Tarhouni, the liberal oil and finance minister in Libya's
ruling national council, issued a rebuke. "Anyone who wishes to come to our
house should knock on the front door first," he said, in a thinly veiled
warning to Qatar to stop favouring ambitious Islamists at the expense of the
shaky central government.
But there may be simpler reasons for Qatar's sudden enthusiasm for a far-off
war. Opportunism, in a word, is what has guided policy, along with heaps of
cash and ambition mixed with a mild appetite for risk that stands in
contrast to other more shy-mannered Gulf potentates. The quiet protection of
America's heavy bootprint also lent encouragement.
It helps, too, that even for an untrammelled if benign autocracy, Qatar's
command structure is slim. Only three people really count: the emir, his
cousin the long-serving and dynamic prime minister, Sheikh Hamad bin Jassim
al-Thani, who also runs foreign policy and holds vast business interests,
and, increasingly, Crown Prince Tamim, the Sandhurst-trained army chief. A
score of intimates, drawn largely from two clans aside from the Thanis, runs
nearly everything else.
Such corporate streamlining has allowed Qatar to put its assets into action
swiftly and efficiently, at a time when other regional actors, including
America, have grown increasingly hesitant. "If there wasn't a power vacuum
across the region, Qatar would never have got away with it," says a young
Qatari businessman, referring to the Libyan adventure. A foreign diplomat
adds that countries such as Egypt and Saudi Arabia, which might in the past
have blocked a Gulf upstart from flaunting such ambition, no longer have the
will to try. Moreover, Qatar's big role in Libya has been a useful training
ground for Crown Prince Tamim, who is being groomed to rule. His popularity
with the army, whose pay for officers was more than doubled as a reward in
September, has soared on the back of such a success.
Qatari insiders doubt whether the Thanis have a master plan for Islamist
domination of the Middle East. Rather, Qatar's rulers tend, with cool
calculation, to see Islamists simply as part of the new order. "Where others
perceive black and white, they see shades of grey," says a diplomat. Many
secular-minded Libyans such as Mr Tarhouni have spent much time in the
emirate and have benefited from its largesse. Moreover, the Qatari link with
Libyan Islamist radicals, such as the Salabi brothers in Benghazi, who
include a prominent preacher and a leader of the strongest armed Islamist
brigade, is probably personal more than ideological. Ali Salabi, the scion
of the family, has lived in Qatar for nearly a decade. Sheikh Hamad himself
is said to have a romantic pan-Arab nationalist streak. His generous
patronage of exiles of all stripes harks back to the fabled courts of
Baghdad and Cairo, with their similarly fabulous wealth.
Like Saudi Arabia, Qatar follows Wahhabism, an arch-conservative branch of
Sunni Islam. Yet, unlike its neighbour, the emirate pursues modernising and
tolerant social policies, especially via its first lady, Sheikha Mozah.
Despite strong influence from the Muslim Brotherhood, many of whose members
fled to Qatar from Egypt and Syria in the 1960s and 1970s to serve as
teachers and preachers, Qatar's rulers have in practice frowned on organised
political Islam. Jassim Sultan, a renowned Qatari intellectual, strikes a
chord by rejecting the Brotherhood's demand for strict obedience from its
followers, and derides its slogan, "Islam is the solution", as facile. The
dominant Qatari brand of faith is middle-of-the-road. The Qataris and their
rulers are pragmatists, not ideologues.
------------[ Sent via the dehai-wn mailing list by dehai.org]--------------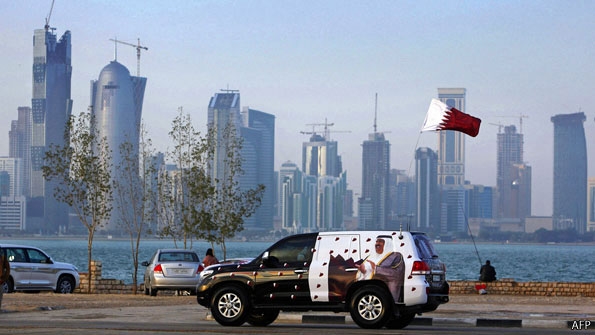 (image/jpeg attachment: image001.jpg)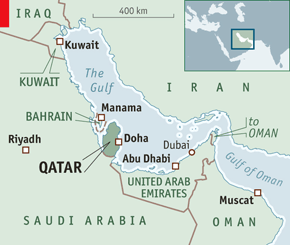 (image/gif attachment: image002.gif)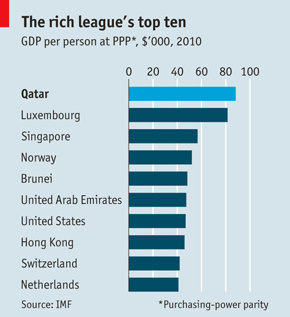 (image/gif attachment: image003.gif)
Received on Thu Nov 10 2011 - 17:51:52 EST