From: Berhane Habtemariam <Berhane.Habtemariam_at_gmx.de_at_dehai.org>
Date: Fri, 4 Nov 2011 23:10:04 +0100
Shalgham attacks Qatar: Libya will not be emirate ruled by commander of the
faithful in Qatar
Libyan ambassador to UN accuses Qatar of seeking to dominate Libya, having
Gathafi's syndrome of greatness paranoia.
Middle East Online
BERLIN - Libya's former Foreign Minister and current ambassador to the
United Nations Abdurrahman Shalgham accused Qatar of embarking on the same
foolish route of greatness paranoia taken by former Libyan dictator Moamer
Gathafi, thinking it is leading the region.
"Qatar wants to dominate Libya. The leader of Libya's Transitional National
Council and his delegation, who visited Qatar recently accepted what was
dictated by Doha without having a political experience and background
knowledge," Shalgam told "Maa Al Hadat" (With the Event) programme aired by
the Arabic section of the German satellite channel Deutsche Welle.
"The TNC agreed on things imposed on them by Qatar, which are rejected by
most Libyans. They (Qatar and its allies) are mistaken if they continue to
dominate Libya. Libyans will resist them with all the means," said Shalgham.
Libya will not be an emirate ruled by the commander of the faithful in
Qatar," he warned.
Shalgham accused the oil-rich emirate of not walking the same line with all
parties in Libya. He rejected Qatar's leadership takeover of the
International Coalition forces in Libya, describing Doha's army as
"mercenaries."
He called the process of collecting arms in Libya a trick, saying that the
Qatar-supervised group which is in charge of this operation would collect
arms and give them to others.
Shalgham stressed that Libya does not need Qatar's money.
"It was the French, American and British forces who carried out the bulk of
the NATO operations, but not Qatari army," he noted.
Shalgham ridiculed Qatar's management of Libya's development.
"Experts who run oil and banks in Qatar are Libyans. Qatar is not distinct
from Libya to establish an office of operations in Libya," he said.
"This is unacceptable. The whole of Qatar is not even as big as an area in
Libya. Libyan experts are the ones who are leading Qatar and we are not in
need of Qatar in anything. Let us decide our own destiny. We do not consider
them as neutral. We want neither Qatar nor the US."
Shalgham expressed his lack of understanding of the alliance led by Qatar.
"I do not understand and accept this alliance. It is even unknown to the
Libyans. Qatar leading the US and France? Isn't its army made of mercenaries
from Nepal, Bangladesh and Pakistan? What is the ability of Qatar?
I am afraid that Qatar is affected by Gathafi's syndrome of greatness
paranoia, thinking it will lead the region. I do not accept that. The number
of Libyan martyrs and wounded exceeds Qatar's population," he pointed out
The Libyan ambassador to the UN accused Qatar of forming a Doha-controlled
Islamist party Hezbollah in Lebanon.
Meanwhile, reports in Tripoli, copies of which were obtained by Middle East
Online, reveal that many groups associated with the Libyan tribes threaten
to use violence against the presence and intervention in the Libyan soil. In
response to these threats, the commander of the Military Council in Tripoli
visited elders in the region to calm their anger in order to ease tensions
between them and Qatar's presence in Libya.
The link to the televised inteview is as follows:
http://vdt.dw-world.de/index.php?v=ar&w=985&o=0&l=vdt_ar/2011/nssgar-4411-am
-puls-e01ep_sendung_sd&start=0&end=0&f=FlashMedium&p=1&i=1
http://www.middle-east-online.com/meopictures/inphotos/_132042020910.jpg
Backstabbing?
------------[ Sent via the dehai-wn mailing list by dehai.org]--------------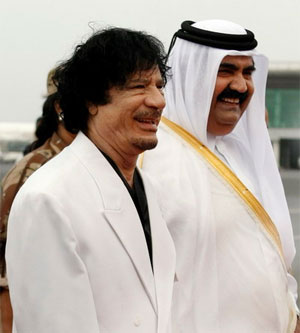 (image/jpeg attachment: image001.jpg)
Received on Fri Nov 04 2011 - 18:10:04 EDT