From: Berhane Habtemariam <Berhane.Habtemariam_at_gmx.de_at_dehai.org>
Date: Sat, 15 Oct 2011 12:05:55 +0200
At UN, Gabon Begins Move for More Sanctions on Eritrea in UNSC
By Matthew Russell Lee, Exclusive
UNITED NATIONS, October 15 -- For days as the Eritrean Permanent
Representative Araya Desta has been checking and re-checking the Security
Council, Gabon's Permanent Representative Nelson Messone has been speaking
to other member's ambassadors one by one.
When Inner City Press asked Messone what project he was working on,
Messone laughed it off. Desta meanwhile said that the next step would be
Eritrea's submission of its "comprehensive response" to charges that it,
among other things, planned to bomb the Africa Union summit in Addis Ababa.
"We will never give in," Desta told Inner City Press.
On Friday morning outside the so-called "horizon briefing" of the Council
by the UN Department of Political Affairs, sources told Inner City Press
that the topics in the closed meeting included Somalia, Madagascar and
"sanctions."
Then Inner City Press heard that Gabon would be circulating a draft
resolution for new sanctions on Eritrea.
Then one source then another said that new Eritrea sanctions were
mentioned in the consultations Friday morning. Diplomats from Eritrea's
neighbors came down to the stakeout. It had begun: Watch this site.
http://www.innercitypress.com/unsc1desta.jpg
Desta previously in the Council, new sanctions not shown
------------[ Sent via the dehai-wn mailing list by dehai.org]--------------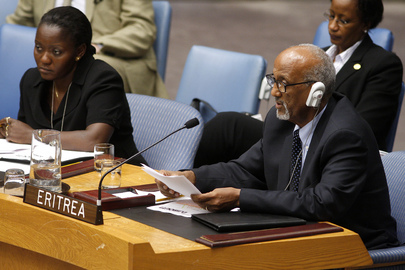 (image/jpeg attachment: image001.jpg)
Received on Sat Oct 15 2011 - 06:05:59 EDT