From: Berhane Habtemariam <Berhane.Habtemariam_at_gmx.de_at_dehai.org>
Date: Thu, 29 Sep 2011 22:33:21 +0200
Wikileaks – US Believes Meles Wants To Stay In Power Beyond 2015 Despite
Public Comments To Retire
Thursday, September 29th, 2011
<
http://ecadforum.com/
> Wikileaks - US Believes Meles Wants To Stay In
Power Beyond 2015 Despite Public Comments To Retire
C O N F I D E N T I A L ADDIS ABABA 002034
SIPDIS
E.O. 12958: DECL: 08/20/2019
TAGS: PGOV PINR ET
SUBJECT: MELES' RETIREMENT PLANS – ONE MORE TERM
Classified By: Acting Deputy Chief of Mission, Michael C. Gonzales for
reasons 1.4 (b) and (d).
¶1. (C) In response to a direct question by Admiral (ret.) Bill Fallon on
August 13 on his future, Ethiopian Prime Minister Meles Zenawi responded
that although he would like to retire at the end of his current term in
office, "it looks like the (Ethiopian People's Revolutionary Democratic
Front – EPRDF) party is going to let me down." The Prime Minister noted that
the EPRDF will render a final decision at its party congress in September
2009. This clarification comes after months of public statements by the
Prime Minister noting his desire to step down from the premiership.
¶2. (C) While Meles effectively did acknowledge that he will run again in
the 2010 national elections, he also volunteered that "there is broad
consensus within the party that it will be time for us in the old guard to
hand over the reins to the younger generation by the end of the next term."
Meles that the turn-over in senior party officials will not likely come in a
mass exit, but rather than over the course of the 2010-2015 term the older
generation of ruling party leaders would slowly step aside.
¶3. (C) The Prime Minister's direct confirmation was confirmed separately by
founder of the Tigrayan People's Liberation Front (TPLF), Sebhat Nega. The
Political/Economic Counselor asked Sebhat's views of the Prime Minister's
future over a private lunch on July 13. Almost laughing at the question,
Sebhat stated "he's not going anywhere."
COMMENT
——-
¶4. (C) These confirmations from a senior party insider, and the Prime
Minister himself, confirm our analysis that, despite his comments to the
press, Prime Minister Meles will remain in place through the next election,
if not beyond. In light of the ruling party's style of control, we expect
that the party will elaborately groom an heir to Meles, in a fashion that is
very apparent, well before subjecting that heir to an electoral contest. End
Comment.
------------[ Sent via the dehai-wn mailing list by dehai.org]--------------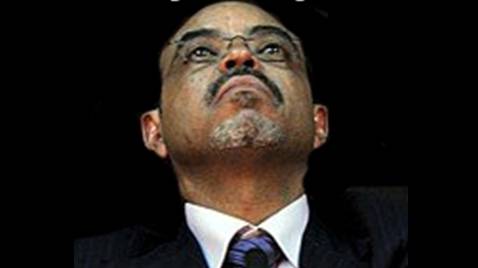 (image/jpeg attachment: image001.jpg)
Received on Thu Sep 29 2011 - 16:34:01 EDT