From: Berhane Habtemariam <Berhane.Habtemariam_at_gmx.de_at_dehai.org>
Date: Sat, 24 Sep 2011 00:06:49 +0200
SOUTH SUDAN: Children Snatched Out of their Homes
By Miriam Gathigah
JUBA, Sep 23 (IPS) - In villages across South Sudan children are being
snatched out of their homes in the dead of night, never to see their
families again.
Some are used as soldiers by their captives in cattle wars with rival
communities, while others are sold to families with no children. And there
is little that the newly independent country has been able to do to protect
these children.
"I was preparing dinner for my family. I was alone with my children, who are
all under 12 years. Their father lives in the city (Juba) as do many South
Sudanese men who abandoned the village for the glitter of city life. I sat
my two-year-old on the floor of our house but as soon as I turned my back, a
man grabbed my child and tried to run away with him," says Maria Lokolong
from Torit, Eastern Equatoria state.
Instinctively Lokolong held on to her baby boy as the man stabbed her
repeatedly. But she would not let go. Her neighbours answered her cry for
help and the intruder ran away.
"This is especially common in Eastern Equatoria state. In the evenings when
women are preparing dinner and their attention is divided, an intruder is
most likely to strike during this time. Often, they prefer babies," explains
Naomi Bona, a member of the Sudanese Women Union in Eastern Equatoria state,
a women's rights organisation.
If Lokolong had not been so brave she may have lost her baby forever.
"Amongst tribes that have rituals like facial scarring, once an abducted
child undergoes this ritual, they can never be traced and they too will
never know where they came from," explains Richard Lugor a member of the
country's ruling party the Sudan People's Liberation Movement.
Children are also often abducted during cattle raids. Inter-ethnic clashes
over cattle have long prevailed in South Sudan as owning many cattle is a
sign of wealth. But during these raids women and children are often the
victims. Women are raped and children are abducted.
"Although the Murle community (the largest ethnic group in the country) have
long been infamous for child abduction during cattle raids, the Nuer and the
Dinka communities are also using child abduction as part of their assault
during cattle raids against the Murle," says Lugor.
Lugor says abducted children are used as soldiers in conflict situations.
"Children are also placed in the forefront of conflict, they rarely second
guess in the face of attack, they have no wives and children at home to
think about, unlike adult soldiers," explains Lugor. He adds that the Murle
community are also known for selling abducted children to childless
families.
But it seems that government is not able to do much to protect these
children.
"Child abduction has been underreported in South Sudan and hence the lack of
a concrete government response. There are, however, no easy solutions until
tribes, especially those in Jonglei state, learn to co-exist. Until then
more children are at risk of being separated from their families forever,"
explains John Lochio, an expert on peace and conflict in South Sudan. A
student of international relations, Lochio has been involved in peace
mitigation at community level.
However, the government denies this. Member of Parliament in Jonglei state,
where cattle raids are frequent, Adeng Leek, says the government is reducing
the number of conflicts.
"The government is efficient in sending security forces to calm down warring
tribes. This has stopped violence from escalating even further. We are also
sensitising the community to change their perception of having many herds of
cattle as a sign of wealth. This will reduce cattle rustling incidences and
reduce conflict among tribes in Jonglei," she says.
However, during the clashes over cattle in Jonglei state in August the
country's army, the Sudan People's Liberation Army, did not intervene citing
a lack of capacity. In that incident 640 people were killed, 761 wounded,
38,000 head of cattle were stolen and 8,924 houses were burnt down. And, the
United Nations Mission in South Sudan estimates, 258 children were abducted.
South Sudan fought a 21-year civil war with Sudan for independence. But the
bloodshed is far from over in South Sudan. The regularity with which
conflict is flaring up in various parts of the new republic is overwhelming.
According to the U.N., since January there have been more than 330 violent
incidences across South Sudan resulting in the deaths of at least 3,000
people. This conflict is largely attributed to cattle rustling and the on
and off disarmament exercise.
At any given point in time, there is usually some kind of conflict and
tension in one state or another, especially in Bahr el Ghazal and the
Greater Upper Nile.
South Sudan is broadly divided into three regions: Bahr el Ghazal, which
constitutes four states; the Greater Upper Nile; and the Equatoria regions;
which have three states each. Northern Bahr al Ghazal, due to its proximity
to South Kordofan, a province in Sudan, is among the most politically
sensitive regions.
"The conflict in South Sudan is complex and it will not end overnight. The
government has to deal with rewarding relatives of those involved in the
struggle . As a result, certain tribes feel marginalised and it provokes
conflict," explains Lochio.
"Then there is the issue of illegal firearms in the hands of civilians,"
Lochio adds. Eastern Equatoria state deputy speaker Paul Napwon has
continued to call for the removal of illegal firearms from the hands of
civilians, which he says has continued to compromise efforts towards lasting
peace.
The government of South Sudan estimates that at least 2,500 illegal firearms
are in the hands of the civilians. A disarmament exercise in May in Unity
state was meant to promote the future peace of the country. But it had the
reverse effect and provoked a conflict that led to women and girls being
raped. "The horrid past that many Sudanese women have lived through may not
be a thing of the past as sporadic conflict continues to thrive in various
parts of the expansive 10 states, which constitute the Republic of South
Sudan," says Leek.
But other stakeholders are now partnering with South Sudan's government to
help empower women, and through them hopefully children too.
"We have a five-step comprehensive plan to empower women. This entails
economic empowerment to help women achieve economic dependency, protection
of women and girls from gender-based violence as well as involving more
women in conflict mitigation," says U.N. Women Acting Director for South
Sudan Lucie Luguga.
The programme will be implemented alongside South Sudan's 2012 to 2013
development plan.
(END/2011)
****************************************************************************
**************************
SUDAN: New Conflict Displaces Thousands
By Reem Abbas
KHARTOUM, Sep 17 (IPS) - The Sudanese government says that a majority of the
tens of thousands of people displaced by the fighting in the country's Blue
Nile state have started returning to the area. This is despite reports by
local and international aid agencies that say people are still fleeing the
region.
On Tuesday the United Nations estimated that over 100,000 people have been
displaced by the fighting that began two weeks ago. On Sep. 1, Blue Nile
became another conflict area in Sudan when fighting erupted between forces
loyal to the north Sudan faction of the Sudan People's Liberation Movement
(SPLM) - the ruling political party in South Sudan originally formed to
oppose Sudan's rule - and government's Sudan Armed Forces.
The Sudanese Red Crescent Society estimated that 35,000 households have been
affected since fighting began in Blue Nile at the beginning of September.
The U.N.'s Refugee Agency reported that 16,000 refugees fled the area into
Ethiopia.
But Magdi Abdulwahab, who is responsible for compiling reports on the Blue
Nile for Sudan's ruling National Congress Party (NCP), said that the state
is stabilising and internally displaced persons are returning to safe
regions in Blue Nile and neighbouring states. Blue Nile is one of Sudan's 15
states. It borders South Sudan to its west and south, Ethiopia to its east
and has a population of just over 800,000.
"Seventy percent of displaced persons in places like Sennar (a state
bordering Blue Nile) and Senja, the capital of Sennar, are returning," he
told IPS.
He said government had urged the IDPs to return for the harvest. "The
government is asking people to return as this is the agricultural season and
the livelihoods of most of the state's citizens are tied to agriculture and
livestock," said Abdulwahab. He added he receives daily reports confirming
that the situation in the state is calm.
Media reports have shown that most of the heavy fighting has occurred in
Damazin, the capital of Blue Nile state, and Kurmuk, a SPLM-controlled town
near the Ethiopian border.
But political anaylsts say that the conflict has been a long-time coming.
Even the former governor of Blue Nile, Malik Agar, who has since been fired
by government, warned of the possible conflict in the area since June. He
said it would occur if government and the SPLM failed to complete the
remaining proposals of the 2005 Comprehensive Peace Agreement (CPA), which
was signed between both parties to end the country's 21-year civil war. A
military representative, Commander Yahya Mohamed Kheir, has since replaced
Agar as governor and a state of emergency was enforced in the state.
Government and the SPLM were supposed to resolve various issues, including
those of oil revenues, border demarcation and military arrangements in the
border areas of Abyei, Southern Kordofan and Blue Nile before South Sudan's
secession in July.
But by late July, the Sudanese government still had a heavy military
presence in Blue Nile and Agar had called for a review of the CPA on this
matter. (Agar is also the chairman of SPLM-North, a faction of the SPLM that
is comprised of people from Blue Nile and Southern Kordofan.) The Sudanese
government called for the dissolution of the SPLM-North's army, but Agar
wanted further guarantees about the future of his soldiers.
"Agar did not refuse dissolving the army in principal, he asked for a
political arrangement to secure the soldier's future in the Sudanese army,
or as civil servants, or as members in their communities," said Dr. Khalil
Al-Madani, the Dean of the Faculty of Commerce, Economic and Social Studies
at Nileen University in Khartoum. He is also the head of a team of experts
working on the council involved in the popular consultations between Blue
Nile state and Sudan's government. This is a CPA-mandated process that
allows both Blue Nile and Southern Kordofan to voice their opinions on
political and administrative arrangements with the government and to even
vote for autonomous rule.
"The war did not happen now, all the factors leading to war were present,
but it ignited now," said Al- Madani.
Al-Madani added that matters were tense as far back as April 2010 when Agar
had won the governorship of Blue Nile by popular vote and the Sudanese
government had been reluctant to acknowledge his victory.
"Agar believed that the government would cheat him out of the governorship,
their decision could have unleashed a war at the time. But when they
announced his victory, they stopped (a possible) war in Blue Nile,"
explained Al-Madani.
Blue Nile is an important state in the desert-like Sudan. The area is rich
in livestock and agricultural resources and until last year, Blue Nile was
the source of most of Sudan's hydroelectric power through the Al Roseires
Dam. But it is also very poor. "There are no services, no schools and no
access to water even though it has a lot of resources," Al- Madani told IPS.
Before the conflict, Blue Nile state was in the final phase of the popular
consultations. The popular consultations were delayed and the council
responsible for carrying out the popular consultations wanted Agar to extend
the period for another six months.
"Agar refused the proposal because he was not consulted before a decision
was made to extend the timeframe. The protocol of the popular consultation
states that the process should be finished before the secession (of South
Sudan)," said Al-Madani.
However, the council that oversees the popular consultation process is made
up of NCP and SPLM members and since both parties clashed on the matter,
there was no one to meditate.
"The security arrangements, the collapse of the Addis Ababa agreement (an
agreement on settling the security and military disputes and engaging in a
political partnership) and the popular consultations. they are all reasons
for the conflict. But the mistrust and suspicion between Agar and the
government is the main ignition for the war. Nobody believes anybody," said
Al-Madani.
Mohamed (name has been changed), who has been working on a project to
monitor the popular consultations in Blue Nile since August 2010, said that
the conflict was partially predicted.
"When there is tension between parties that work together you can expect all
kind of problems," he told IPS.
He added that going back to the popular consultations is the only way out of
this crisis. However, Al-Madani added that Agar had been democratically
elected to his post as governor and his firing on Sep. 2 was against the
constitution. "Since Agar was elected by the state through a vote, he could
only be disposed of by the state and this is according to the constitution,"
explained Al-Madani.
Meanwhile, government insists that the state is returning to normal.
Abdulwahab stated in a phone interview that the only problematic area was
Kurmuk, but that government had issued a call to the SPLM for peace in the
state.
"The conflict will be resolved soon, through negotiations or the
battlefield," he told IPS.
Al-Madani, who has spent long periods of time in Blue Nile, believes that
negotiations are the only way out.
"There is war in Darfur, in Southern Kordofan and now in Blue Nile. There
will possibly be a conflict in East Sudan. We have been facing the same
problems for the past 22 years. The government needs to come up with a
political resolution, 95 percent of internal wars in the 21st century were
resolved politically," said Al-Madani.
On Sep. 12, the Sudanese parliament endorsed the extension of the state of
emergency in Blue Nile and voted for the continuation of military action by
the Sudanese army.
(END/2011)
<
http://www.ips.org/africa/library/105144-20110917.jpg
> Southern Sudanese
soldiers from the armed faction of the Sudan People's Liberation Movement. /
Peter Martell/IRIN
Southern Sudanese soldiers from the armed faction of the Sudan People's
Liberation Movement. / Peter Martell/IRIN
------------[ Sent via the dehai-wn mailing list by dehai.org]--------------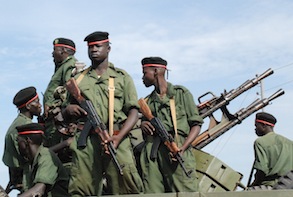 (image/jpeg attachment: image001.jpg)
Received on Fri Sep 23 2011 - 18:07:37 EDT