From: Berhane Habtemariam <Berhane.Habtemariam_at_gmx.de_at_dehai.org>
Date: Wed, 21 Sep 2011 14:40:37 +0200
US targets Somalia and Yemen with new drone bases
The US is setting up a ring of bases for armed drones around the Indian
Ocean, east Africa and the Arabian peninsular to hunt al Qaeda and spy on
pirates.
By <
http://www.telegraph.co.uk/journalists/mike-pflanz/
> Mike Pflanz,
Nairobi
11:55AM BST 21 Sep 2011
Comments
New facilities for the MQ-9 Reaper unmanned aircraft are planned for
Ethiopia, and bases will be expanded in the Seychelles and Djibouti, a tiny
country on the Red Sea.
The drones have a maximum range of more than 3,600 miles, meaning that they
can easily be launched deep over Somalia or Yemen, carry out missions and
return to base.
They are the same aircraft used by the Royal Air Force in attacks against
the Taliban in Afghanistan.
Washington's decision to increase its use of the unmanned "hunter-killer"
drones illustrates its concern that anti-Western terror organisations could
spread in the Horn of Africa and the Arabian peninsular.
"It's a conscious recognition that those are the hot spots developing right
now," a former senior US military official told The Washington Post.
There are fears that Western strikes against al Qaeda in Pakistan and
Afghanistan are pushing the network's focus further west, to East Africa in
particular.
<
http://www.telegraph.co.uk/news/worldnews/alqaeda
> Al Qaeda cells there
were responsible for the 1998 bombings of the US embassies in Kenya and
Tanzania, and attacks on a hotel and tourist jet used by Israelis in Kenya
in 2002.
The men who led those missions, who the US believes trained with Osama bin
Laden's key lieutenants, have mostly been killed in recent airstrikes mostly
over Somalia.
But there are increased terror threats across East Africa from al Shabaab,
Islamists who control most of Somalia and have links to al Qaeda in
Pakistan.
The US military has said that its drones already stationed in the Seychelles
were there purely to run airborne reconnaissance missions to assist the
international effort to beat Somali pirates.
However some officials have admitted that the drones have also been used as
part of "counter-terrorism" missions over Somalia.
Abdiweli Mohamed Ali, Somalia's prime minister, said on Monday that he
welcomed news of the boosted drone deployments.
"One less Shabaab is better for Somalia," he told The Wall Street Journal in
New York, where he was attending the United Nations summit.
"We have the same goal and that is to eliminate this extremist threat, first
in Somalia and then the rest of the world."
Ethiopia, a key ally in Washington's anti-terror missions, was said to have
given only a lukewarm welcome to the new base being built on its territory.
The Seychelles government said it was fully supportive of the US expansion,
despite fears it would make the island archipelago an increased target for
Islamist radicals.
Military specialists on the ground launch the aircraft, which are then
piloted remotely from bases in the US. Decisions to release weapons are made
by those pilots.
US targets Somalia and Yemen with new drone bases
An armed MQ-9 Reaper drone Photo: GETTY IMAGES
------------[ Sent via the dehai-wn mailing list by dehai.org]--------------


(image/gif attachment: image001.gif)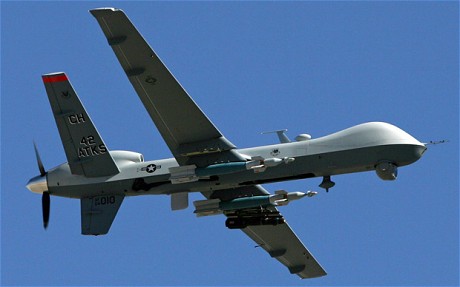 (image/jpeg attachment: image002.jpg)
Received on Wed Sep 21 2011 - 08:41:07 EDT