---
<!!--#exec cgi="/cgi-bin/ssi_image/ssi_rand_image2.pl" -->
---
[Dehai-WN] BBC: Blue Nile: Sudan's new war zone
---
From: Berhane Habtemariam (Berhane.Habtemariam@gmx.de)
Date: Wed Sep 07 2011 - 16:57:59 EDT
---
Blue Nile: Sudan's new war zone

By James Copnall BBC News, Damazin

7 September 2011 Last updated at 14:49 GMT

The capital of Sudan's Blue Nile state, Damazin, is firmly under the control
of the government - this is made clear by the soldiers ululating a victory
song from next to their truck-mounted machine guns.

In Damazin, at least, the government soldiers seemed to have defeated rebels
loyal to the opposition SPLM-North party in last week's fighting.

The rebels are now largely grouped in the south around their traditional
stronghold, Kurmuk, with battles continuing along a shifting front line.

But burned by previous criticism for denying access to the similar conflict
in the neighbouring state of South Kordofan, the Sudanese government brought
journalists to Damazin for a controlled tour.

'Back to normal'

The state governor, and other authorities, were keen to stress life in
Damazin was getting back to normal.

Gen Yahia Mohamed Kheir was appointed by President Omar al-Bashir after he
called a state of emergency in Blue Nile, and sacked the elected governor,
Malik Agar.

Mr Agar is the head of the SPLM-North party - and the man now leading the
rebels in the state.

Many of them fought with the SPLM during Sudan's long north-south conflict,
which resulted in July's SPLM-led independence for South Sudan, but they now
find themselves north of the new international border.

"The security situation is very good, electricity, the hospitals and water
are fine," the new governor Gen Kheir said.

He announced the number of deaths in Damazin in the fighting had not been in
the hundreds - he put the total at 12 dead soldiers, six policemen and three
civilians, as well as an unspecified number of rebels.

But he admitted clashes were continuing 30km (20 miles) south of Damazin.

I pressed him on claims made by SPLM-North and refugees who have fled to
Ethiopia that civilians had been killed by aerial bombardments in Kurmuk and
elsewhere in the last few days.

"We have never seen a single civilian killed in those bombardments, if there
are any," he said.

Jumpy soldiers

It certainly wasn't easy to ascertain the effects of the fighting in Damazin
either.

We weren't taken to the former governor's house, which allegedly came under
attack, or to any places bearing obvious battle scars.

But the soldiers were clearly jumpy.

We travelled in a convoy of 4x4s, many of them carrying armed men, with a
couple of trucks armed with machine guns - technicals they are sometimes
called.

When one journalist tried to take a picture of a soldier out of the window,
we heard the rapid and ominous clicks of several guns being cocked at once
and our bus was made to stop.

When we arrived in a market, crowds gathered round the state minister we
were travelling with, chanting Allahu akbar - God is great! - and pointing
their right index fingers to the sky.

The traders insisted everything was fine, and normal - "no problems" they
all said.

But many of the market stalls were shut down - a fact not entirely explained
by the recent Eid al-Fitr holiday marking the end of Ramadan.

Large numbers of people have clearly fled the town.

"On Friday there was lots of fighting, in many places," one young man said,
as one of our minders hovered nearby.

"You know the people all moved out, because of the war.

"I see on the road people are coming back, life is normal now, there are no
problems."

Army tour

The authorities were also keen to show us the objects they said they had
captured during the fighting, so they took us for a rare visit inside an
army barracks.

Inside a walled compound about 80 prisoners sat on the ground, mainly
staring sullenly in front of them.

In the middle, on the sandy floor, was a collection of guns, membership
forms for the SPLM, photo albums, military epaulettes, SPLM constitutions,
South Sudanese currency and even packets of condoms, perhaps particularly
shocking in a relatively conservative Muslim society.

The army says they seized all this material during the clashes.

They also presented us several officers wearing SPLA uniforms.

That means they fought with the rebels who recently won independence for
South Sudan, but as northerners were stranded here when South Sudan seceded
in July.

Their presence, in Southern Kordofan and Blue Nile, is at the heart of the
conflicts in the two states.

Colonel Omer Abdel Beyin Omer Maki said he hadn't wanted to join this latest
conflict, and was being well treated by the Sudanese army.

An army officer stood by while he talked, listening intently.

Sudan accuses South Sudan of supporting the rebels in South Kordofan and
Blue Nile. The new nation denies the charges. But there is no doubt all this
is further poisoning the relationship between the two states.

As we left the barracks a new prisoner was brought in.

He looked dishevelled. A soldier ran up and slapped him.

This drew an immediate, shouted, condemnation from a nearby officer, perhaps
aware of the presence of journalists, or maybe concerned that the right
thing be done.

What next?

One thing I hoped to learn from a day in Damazin was what is likely to
happen next.

The governor refused to discuss whether his troops were preparing to push on
down to Kurmuk, though this is perhaps unlikely in the difficult conditions
of the rainy season.

A paramount chief from the area, Youssef al Mak Youssef Hassan Adan, said he
believed reconciliation was still possible.

"Both sides may sit peacefully and settle their dispute. I hope that they
will think it over, and put down their arms, and we can sit together," he
said.

But when he made just that point in a town hall meeting he was shouted down
by those present, mainly local notables.

In Damazin, days after a war broke out here and elsewhere in Blue Nile, any
talk of peace seems premature.

map <http://www.bbc.co.uk/news/world-africa-12070034> Sudan: Coping with
divorce

* Forced to choose between Sudans
<http://www.bbc.co.uk/news/world-africa-14204148>
* <http://www.bbc.co.uk/news/world-africa-14761020> How to end deadly
cattle-rustling
* Garang's ex-chef savours freedom
<http://www.bbc.co.uk/news/world-africa-14752322>
* South Sudan celebrates
<http://www.bbc.co.uk/news/world-africa-14091903>

---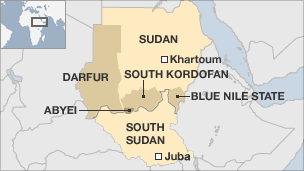 ------------[ Sent via the dehai-wn mailing list by dehai.org]--------------

---
webmaster
© Copyright DEHAI-Eritrea OnLine, 2001
All rights reserved