---
<!!--#exec cgi="/cgi-bin/ssi_image/ssi_rand_image2.pl" -->
---
[Dehai-WN] Time.com: The Disinvited: The New Libya's New Racism
---
From: Berhane Habtemariam (Berhane.Habtemariam@gmx.de)
Date: Wed Aug 31 2011 - 18:03:58 EDT
---
The Disinvited: The New Libya's New Racism

By <http://www.time.com/time/letters/email_letter.html> Abigail Hauslohner
/ Tripoli Wednesday, Aug. 31, 2011

The Libyan rebels at a checkpoint in the western suburb of Ghout al-Shaal
are handing out fliers to passing drivers to wish them a Happy Eid al-Fitr,
the celebration that marks the end of a month of fasting for Ramadan. "Thank
God for making our holiday into two holidays," the flier reads. "The Eid
al-Fitr and the holiday of our victory over the injustice and oppression
that the dictator [Muammar Gaddafi] and his cronies inflicted on us over the
course of 42 years." Much of Libya is celebrating this week, after rebels
pushed into the capital nearly two weeks ago, ushering in a new era.

But several miles away, just off the same stretch of coastal road is a camp
full of men, women, and children who have lost a lot and gained little from
Gaddafi's downfall. Hundreds of black African migrant workers have filled a
small fishing port here, filtering in over recent months as they sought an
escape from a country at war. Many were already refugees who had fled civil
strife in Sudan or Somalia to find a better, safer life in a country that
was once uniquely welcoming of sub-Saharan Africans. "Now I don't have any
place to go," says Abdel Nasser Mohamed, who fled with his father from
Sudan's war-torn Darfur region at the age of five, after losing half his
family to tribal clashes.
<http://lightbox.time.com/2011/08/15/in-case-of-loss-refugees-flee-libya/#1>
(See "In Case of Loss - Refugees Flee Libya.")

Nearly 25 years later, Mohamed found himself on the run once again, as
fighting engulfed the Libyan coastal city of Misrata where he grew up, and
foreign Africans became figures of suspicion.

The makeshift camp he and the others now inhabit is woefully devoid of food,
drinking water, and toilets. A representative for the international aid
organization Doctors Without Borders, says that diarrhea and other diseases
borne of poor hygiene are running rampant. And shelters consist of little
more than blankets and rope strung haphazardly between grounded wooden
fishing boats.

The displaced hail from countries across mostly West Africa, like Nigeria,
Ghana, and Sierra Leone. Many have lived in Libya for years - even decades -
and carry the legal papers to prove it; their presence rooted in Gaddafi's
legacy of fostering close relationships with fellow African regimes, and
recruiting loyalists from among their citizens. But for a man who often
sought to portray himself as a leader of the continent, Gaddafi may have
done more to divide his country's future than to encourage tolerance and
respect.

It's popular knowledge among the predominantly Arab and Berber rebel ranks
here that Gaddafi funded questionable African warlords and armies, even as
his own population struggled. And at his home in Tripoli's Bab al-Aziziya
compound, rebels hold up old pictures of Gaddafi posing with African
children dressed in fatigues as further evidence of their former ruler's
betrayal. <http://www.time.com/time/photogallery/0,29307,2060413,00.html>
(See "Libyan Rebels Move on Tripoli.")

His alleged mercenaries - particularly, the men who populated the fearsome
Khamis Brigade, which was used to assault the rebels over the course of
their six month revolt - often came from the southern town of Sabha, or the
neighboring countries of Mali, Niger, and Chad. The foreigners were alleged
to receive benefits, and even fast-track residency, in exchange for their
services as loyalists and fighters, a practice, whether real or exaggerated,
that has fueled deep tribal, ethnic, and geographic mistrust.

The line between regime soldier and dark-skinned southerner or migrant
worker has grown murkier in the fog of war. Throughout the conflict, the
rebels have often been eager to offer reporters their proof of foreign
fighters in the form of dark-skinned bodies, foreign passports, and ethnic
charms that they've found along the front lines. And in the aftermath,
foreign blacks and southern Libyans remain prime suspects, even as rebels
sweep pacified neighborhoods of Tripoli.

On Monday, rebels who had taken over a military airbase outside the capital
prodded two new prisoners in the bed of a truck. They were Sudanese men who
they said were certainly mercenaries because they had no papers. "The
Sudanese rape women," one rebel said, matter-of-factly.

More than 120 other suspects - most of them foreign Africans - are being
held at a school in central Tripoli, in the absence of a functioning
government or justice system. There are rumors of other ad-hoc prisons. And
a guard, Jamal Mohamed, is sure they are snipers. "Polisario," he adds,
referring to a resistance movement in Western Sahara, from which Gaddafi
allegedly recruited. Some of the captives have been punched in the eyes, or
nurse bandaged wounds sustained during fighting. Many were apprehended
during battles in Gaddafi stronghold neighborhoods. At least two admit to
being members of the regime's forces.

But many others say they were captured by accident, or targeted out of
racism or xenophobia. Abou Bakr from Niger says he had merely gone outside
to look for water, but lived in the wrong neighborhood, one where rebels
happened to be searching for loyalists.

Tripoli is a racially diverse city, with skin colors ranging from pale to
very dark - largely because Gaddafi encouraged such integration. And the
Libyan rebels display the same diversity amongst their ranks. But a latent
racism festers, along with the hazy rules that only locals seem to
understand that distinguish between "good" black people and "bad." The logic
follows the lines of Gaddafi's uneven favors, which, even in Tripoli often
served personal ambitions more than the public good.
<http://globalspin.blogs.time.com/> See more international news in Global
Spin

The Abu Slim neighborhood near Gaddafi's Bab al-Aziziya compound has long
been a regime stronghold manipulated carefully by the ruling family.
"[Gaddafi's son] Saif al-Islam used to come here and give kids 200 Dinars
and a Kalashnikov. [His other son] Khamis would come too," says Ramadan Ali
Osman, whose apartment was destroyed in the recent fighting. A poor
neighborhood, populated lightly with regime officials and a large number of
African migrants, Abu Slim proved to be a ripe recruiting ground for cheap
government fighters. "They would drive in - the brigades - and recruit kids
for their forces," says Osman. Just days before the rebels captured Tripoli,
residents say Gaddafi's son Saadi was the last one to make an appeal. "Saadi
came here to form a brigade out of the youth," says Adil Masoud Moussa, a
resident. "He gave money to a big boss in the neighborhood to give to the
youth to fight against anyone who hated his father."

The bought loyalties have contributed to an atmosphere fraught with racial
tensions throughout Tripoli and Gaddafi-free Libya. Children sing songs
about "Abu Shafshoufah" - a derogatory nickname for Gaddafi that translates
roughly as "Father of the frizzy hair." And even some of the rebels seem to
characterize their ranks as consisting of originals and followers, that cut
along tribal or geographic lines. "Most of the people here in Souk al-Jumaa
are native to Tripoli, unlike the people in Abu Slim who he brought from
other parts of Libya," says Ashraf Hajaj, a resident of a rebel stronghold
neighborhood.

Back at the makeshift camp at the port, the main thing on most people's
minds is escape. Many say they have trouble sleeping, after encountering
violent attacks en route to the coast. And most are afraid to venture
outside, even to fetch badly needed supplies. "If you go outside, you might
get caught. So we drink salt water," says Alexander Zenda, a Nigerian. Four
days ago, six Nigerian boys left the camp to search for drinking water and
never came back, he adds.

At night the city is wracked by gunshots. Since the rebel take-over of
Tripoli last week, a few philanthropists have ventured into the camp with
gifts of food and water, they say. But for months, men with guns used to
come to loot and beat people up, the camp's inhabitants say. "They came in
here robbing our gas, stealing our property," says Margaret Asanti, a
Nigerian who has been at the camp for almost two months with her two young
children. She lived a relatively stable existence in Tripoli for 12 years.
But she says: "If you take me to my country, I'd be very happy. I'm tired of
being in this place."

Read more:
<http://www.time.com/time/world/article/0,8599,2091293,00.html#ixzz1We9BRPNR
>
http://www.time.com/time/world/article/0,8599,2091293,00.html#ixzz1We9BRPNR

http://img.timeinc.net/time/daily/2011/1108/a_libya_racism_0831.jpg

<http://img.timeinc.net/time/daily/2011/1108/libya_racism_0831.jpg> ENLARGE
PHOTO+

African migrant workers whom rebels had suspected of being Gadhafi
mercenaries stand outside the military base in Tripoli, Libya on August 28,
2011. Hundreds of migrant workers remain stranded in Libya after six months
of war, unable to flee the country.

---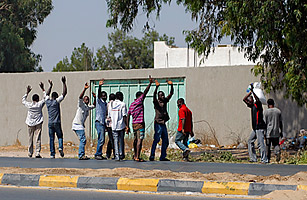 ------------[ Sent via the dehai-wn mailing list by dehai.org]--------------

---
webmaster
© Copyright DEHAI-Eritrea OnLine, 2001
All rights reserved