---
<!!--#exec cgi="/cgi-bin/ssi_image/ssi_rand_image2.pl" -->
---
[Dehai-WN] Guardian.co.uk/: Djibouti: the forgotten country in the Horn of Africa crisis
---
From: Berhane Habtemariam (Berhane.Habtemariam@gmx.de)
Date: Thu Aug 25 2011 - 16:23:47 EDT
---
Djibouti: the forgotten country in the Horn of Africa crisis

Recurring droughts have caused loss of income and rising food prices,
leaving many of Djibouti's rural communities isolated

Posted by <http://www.guardian.co.uk/profile/marktran> Mark Tran 25 August
2011 09.55 BST <http://www.guardian.co.uk/> guardian.co.uk

* Comments (
<http://www.guardian.co.uk/global-development/poverty-matters/2011/aug/16/dj
ibouti-forgotten-country-horn-africa-crisis#start-of-comments> 11)

Perhaps because of its small size,
<http://www.guardian.co.uk/world/djibouti> Djibouti has received scant
attention in media coverage of the current crisis in the Horn of
<http://www.guardian.co.uk/world/africa> Africa.

The former French colony, bordered by Eritrea, Ethiopia and Somalia, has a
population of only 820,000 people, but also faces significant problems. The
fourth consecutive year of <http://www.guardian.co.uk/environment/drought>
drought has led to massive loss of livestock, the destruction of crops and
increased malnutrition.

There has been an increased migration of pastoralists to the capital,
Djibouti, where the urban slum of Balbala has become a small city in its own
right.

The recurring droughts have affected 120,000 people, one in eight of the
population. According to the UN, pastoralists have lost 70-80% of their
livestock, while food prices have risen 50%.

"Loss of income due to drought combined with the food price crisis has
forced vulnerable households to allocate a larger share of their income to
purchase food at the expense of health and education," says the UN.

The worsening security situation in south-central Somalia has compounded
problems for the tiny state, host to the only US military base in Africa.
There has been a large influx of refugees at the al Addeh refugee camp,
whose number is estimated to be 15,000 and growing. This is causing further
concern for food security and safe water supply.

"The country's needs are very urgent, although not on the same scale as
those of its neighbours," said Katherine Roux, who was in Djibouti just over
a week ago for the International Federation of Red Cross and Red Crescent
Societies. "Although it's a small country, the government struggles to reach
some rural communities, which feel like they are at the end of the world."

As an example of an inaccessible rural commmunity, Roux, based in Nairobi,
cites Garabtisan village, where some people have only 40 litres of water for
a period of two to three days to support the needs of an entire family.

"The nearest water source requires that women walk the distance of 23km,
wrote Roux on a
<http://www.ifrc.org/en/news-and-media/news-stories/africa/djibouti/drought-
takes-hold-in-djibouti/> recent blog, "or they wait for water delivery from
the military stationed nearby. But with a community of 1,500 people, it is
simply impossible for the military to adequately service the needs of
Garabtisan village without support."

Sandra Hu, just back from the country as part of an assessment team for the
Red Cross/Red Crescent, said the drought and the lack of access in remote
areas to basic services such as health meant the situation was "chronic".
She also pointed out that high food prices had reduced remittances sent from
urban centres.

"Most of the 120,000 people in need are in the north-west and south-west
regions where the lack of water is a major problem," said Hu, who has been
working on a programme to promote micro-loans, targeting women.

Loans have been made to about 950 households, mostly in urban areas to
people selling bread, preparing breakfasts and other small catering
businesses.

The
<http://www.guardian.co.uk/global-development/poverty-matters/2011/aug/01/dr
ought-food-crisis-africa-data> UN drought appeal for Djibouti has raised
$17.4m of a total of $33.3m needed, leaving a shortfall of $15.9m. With
funding running at 52% of met needs, Djibouti actually comes second only to
Kenya (54%). Ethiopia, with unmet funding needs of 62.4%, is the country
that badly needs more international aid.

Some of the major UN agencies are present in Djibouti. The World Food
Programme will use some $1.1m to provide emergency food aid for 61,000
people in rural areas. About $1m has been allocated to Unicef, the UN agency
for children, for acute malnutrition and water, sanitation and hygiene. The
Food and Agriculture Organisation has received nearly $300,000 to
rehabilitate water supplies for 8,000 families and their livestock. The
World Health Organisation will use some $250,000 to provide mobile health
units in rural areas and some $100,000 has been allocated to the UN
Population Fund for the reduction of maternal and neonatal mortality. The UN
refugee agency has received funds for supplementary food items and water
purification equipment at al Addeh refugee camp.

. This article was amended on 16 August 2011. In the original we said that
Djibouti is 'bordered by Ethiopia, Kenya and Somalia'. This has been
corrected to 'Eritrea, Ethiopia and Somalia'.

MDG : Djibouti women discuss their needs with IFRC and Djibouti Red Crescent
assessment team

Djibouti women gather to discuss their needs with the Djibouti Red Crescent
assessment team in a drought-affected area near Dikhil, southern Djibouti.
Photograph: Katherine Bundra Roux/IFRC/Reuters

---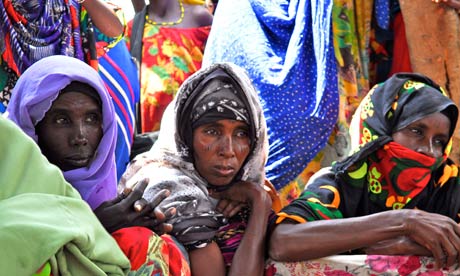 ------------[ Sent via the dehai-wn mailing list by dehai.org]--------------

---
webmaster
© Copyright DEHAI-Eritrea OnLine, 2001
All rights reserved