---
<!!--#exec cgi="/cgi-bin/ssi_image/ssi_rand_image2.pl" -->
---
[Dehai-WN] Unicef.org: In Djibouti, families fleeing conflict and drought continue to struggle in camp
---
From: Berhane Habtemariam (Berhane.Habtemariam@gmx.de)
Date: Wed Aug 24 2011 - 18:56:01 EDT
---
In Djibouti, families fleeing conflict and drought continue to struggle in
camp

By Najwa Mekki

DJIBOUTI CITY, Djibouti, 24 August 2011 - In what looks like a rubbish dump
off of the main road southwest of the capital city Djibouti, a few hundred
families have set-up makeshift tukuls and call them home. They have no
water, no toilets, no electricity, and barely any hope.

The place is called Bouldougo - the Somali word meaning 'knocked out'. Some
have been here for years, others just arrived. Some have fled drought,
others conflict. They come from Ethiopia, Somalia and interior regions of
Djibouti.

Poverty, hardship and struggle

Moumina Ismael, originally from Somalia but born and raised in Ethiopia,
fled to Bouldougo a year ago with her mother, her husband and their four
children after the drought killed the last of their cattle.

Her older children, ages five and six, go to a Koranic school and spend the
rest of their time playing in the camp. Her four-year-old is too stunted to
walk and her youngest, Aboubaker, cries at the sight of strangers. Moumina's
husband is out of work and they live on whatever little jobs he occasionally
gets.

There are at least 400 families in the camp, each with three to four
children on average. All have the same story: A life of poverty, hardship
and struggle. And yet, even the little they have now is better than what
they left behind.

"I prefer to be here," said Amina Ali, a mother of four whose husband died
while she was pregnant with their youngest child. "After my cattle in
Ethiopia died, I have nothing to go back to."

Amina and her children arrived to Bouldougo just three months ago. The trip
took them eight days. She walked while her children took turns riding a
donkey. With her youngest son tied to a sling on her back all day long,
Amina now ekes a living fetching wood and selling it, as the need for wood
has increased with the increase in fuel prices.

Childhood lost

Children in Bouldougo grow up too soon. At nine, Mokou Abdi is already
taking care of five younger siblings while her mother works in the market in
Djibouti City. Her youngest brother Sadale is barely a year old.

For a country like a Djibouti, heavily dependent on food imports, the
increase in food and fuel prices, combined with recurrent drought and
chronic water shortages, has caused thousands of vulnerable people to sink
even further into poverty.

Children are the most affected. One out of five is malnourished, one third
is underweight and, according to the latest national estimates, almost half
are stunted.

UNICEF is stepping up its response to the crisis, working to meet increasing
needs in water and therapeutic food - particularly in the worst affected
areas. Funding remains an issue, however, for out of the $5.4 million needed
to respond to the emergency, UNICEF has received only $2.9 million. More is
needed to make sure that the immediate, but also long-term, needs of
children in Djibouti are met.

Back in Bouldougo, UNICEF began delivering safe drinking water this week. A
small, but vital, relief in Djibouti's scorching August heat.

UNICEF Image

C UNICEF Djibouti/2011/Mekki

Moumina Ismael, with her youngest child, fled to Djibouti from Ethiopia
after the last of her family's cattle died, is now living in a camp in
Djibouti City.

UNICEF Image

C UNICEF Djibouti/2011/Mekki

Nine-year-old Mokou Abdi with her baby brother. Mokou looks after her five
younger siblings at the camp where her family's living while her mother
works in a market during the day in Djibouti CIty.

UNICEF Image

C UNICEF Djibouti/2011/Mekki

UNICEF is delivering safe drinking water to more than 400 families in
Bouldougo, Djibouti.

---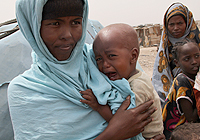 ---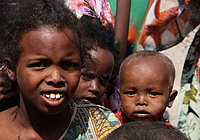 ---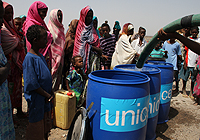 ------------[ Sent via the dehai-wn mailing list by dehai.org]--------------

---
webmaster
© Copyright DEHAI-Eritrea OnLine, 2001
All rights reserved